The first Sun Belt season for App State men's basketball has had its ups and downs.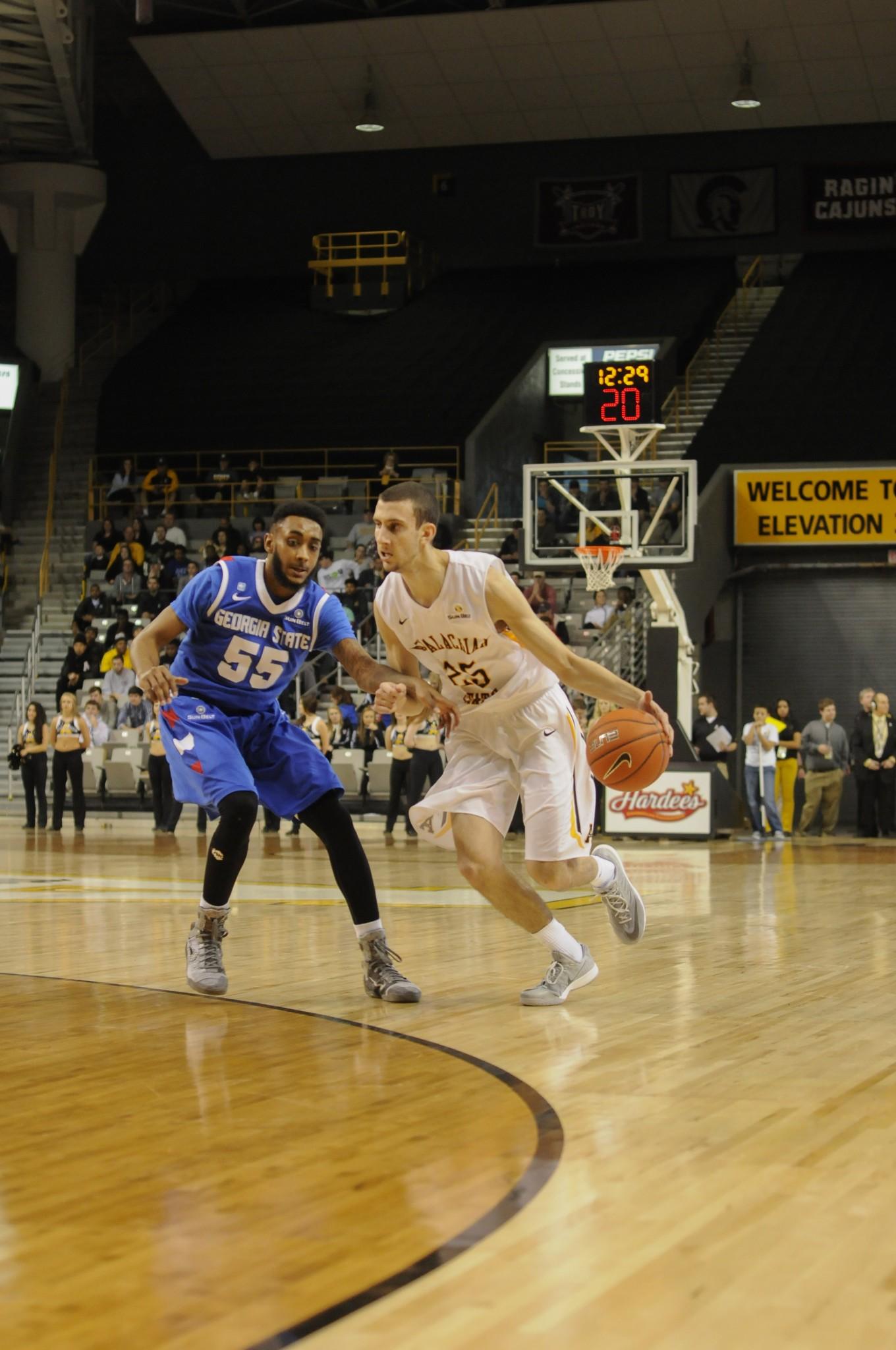 The learning curve for a new coaching staff against a new slate of conference teams creates obstacles that the Mountaineers have looked to overcome.
Despite these barriers, the Mountaineers have had many bright spots this season, including the play of freshman guard, Jake Babic.
The most promising part for Babic is that despite playing a high number of minutes in his first collegiate season, he has seemed confident and poised.
Babic is averaging 20.5 minutes per game coming off the bench while offering valuable guard depth to the rotation. His ability to play both guard positions – point guard and shooting guard – can offer the necessary rest for junior point guard Frank Eaves who is the regular starter.
"[Babic is] very versatile," junior guard Chris Burgess said. "He can play point guard, shooting guard and sometimes we even have him at stretch four. When he comes in, it's a matchup problem for most teams."
At 5 feet, 5 inches tall, Babic possesses larger-than-average size at the guard position and has shown glimpses this season of his ability to do a variety of things on the court.
On Dec. 4, Babic tallied a season-high 13 points in 22 minutes while grabbing five rebounds in a 67-56 win over Jacksonville. The early success was a sign of the good things to come.
Babic has appeared in all 19 games this season for App State, averaging 4.2 points per game which ties him with junior forward Jacob Lawson for fifth on the team.
Considering Babic's athletic pedigree, however, his early career success should come as no surprise. Hailing from Oakville, Ontario, both of Babic's older brothers were star football players in Canada.
In particular, Babic's brother Robert Babic was an all-Canada receiver and 2011 National Champion at McMaster University while Marcus Babic was a 2010 Yates Cup champion at Western University and competed for Team World in the 2010 U–19 USA vs. The World game.
The sports pedigree has certainly contributed to Babic's high sports IQ level that junior guard Frank Eaves referenced when asked about the mental side of Babic's game.
"His IQ of the game is pretty high, especially for a freshman," Eaves said, "He's very witty on the court as well. I love playing with [Babic]."
Babic said he has goals higher than just performing well as a player. He wants his team to play to their fullest potential.
"I want to get this team to the best possible place it can be," Babic said. "Eventually, I want to be a Sun Belt champion and be in the NCAA tournament."
Babic and the Mountaineers have won four of their last five games and look to continue their success with a road game at Louisiana on Thursday. Tipoff is set for 8:15 p.m.
Story: Ben Cogsdale, Sports Reporter
Photo: Justin Perry, Web Manager