Battle of the Bands
Local bands from Appalachian State and Boone came out to compete for the title of top band and to enjoy each other's music at Legend's annual event, Battle of the Bands, on Feb. 23. The competition was judged by a panel of three, whose top choice would be able to have their own show at Legends in the coming months.         
The bands featured during the Battle of the Bands were Stellar Architecture, The Blue Wild, Electric Jelly Funk and Vanilla Envelope. Each band performed a 10-minute set with a selection of three to five songs. The bands were graded on a 25-point scale, with categories ranging from stage presence and originality to skill and effort.
The night began with lead guitarist and freshman music industry studies major Karl Boynton, playing with his band Stellar Architecture. Boynton said they have "a less aggressive punk style," which began with Karl shouting through a guitar riff. In preparation for the event he said all he did was a lot of writing and practicing.          
"It was a lot of me sitting in my room and getting the lyrics down. I would just find a verse or guitar riff I really liked and from there just build the song around it," Boynton said.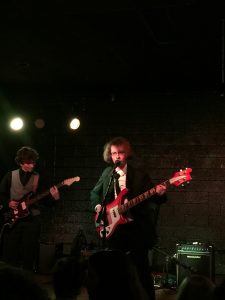 His group performed a few three minute songs and were immediately followed by Vanilla Envelope. Their name came from a miscommunication between the now lead guitarist and senior music industry studies major, Corbin Lenard and their former drummer.
"In the recording production major, we have to turn in all our projects in a manila envelope, and our old drummer heard me ask for one while we were searching for a band name," Lenard said. "He heard me say manila envelope and thought I said vanilla. We just took a second and looked at each and said 'that's our band name now, isn't it?'"
Lenard said their sound is an imitation of Streetlight Manifesto, Mountain Goats and Andrew Jackson Jihad all thrown together into a pile.
The band has a lead guitarist, bassist, drummer, two saxophonists, a trumpet player and two trombone players. Their set was full of energy with audience members breaking out in dance circles and what junior English major Stevie Harn said "had a well-tuned groove."  
Following them was The Blue Wild, a folk group who lead singer Taylor Wafford and junior music industry studies major said resembles the "blue mountain" feel. She said that they are a lyric-heavy group who relies on acoustic sounds and mellow beats. Other bands agreed that her lyrics were the best out of the bands featured.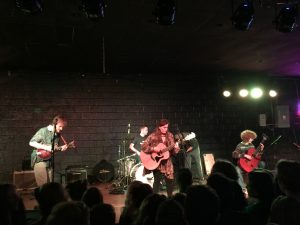 "Honestly, Taylor Wafford is one of the best songwriters I've ever met in my life," Lenard said.
The last band in the competition was Electric Jelly Funk, led by freshman keyboardist and music industry studies major Matthew Guard.        
"Our mission statement is to take the jazz art form and put it in a punk music setting that is easy to listen to and have a melody that jumps out at you," Guard said. "Our sound is kind of a mix between rock, jazz, funk and blues. It's all instrumental."
The band has eight members and relies heavily on melodies. They said their biggest influence was the Red Hot Chili Peppers with jazz fused in.            
Though it was a competition for their own set at Legends, the bands featured said they just wanted to hear one another perform. Lenard said that he really wanted to see Electric Jelly Funk.
"I'm honestly humbled to know them," Lenard said. "So, I'm going to be front row panicking and singing all of the horn parts."            
Members of Electric Jelly Funk had the same to say about Vanilla Envelope.
"We're looking forward to seeing Vanilla Envelope," Guard said. "They're great, we know those guys personally."
All bands felt that the competition itself was more friendly than competitive, but in the end the winner was Electric Jelly Funk.           
"We were elated to know that we won and honestly surprised," Jesse Maltby, a freshman industrial design major and drummer of Electric Jelly Funk, said. "We love audience feedback, a live response, and we felt a very energetic response tonight."
The band got their name when Guard went to the beach with his roommate and they liked the way jellyfish sounded with funk. The group members have known each other for years and they say their winning sound was a combination of two different bands they created a while ago.
"Back in high school we had two bands going on," Guard said. "We had a punk rock group and then we had a jazz fusion group. We came up here and fused the two bands. It just kind of became this jazz rock. We literally took two different sounds and put them together."
Above all the band said they just wants people to enjoy their music regardless of the kind of music you like or the kind of person you are.
"The thing about us is we want everyone to enjoy our music, it's very inclusive," Guard said. "We don't really have a target audience. We want everyone to listen to it. It doesn't matter what you look like, what you already listen to or what you believe. We just want you to enjoy what we're doing because we enjoy doing it."         
As the winners of the Battle of the Bands, Electric Jelly Funk will get their own show at Legends. The date of the upcoming show will be announced in coming months.
Story by: Myles Toe, A&E Reporter 
Photos by: Halle Keighton, Photo Editor