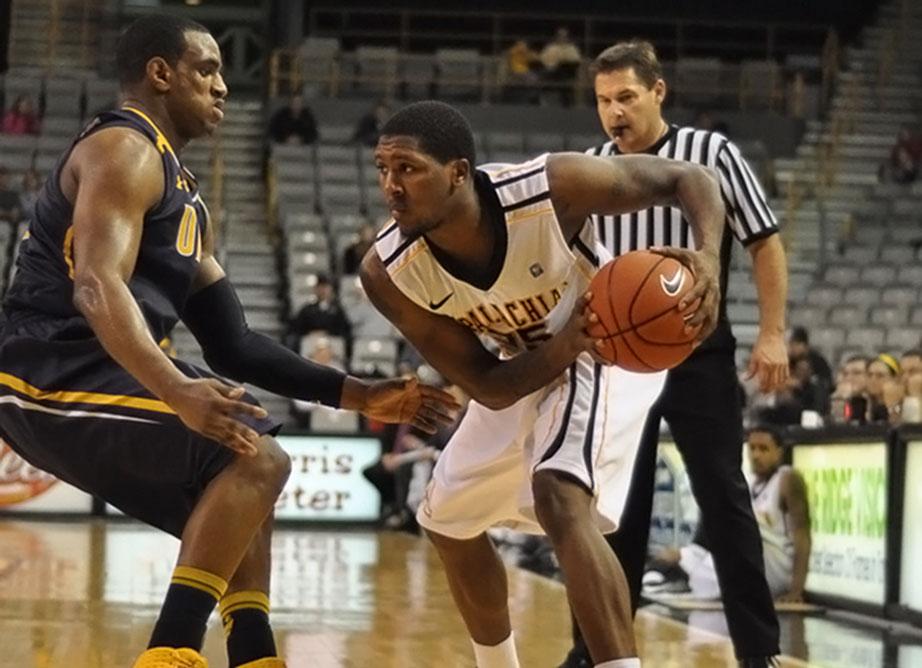 Jay Canty sums up his season with App State men's basketball in one word – frustrating.
To describe it as such is fitting for the 6-foot-6-inch junior forward, who transferred from Xavier University after leading that squad in minutes played as a freshman.
After sitting out the first season following his transfer, per NCAA rules, Canty made 30 starts for the Mountaineers as a redshirt sophomore, finishing second on the team in rebounding with 6.2 per game and 10th in the Southern Conference in scoring with an average of 14.3 points per game.
Canty, who missed the entire month of November and some of December this season due to academic ineligibility, returned for five games after regaining his eligibility.
In those five games, he averaged 17.6 points per game – the highest average on the team. It all seemed to be coming together for Canty, who improved his grades and helped the Mountaineers on the court with his scoring and rebounding.
But then the frustration rose again. Canty suffered a broken hand in practice prior to App State's Jan. 18 duel with Georgia Southern.
"I didn't really know what to expect," Canty said. "After sitting out the entire first semester and then starting to get a feel for the game again, it was just a little frustrating that a freak accident like this happened in practice. It kind of got the best of me."
In the last game Canty played, he scored a team-high 18 points in a loss to Chattanooga.
The Mountaineers responded in their first game without Canty, winning their first SoCon game, defeating Georgia Southern 81-68.
In the win, sophomore forward Michael Obacha and senior forward Tommy Spagnolo combined for 26 points and called the loss of Canty a chance for the team to rally.
"We all know [Canty] is one of our key contributors, but we have to move on," Obacha said. "That production has to come from somewhere and right now, that's one thing that's motivating us."
Although Canty is relegated to the stationary bike for the next two to three weeks, it doesn't stop him from playing a valuable role for the Mountaineers.
"The biggest thing I can do is stay positive, focused and do whatever I can to help these guys while they're out there practicing and help them with little things," Canty said. "I try to do as much as I can for the younger guys. I've learned a lot and seen a lot, so I try to give them some tips."
Spagnolo said the Mountaineers have a very different dynamic with Canty on the roster.
"On the court, he's a great defensive player with great hands," Spagnolo said. "He has a knack for being able to finish and get those rebounds or a steal. Jay is a very vocal guy, especially in the locker room, so we're missing that."
While App State has only 10 regular season games remaining before the conference tournament begins March 7, Canty is ready to join his team again.
The Mountaineers could use his solid on-court production as well as his  leadership if they have hopes of making a deep run in the tournament.
"They said I could be back for the tournament, it's a speedy recovery," Canty said. "If I keep doing everything I'm supposed to be doing, I should be back in two to three weeks. Hopefully I'll be ready."
Story: Cory Spiers, Sports editor
Photo: Justin Perry, Web manager