Roughly 66 million Americans ride a bicycle in a given year, according to Nielsen Holdings PLC ratings. Despite its ubiquity, cycling as a means of transportation or recreation remains a niche.
A group promoting and advocating for cycling interests in the High Country is the nonprofit Boone Area Cyclists. Clinton Marsh serves as their president as well as assistant director of orientation at Appalachian State.
"Anytime a new road goes in somewhere and they're going to widen that road, we always say 'Hey, while you're widening that road, what about putting in a bike lane?'" Marsh said.
Senior sociology major Annie Pharr is the president of the Appalachian State Cycling club team. In addition, she is a board member of BAC.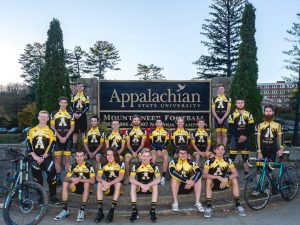 "They wanted me to be on the board so that the school team could have a voice in the greater cycling community," Pharr said. "It's been really rewarding because you can see how the school team's efforts can fit into larger Boone community and how it can work with them."
In college racing, mountain biking takes place in the fall while road cycling starts in the spring.
"We just finished a pretty successful mountain bike season, and we were conference champions in the Atlantic Collegiate Cycling Conference," Pharr said. "We sent seven people to nationals in Missoula, Montana, where we got second for overall Division 1 club teams in the nation."
Known for its quality road cycling, the High Country is growing into a reputable mountain bike destination as well. Down Highway 421 lies Rocky Knob Park, a dedicated mountain bike park that is owned by the Town of Boone and maintained by BAC.
"Before Rocky Knob was started, there was no legal spot to ride mountain bikes, so everyone that was on the cycling team had to kind of keep it on the down-low when they were riding anywhere in Boone itself," Pharr said. "No one would share rides or bring other people out and expand the community."
Merwin Davis is the head mechanic at Magic Cycles in Boone. Davis is a professional racer who grew up with BMX and mountain biking. For Davis, cycling relieves stress.
"It's a time to just kind of sit back and be able to think about life or anything that's going on and have that alone time," Davis said.
Cycling is an enjoyable form of exercise for many; it is low impact and possible for people across generations. Marsh lauded the many options for recreational cycling in areas surrounding Boone.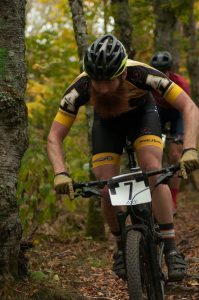 "There is some incredible riding out there," Marsh said. "You won't see cars for hours, it's beautiful, it's wonderful, but you got to know these things, so having that connection [with] BAC can help open those doors for you."
Benjamin Scarboro is one of the founding volunteers of the Boone Community Bicycle Collective. BCBC is a nonprofit that operates as a tool share, helping to rehabilitate bicycles. He has been living in Boone for 17 years and initially took up regularly riding his bike when his car broke down.
"Of course it breaks down while I'm trying to go to work, and so I just jump on a bike and pedal up, and I get there sweaty and nasty," Scarboro said. "I just kept doing that, and I would get to work less sweaty every day and feeling better every day, and I just never got the car fixed because I didn't need to."
As you move farther away from downtown Boone, however, roads sometimes become more cumbersome for cyclists because of the cultural stigma against road cycling.
"Once you get onto the back roads, you either have people that don't care because you're out in the middle of nowhere and it's farmland and you're not clogging the road, or you have people that'll get really mad at you because you're holding up traffic, and they don't understand; they don't appreciate cycling," Pharr said.
Both the Town of Boone and Appalachian State have received Bronze designations from the League of American Bicyclists. The national group noted areas for improvement in infrastructure, among other things. High traffic roads in Boone don't uniformly offer bike lanes.
Even roads with consistent bike lanes can present problems for riders. Marsh noted the common use of the bike lanes on Rivers Street as de facto school bus parking, obstructing riders.
Still, Marsh is pleased with the town's direction and continues to push for reasonable protections for cyclists. Scarboro and Davis praised the town for its work to become more bicycle friendly.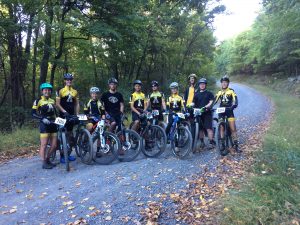 Issues of diversity and inclusion still challenge the activity, with fewer minorities and women involved.
"I wish there was more [diversity], that's something I would definitely like to see," Marsh said.
Efforts are underway locally to include more women riders especially.
"I think half of our board members are female now, which I'm super excited about, and next year we're gonna have our first female president and vice president, so that's really nice," Marsh said.
"There are a lot of women, especially in the Boone area, that are slayers when it comes to the trail and they have no holdbacks. They want to be able to do everything the men are, and they're 100 percent capable of it," Davis said.
As a member of BAC, Pharr helps to organize the Cowbelle Classic, an annual women's ride that seeks to bring women together to meet and ride in a challenging, but non-competitive environment.
"That's been really beneficial for those women that haven't felt comfortable riding alone on the roads or don't really know where to start or just are looking for other women to ride with," Pharr said.
Cost is a major consideration that precludes college students from becoming involved with racing.
"You don't need any experience to join [Appalachian State Cycling], but you do need a bike and that is the number one thing that deters people because to get a good bike, it's going to be a few hundred dollars at least, and $1,000 for a good, entry-level bike that you're going to want to take to races," Pharr said.
But for commuting or utility riding, using a bike instead of a car can be a way to save money.
"When I was in college, I commuted to class all four years [on a bike], and it saves a huge penny," Davis said.
Getting onto the road for the first time can feel dangerous, Scarboro said.
"There's going to be that fear, but I think this is a really safe place, especially as an incubator for new cyclists because there are a lot of different terrains you get to ride on, a lot of different situations," Scarboro said.
BCBC offers free helmets to those who want them. Unlike other municipalities in North Carolina, Boone requires all cyclists to wear helmets.
"I have friends that wouldn't be here right now anymore if they weren't wearing a helmet, so it's definitely a matter of life or death," Pharr said.
"I think the more drivers that are aware of cyclists and how they act and react on a bicycle, the better," Marsh said. "I think it gives you a better respect for being able to travel by car and the ease of doing things like that."
Story by: Patrick McCabe, A&E Reporter
Photos courtesy of Annie Pharr, Matt Sloyer and Alan Garvick
Featured Photo Caption: Annie Pharr navigates a trail during James Madison University's race weekend.