Elevation App State Extension will have baptisms every semester
Elevation Church's Appalachian State University Extension baptized six students Sunday just outside of I.G. Greer Hall.
Last year, the extension baptized 90 people in total.
Senior electronic media and broadcasting major Kelsey Ewert said the baptisms used to take place every two years, but they now are taking place every semester. This started at the beginning of the spring 2014 semester.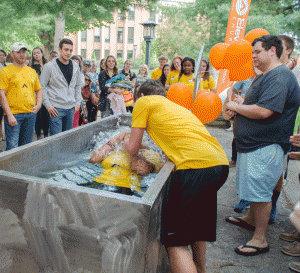 A baptism is a public declaration of faith that allows the individual to take the next step.
Site coordinator Jeremy Herba performed the baptisms Sunday.
"We baptize to help people develop their story," Herba said.
However, Ewert said last year was the first year they had done the baptisms in a couple years. This made Sunday's the fourth baptism that Elevation had held, the first being in 2011.
The baptisms followed the weekly worship experience in the auditorium of I.G. Greer at 11:30 a.m. outside Greer.
A member of the lead team and guest services coordinator Caleb Smith said Elevation got the tub for the baptisms from the Alliance Church in Boone.
One of Elevation's baptized members includes sophomore hospitality and tourism management major Rachel Han, who is now an eGroup leader, which is what Elevation calls a small group or bible study leader where the "e" stand for empowerment. Han also volunteers with the production team at Elevation that helps with the overall setup of the worship experience.
"I was baptized last year during our Raise To Life series," Han said.
The series is a series of videos that was preached by the lead pastor Steven Furtick at Elevation Church in Charlotte.
Elevation currently has two more sermons left of the #DeathtoSelfie series, and will begin their #MeantToBe series about sex and relationships in two weeks.
The worship experience at  I.G. Greer usually averages over 200 people a service, which is every Sunday at 11:30 a.m. in the auditorium of Greer.
For more information on the services, visit www.ElevationChurch.org, follow them on Twitter @ElevationChurch or visit their Facebook at "Elevation App State Extension." There is also an iOS application in the App Store called Elevation that is free to download.
Story: Kaitlan Morehouse, Intern News Reporter
Photo: Morgan Cook, Photo Editor