This fall, App State will unveil its new Founders Plaza. This plaza will replace App's current welcome sign in Durham Park.
The new Founders Plaza is being built in honor of B.B. Dougherty and D.D. Dougherty, the brothers that founded App State, as well as Lillie Shull Dougherty, D.D. Dougherty's wife.
Construction for the new plaza began in early June and a Sept. 5 reveal was chosen before construction began.
Construction is being completed by Greene Construction Inc., a local company that has been contracted by the university for a number of projects, and helped with the construction of App's previous welcome sign.
According to the App State website, the goal of this new plaza is to "create a safer, more welcoming space for visitors and graduates posing for photos."
It will include outdoor seating for studying and campus events and an updated double-sided welcome sign featuring granite slabs with the App State logo inscribed on them.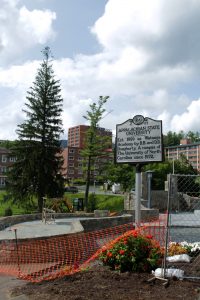 "The very first time I came to visit App, the first thing I noticed was the sign, and I feel like it ties App together and gives that impression of what App is," Sarah Daniel, senior psychology major, said.
In addition to a new sign and seating area, the statue of B.B. Dougherty that is currently located between Sanford, I.G. Greer and East Halls and the Founders Bell in front of Anne Belk Hall will be relocated to the new plaza. The goal is to bring these monuments to a more prominent space according to Skip Greene, President of Greene Construction Inc.
Greene said that construction has gone smoothly, though the granite that is to be placed in the sign takes three months to order, so his company had to work to get the granite here earlier to meet the Sept. 5 deadline.
The sign is being constructed with both brick and granite in order to visually "tie together" the rest of the buildings at App, which have primarily been built with those materials, according to Greene.
The new Founders Plaza will be unveiled in a ceremony on Sept. 5, App State's Founders Day.
Founders Day will be "celebrated each fall to honor our founders and the first day of classes in 1899," according to Chancellor Everts' remarks to the Board of Trustees on March 16
Story by: Jackie Park
Photos by: Mickey Hutchings 
Featured photo caption: Construction taking place at the Appalachian State sign off of highway 321, future home a statue of App State's co-founder, B.B. Dougherty. The construction is scheduled to be completed before Sept. 5.