Former App State coach inducted into College Football Hall of Fame

Fans at Kidd Brewer Stadium stood Saturday when App State coaching legend Jerry Moore was honored by the community and the National Football Foundation before the kickoff of the Mountaineers game against South Alabama.
"I met with the new chancellor Dr. Sheri N. Everts and we had a good talk," Moore said. "I called her back that evening and told her whatever you want to do,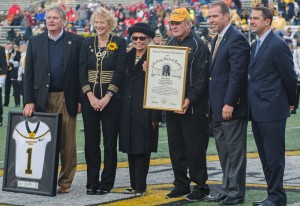 me and my family are all for it. I think the world of Appalachian State. You don't spend 24 years at a place and not have close ties still to the place."
Coach Moore is the winningest coach in App State and Southern Conference history. He is also the 15th-winningest coach in NCAA Division I history.
Moore held a 215-87 record during his 24 seasons of coaching at App State, including 10 SoCon championships, 18 postseason appearances and an unprecedented three-straight NCAA FCS national championships in 2005, 2006 and 2007.
He coached arguably the biggest upset in college football history when App State handed then fifth-ranked Michigan a 34-32 loss at The Big House.
The upset against Michigan made Appalachian a household name. Graham Fisher, App State senior and four-year starter on the offensive line, said App State and Moore go hand-in-hand.
"You can't have one without the other," Fisher said. "When people think of this program and people think of this school they think of Jerry Moore. He did so many great things for this university. I'm glad I got to play for him and I'm glad I got to experience that."
Moore was inducted into the Southern Conference hall of fame back in March and was inducted into the College Football Hall of Fame on Saturday.
Everts presented Moore with a framed honorary football Jersey with Moore's name. The National Football Foundation honored Moore with a plaque in a pregame ceremony that provided Moore with one more chance to take the field in front of students and fans.
"It's been amazing to see all of the support from former players and coaches from way back," Moore said. "When they started talking about this deal [they were] going to do this weekend, my phone [started] ringing, ringing, ringing all week. When those players start calling you back, you realize everything that you did was not in vain. It is a great feeling when those guys call you and talk to you."
Will Corbin a fifth-year senior and starting right tackle said he admires the way Moore was able to bring the team together.
"He really made me feel like family, not just a football player," Corbin said. "He treated me like a true person, he made me feel wanted around here."
During the past two years off from coaching, Moore has been traveling and talking to different football teams around the country, including Watauga High School's varsity team.
Moore was always known to try his hardest to please fans and players.
During the annual Fan Fest at the beginning of this season, Moore would sign autographs until he had to leave to coach the scrimmage but told fans he would be back to finish as soon as the game was over.
"I stayed there until about 10 [p.m.] or 11 [p.m.] at night sometimes and had to use flashlights to be able to sign the autographs," Moore said. "The students were great and always arrived two hours before kickoff and I think they know how I felt about them. We went on when I was there was a dream come true."
Fisher said he admired Moore's hard work ethic and respect.
"He was [at practice] early all the time," Fisher said. "He always cared for people, we had guys who were on the scout team for two or three weeks and he would already know their names and he really cared about them. He always said it was about people."
Kendall Lamm, a fifth-year senior from the offensive line said he was touched by Moore's character.
"You'll never meet another man like him," Lamm said. "I hope when I get older I can live my life the way he did. The biggest thing that I've taken from him is that you never know what kind of impact someone will have on you, so you treat them with respect and that's something I will live by forever."
Before the game Moore was led onto the field with his wife and was followed by notable former players and their families including former App State quarterback Armanti Edwards.
Moore walked onto the field to chants of his name from the App State's student section. North Carolina's Band of Distinction, the Marching Mountaineers, held a halftime tribute to Moore playing "We are the Champions" while spelling out 05, 06, 07 and Moore in their formations on the field.
Although Moore may not physically be at The Rock every Saturday, his legacy lives on the field through his remaining recruited players.
"He would say 'you guys have been doing this your whole life, you don't have to pull a rabbit out of a hat,'" Fisher said. "To win, we just have to do what we're capable of doing."
The College Football Hall of Fame Class of 2014, which includes Moore and 15 other inductees, will be formally inducted on Dec. 9 at the 57th NFF Annual Awards Dinner at the Waldorf Astoria in New York.
Story: Bryant Barbery, Sports Reporter
Kayla May, Intern Sports Reporter
Photo: Malik Rahili, Visual Managing Editor