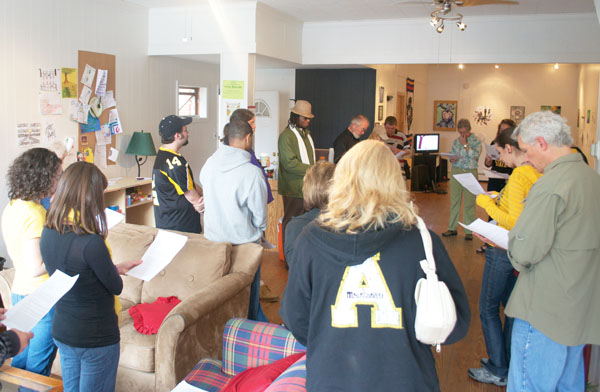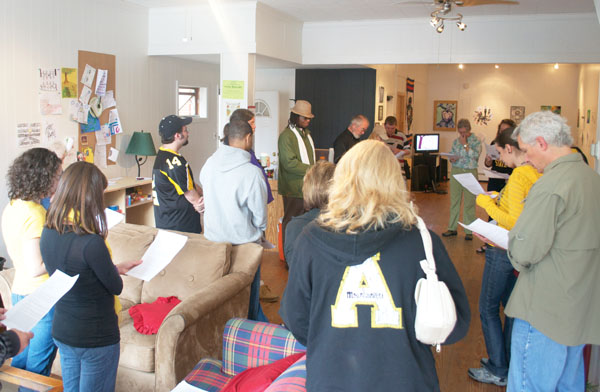 Westminster Canterbury Fellowship leaders, members and alumni celebrated the dedication of 3rd Place Saturday at noon.
3rd Place, is a space intended to "connect the campus and the community," said Tommy Brown, Presbyterian campus minister and adjunct instructor for the department of health, leisure and exercise science.
The building, on Appalachian Street near Jimmy John's, was opened by WCF, the Presbyterian-Episcopalian joint campus ministry for the university.
"I hope it's never a done project," Brown said. "It's a place of experiments and experimenting with what it means to be a spiritual community."
3rd Place is open to public without judgment or requirements, Brown said.
"We're trying to do church in a new way," Brown said.
The dedication began with a reading from 1 John 4:18-21, then followed with a dedication read aloud.
Brown prayed and sang a hymn with approximately 20 people in attendance.
Savannah Rountree, vice chair of WCF, is "excited" how many people can fit in 3rd place.
For about four years, WCF events were held in a room near Pads for Grads that could "comfortably hold eight people," Rountree said.
The current building can hold 49 people.
"It's really great place where people can be themselves," Rountree said.
Natalie Wolf, mission chair of WCF, said it was "cool" to hear alumni talk about what the space meant to them, she said.
Currently, 3rd Place has artwork from Lillian Goudas' class under the theme, Self Portrait with the Divine.
Brown said students are welcome to display their art, play music or share any other artistic skill in 3rd Place.
"We want to have a place where people can show their creativity," Brown said.
WCF also hosts the Listening Posts offered in Plemmons Student Union on Tuesdays and in Trivette Dining Hall on Wednesdays.
The name for 3rd Place came from Ray Oldenburg, a sociologist, who wrote about the idea of human beings needing three places, Beth Turner, Episcopal campus minister said. The first place is being a home, the second school or work and the third, a place of connection.
Story and photo: KELLI STRAKA, News Reporter