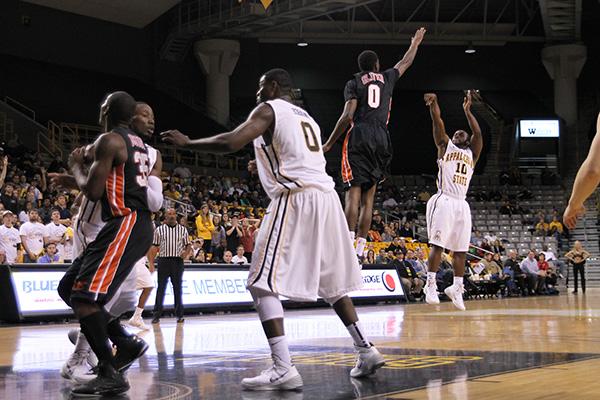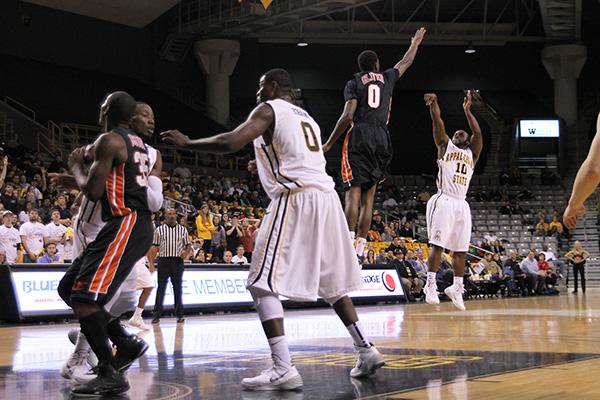 Rapid reactions after the Appalachian State men's basketball team lost 73-66 to the Campbell Fighting Camels.
Quality Looks
From the opening tip, the Mountaineers struggled to gain consistency. Field goal efficiency was a major factor in the first half. Campbell built a 16-point lead at the half on a 15-30, 50 percent shooting effort from the field.
Campbell capitalized on their opportunities, however, shooting just under 50 percent from the field for the entire game led by Kyre Hammer's 19 points.
The Mountaineers did get a strong effort from their guards. Mike Neal led all scorers with 20 points, while Chris Burgess and Tab Hamilton added 14 and 10, respectively.
Campbell was able to share the basketball more than the Mountaineers as well, doubling their assist totals. These assists created more quality shots for the Fighting Camels while the Mountaineers were forced to take contested jumpers.
Make the Free Ones
A major concern for App State was their lack of success from the charity stripe.
The Mountaineers shot 9-22 from the free-throw line in contrast to Campbell, who shot 17-25.
Mike Neal showed a great ability to draw contact and get to the stripe. However, he was only able to convert four of his game-high 10 free throw attempts.
The Good
The Mountaineers showed a great amount of resilience fighting back from a 16-point halftime deficit.
They started the second half on an 11-2 run, but Campbell didn't give in and was able to answer every Mountaineer run.
App State was able to cut Campbell's lead to just three with 2:22 left thanks to a tremendous effort on the boards by Michael Obacha.
The forward tallied a career-high 15 rebounds, having 10 coming off the offensive glass.
The Bad
The energy from the start of the game was not there for the Mountaineers and it seemed like it took almost the entirety of the first half to become engaged in the game.
A lack of quality looks from the field in the first half dug a hole that proved too deep to climb out of. App State trailed the entire game after the 18:33 mark.
In the end, the Mountaineers put themselves in positions to win the game, but just could not capitalize at the free-throw line.
What's Next?
The Mountaineers travel to Cincinnati to take on the Bearcats on Nov. 16 at 2 p.m.
Story: BEN COGSDALE, Intern News Reporter
Photo: MOLLY COGBURN, Staff Photographer