Raven Moffett, a senior art and visual culture major, calls themselves overt and upfront and said the same can be said of their installation, "Decolonizing the Self," the newest exhibition featured in the Looking Glass Gallery.
Raven Moffett describes in their artist statement that their history is "split on opposite sides of Manifest Destiny" by being a white/Native woman.
Therefore, Raven Moffett said they chose to confront the anxieties and insecurities that are associated with the acknowledgement of one's identity by posing upon themselves the question, "Am I Native enough?"
The question which Raven Moffett said has plagued them since childhood is reverberated throughout their self-portraiture, videography and sculpture compositions.
"They center around internal and external conflict regarding white-passing Nativeness," Raven Moffett said. "I'm really interested in and concerned about the politics and the ethics of representation, particularly in the art realm. But then I realized that if you're going to navigate a situation where you think you have the most authority to speak on something, you best do it about yourself."
They have been educated in photography, but said they are particularly interested in non-digital alternative processes.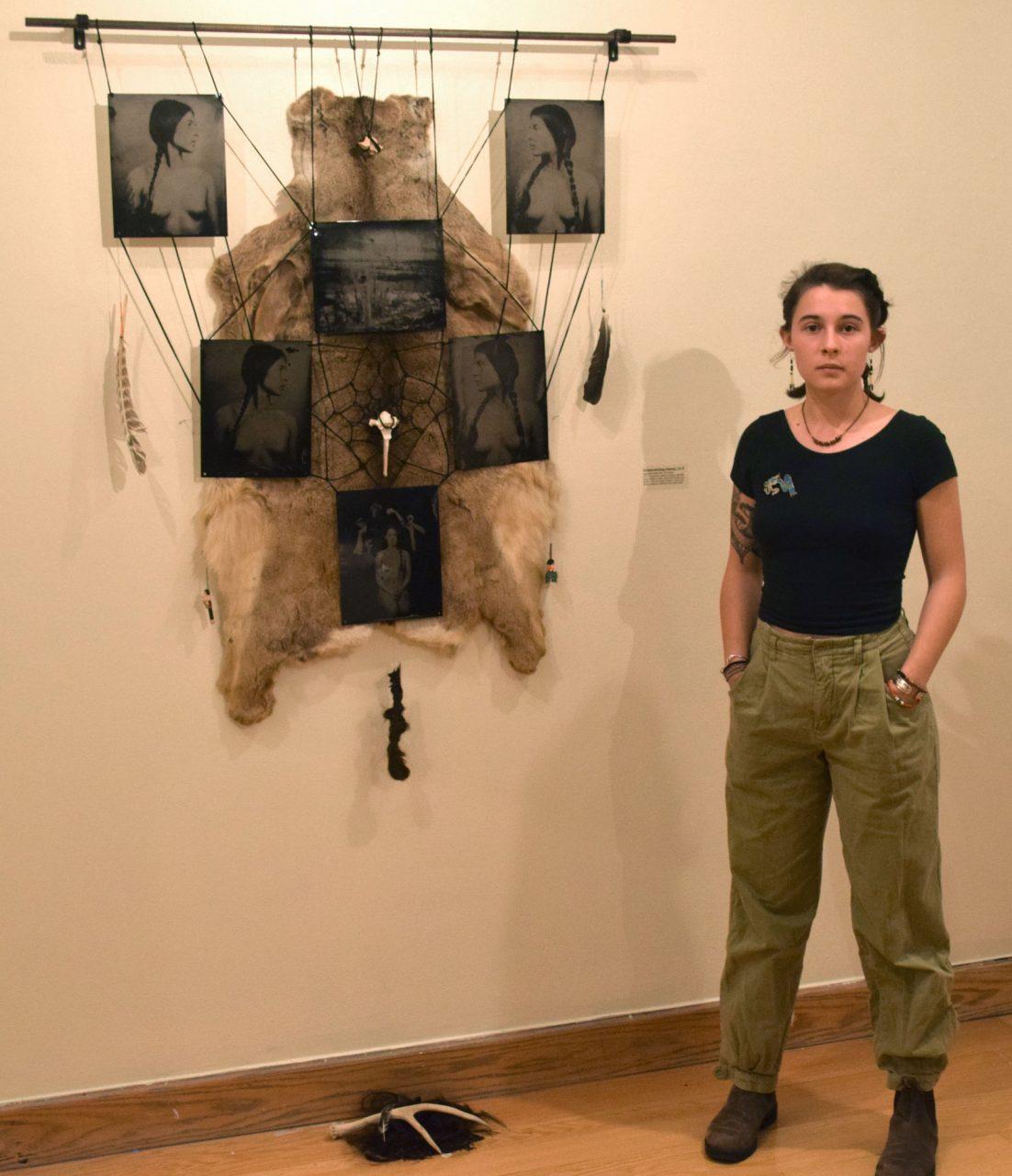 "The tropes of the noble savage, the savage primitive and the Indian princesses come up in my work in different ways, like how I do my hair and in the way that I negotiate my body," Raven Moffett said.
Raven Moffett also features nudity in their work, which they said adds an element of tangible vulnerability that not only speaks to the nature of their topic but also encourages conversation. Raven Moffett said they have been critiqued for their incorporation of nudity, being told that their work should be more inviting.
"That's just not how I operate," Raven Moffett said. "I've always been overt and upfront through my work and also just with my verbal conversations."
Raven Moffett talked about what they described as a saturation of art produced by "old white men."
"Especially operating at this university, which is not very diverse in many senses of the word, there can be class layered on top of that, gender and sexuality, ethnicity, it's important work that needs to be done," Raven Moffett said.
Raven Moffett said they would have liked to facilitate the curation of a sister show that exalted the voices of other Native and indigenous artists.
Raven Moffett would like to elevate artists such as Erica Lord, Wendy Red Star, Cara Romero, Will Wilson Rebecca Belmore, James Luna, Shelley Niro, Victor Masayesva Jr., Zig Jackson, Levi BlackWolf, Nadya Kwandibens, Jeff Thomas, Adrian Stimson, Krista Belle Stewart, Arthur Renwick, Dana Claxton and many more.
Daphne Moffett, Raven Moffett's mother, said that she saw her daughter rediscover themselves through their strong support for Native identities and cultures.
"Raven also feels very strongly not only about protecting Native identities but also of their land, their systems of beliefs, and that all really fed into her process," Daphne Moffett said. "So this was a very positive piece. Once people realize what has actually happened in history, it should really tug at people."
Kate Davis, a senior biology major, described her visit to the exhibition as an "out of body experience."
"The video captivated me the most probably because it seemed so absurd, but I don't have a creative bone in my body. But nevertheless, it captivated me and the topic is something that definitely warrants discourse," Davis said.
Raven Moffett's installation of  "Decolonizing the Self'" will be on display at the Looking Glass Gallery in the Plemmons Student Union now through April 19.
Story by: Savannah Nguyen, A&E Reporter
Photos by: Aidan Moyer, News Editor
Featured Photo Caption: A piece in the "Decolonizing" art exhibit titled "What It Means to Be a Real Indian" by Raven Moffett. Her work is displayed in the Looking Glass Gallery.