Thomas Parrott's job when he got to the site of the crash was to hold up a tarp to block people from the sight of a burned body.
In a study done by CareerCast, being a firefighter was found to be the second most stressful job behind military personnel. For 45 percent of college students, stress is the reason they attend counseling, according to a study by the American Psychological Association.
Parrott, senior elementary education major, deals with both as a student at App State and a volunteer firefighter and EMT for the Deep Gap Volunteer Fire Department.
"I've seen people trapped in cars. I've seen people burned alive," Parrott said.
Parrott said he started out as a junior volunteer firefighter in South Durham, where he grew up. He worked at Parkwood Fire Department for four years until his senior year of high school.
He said he is also an emergency firefighter with the North Carolina Forest Service, involved in three organizations on campus and has two jobs in Durham.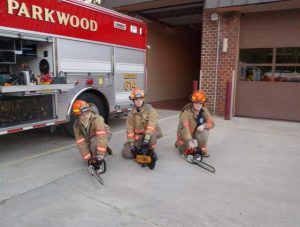 "After I came up to App, I was interested in continuing, having done a lot of that for years," Parrott said. "I tried out Boone Fire Department for about a week or so, didn't really like the feel of it and headed about 10 minutes east and found Deep Gap."
Deep Gap Fire Department has 35 volunteers with one full-time staffer in Chief Bobby Arnette, according to Deep Gap Fire Department's website.
"Thomas has probably been one of the best ones we've had," Arnette said. "He's involved in more than just the fireside as he went and got his medical. If we could get a dozen more like him it would definitely help the community out."
Volunteer firefighters make up 69 percent of all U.S. firefighters, and 85 percent of fire departments nationwide are staffed mostly or entirely by volunteers, according to the National Volunteer Fire Council.
Sometimes, because Parrott is 10 minutes from the district, when he responds to a call it is as a support role. One of those calls Parrott responded to was a car crash.
"We got dispatched out to a tractor trailer versus a car," Parrott said. "I was on campus so I started heading towards the station. When we got there, one person had died. It was a box truck and the guy inside the car was burned alive. It was heartbreaking for a lot of people because it was someone that (locals) knew."
Parrott's calls with Deep Gap Fire Department can range from calls like that deadly crash to structure fires or medical calls.
Parrott said when he gets a break, it's not like a normal one for most people.
"It's me going home, doing a bunch of homework and writing lesson plans, and then if there's a call, that'll be my break time from homework and everything," Parrott said. "After that, I'll come back, eat dinner and do it all again."
Parrott said he hasn't had to miss many classes, but when he does he always asks his professor first to make sure it is OK.
To prepare the firefighters for the calls they face, Captain Seth Norris, App State professor of emergency management, coordinates all the training for Deep Gap Fire Department.
"The training here is applied, it's technical," Norris said. "It's very different than what I would teach in the classroom at App. I teach higher level processing and thinking and we look at systems and structures where as here we are looking at processes and tasks. Everything here is task oriented."
Norris said he has been with the Deep Gap Fire Department for four years and has been in the fire service for 16 years. He was full-time in the fire service until 2012 but now works full-time as a pastor at a local church.
Norris said he teaches based on Model Assist Watch Launch. Norris models it for them, assists them with a task, watches them do it and then launches them into it.  
Arnette said after major incidents the department has a debriefing the next day for anyone who was there. It also has a system set up in the leadership so if they see someone struggling with a call they offer assistance to them.
"I guess I really do well with stress," Parrott said. "I mean it's better to join as a volunteer firefighter in a community that's not your own because you don't have too many personal connections that make your job more stressful when something bad happens."
Even with the stress that comes with being a firefighter and a full-time college student, Parrott is proud of what he does.
"We're kind of like the light in the darkness for people's darkest days," Parrott said.
Story by Moss Brennan
Photo Courtesy of Thomas Parrott 
Featured photo caption: Thomas Parrott (front left) and the crew of Deep Gap Fire Department.