Top of his game
Pressure, success, faith, endurance, confidence, commitment, leadership and overall hard work are words that surround an athlete that finds themselves among the best in their sport. Such words flock to junior App State wrestler Denzel Dejournette. Dejournette currently sits as the sixth best wrestler in the NCAA Division 1, 285 pound heavyweight class, according to the Open Mat poll.
"I didn't know that Denzel would be as good as he is," App State wrestling head coach JohnMark Bentley said. "I knew he had some potential. He has sort of surpassed expectations coming out of high school. I think he could end up being a national champion."
Coming to App State out of high school in 2012, if you had asked Dejournette if he was expecting to have tremendous success at the collegiate level he would have told you yes, but inside he might have had a different opinion.
"I think I said I was going to have a lot of success but I wasn't actually sure if I believed it," Dejournette said. "It's easy to say you're going to be that good but when the workload came, I started second guessing myself because I thought it would be easy and it wasn't."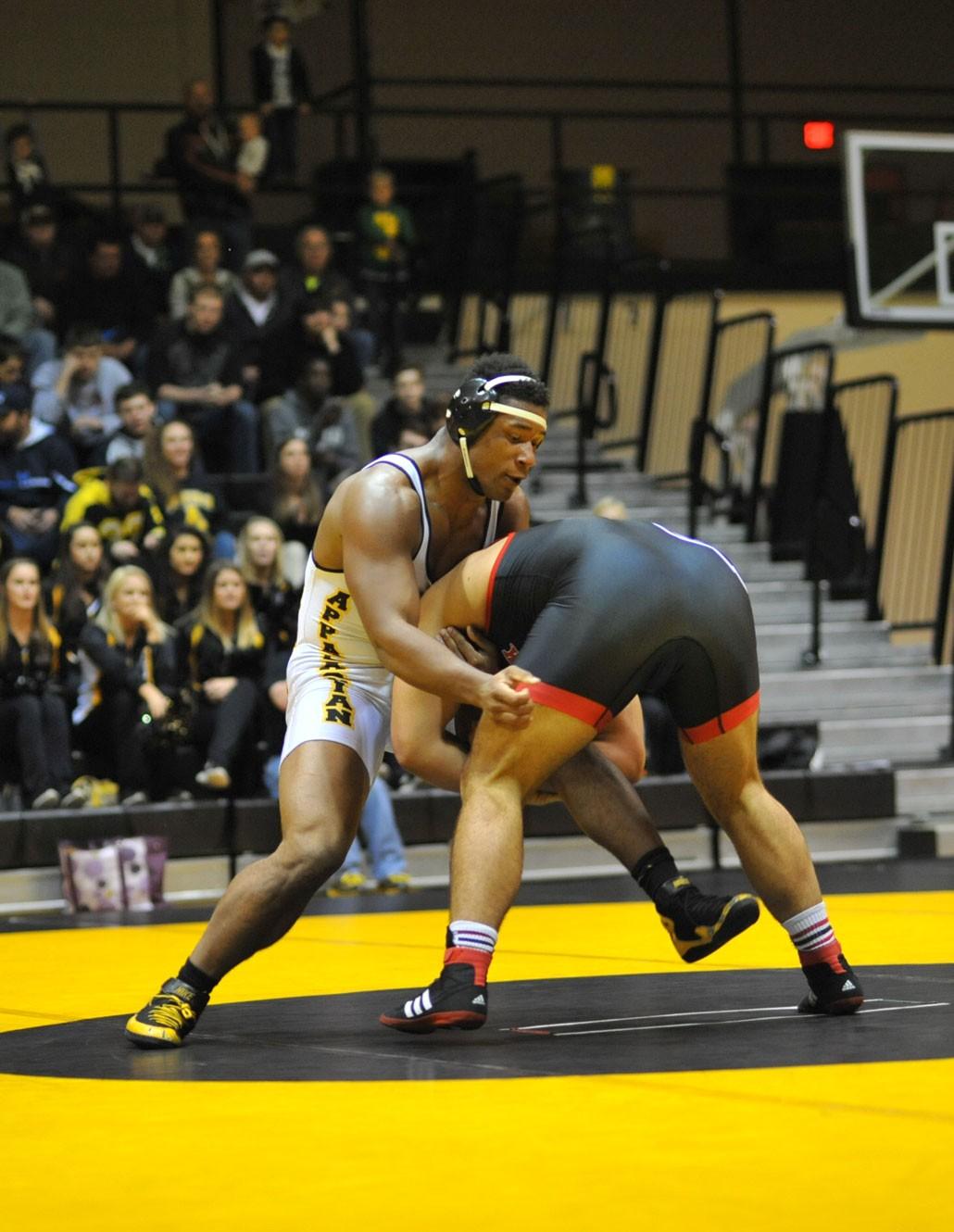 Dejournette came into his junior campaign with an overall record of 71-30. Last season he saw tremendous growth that produced a plethora of accolades.
He compiled a 33-6 record during the season while placing first in both the Roadrunner Classic and Keystone Classic. He was the Southern Conference champion in his weight class and started the season 17-0 before losing to rival and current defending national champion Nick Gwiazdowski of NC State.
His success in his sophomore season gave him a No. 12 seed in the NCAA tournament, where he won his first career NCAA tournament match against Mimmo Lytle of Kent State. If that wasn't enough to solidify him as one of the nation's elite, coming into his junior campaign he was also named SoCon wrestling athlete of the month for November 2014 and SoCon wrestler of the week twice during the season.
"Denzel is really progressing," Bentley said. "I see a huge improvement in him every time he works out. A lot of the hard work, time and commitment he has put in over the past two years is really starting to come to fruition right now. It's exciting to see someone really start to develop and the light bulb come on."
Currently Dejournette sits at 23-2 this season with his only losses coming to top ranked Gwiazdowski and No. 4 Austin Marsden of Oklahoma State. He has finished first in both the Michigan State Open and the Keystone Classic and grabbed a second place finish in the Southern Scuffle. He has helped to propel App State wrestling to their first NCAA Top-25 ranking as a team.
Dejournette said he keeps his mind off of his rankings and concentrates on the task at hand.
"I used to look at the rankings but I noticed I start to get anxiety from it and it wears on you and is tiring," he said. "You start thinking about the wrong things. The rankings are just someone's opinion of you. You still have to wrestle."
Teammates of Dejournette have taken notice of his work ethic and his transformation into a leader both on and off the mat.
"Denzel is definitely one of the hardest workers in the room and is the most positive person on the team," sophomore Forrest Przybysz said.
"His ability to bounce back from a setback is unrivaled in anyone I have seen," Pryzbysz said. "Last year he had a few setbacks right before the conference tournament and went through and just stomped everyone in the tournament. With him its always one step back, three steps forward. His self-belief, confidence, positivity and good attitude make him who he is."
In wrestling, each opponent is unique and each has their own style and special move that they incorporate into their routine. There is one wrestler in the nation that seems to have Dejournette's full attention, the one wrestler that he wants another shot at.
"Everyone says that they want a shot at this guy but for me it's Nick Gwiazdowski, the No. 1 guy," Dejournette said. "I keep losing to him but I keep progressing and getting better and better each time. He is a two-time national champ and I think he can make history this year with a third one, but I'm trying to get in the way of him getting that."
In addition to athletics, being involved as a leader in academics and a leader in Athlete's in Action on campus is paramount to Dejournette's life.
"Athletics can be gone in just a blink of an eye and I want to be more than just an athlete," Dejournette said. "I try to do well in the classroom and try to stay engaged in Athlete's in Action and different Bible studies. It's kind of a relief so I can get away and relax and just think about all of the good things I have in my life. If athletics were taken away from me tomorrow I would still be alright."
It would be wise to keep an eye on Dejournette and the App State Wrestling team as they set their eyes on bringing a SoCon Championship and NCAA championships back to Boone.
Story by: Bryant Barbery, Senior Sports Reporter