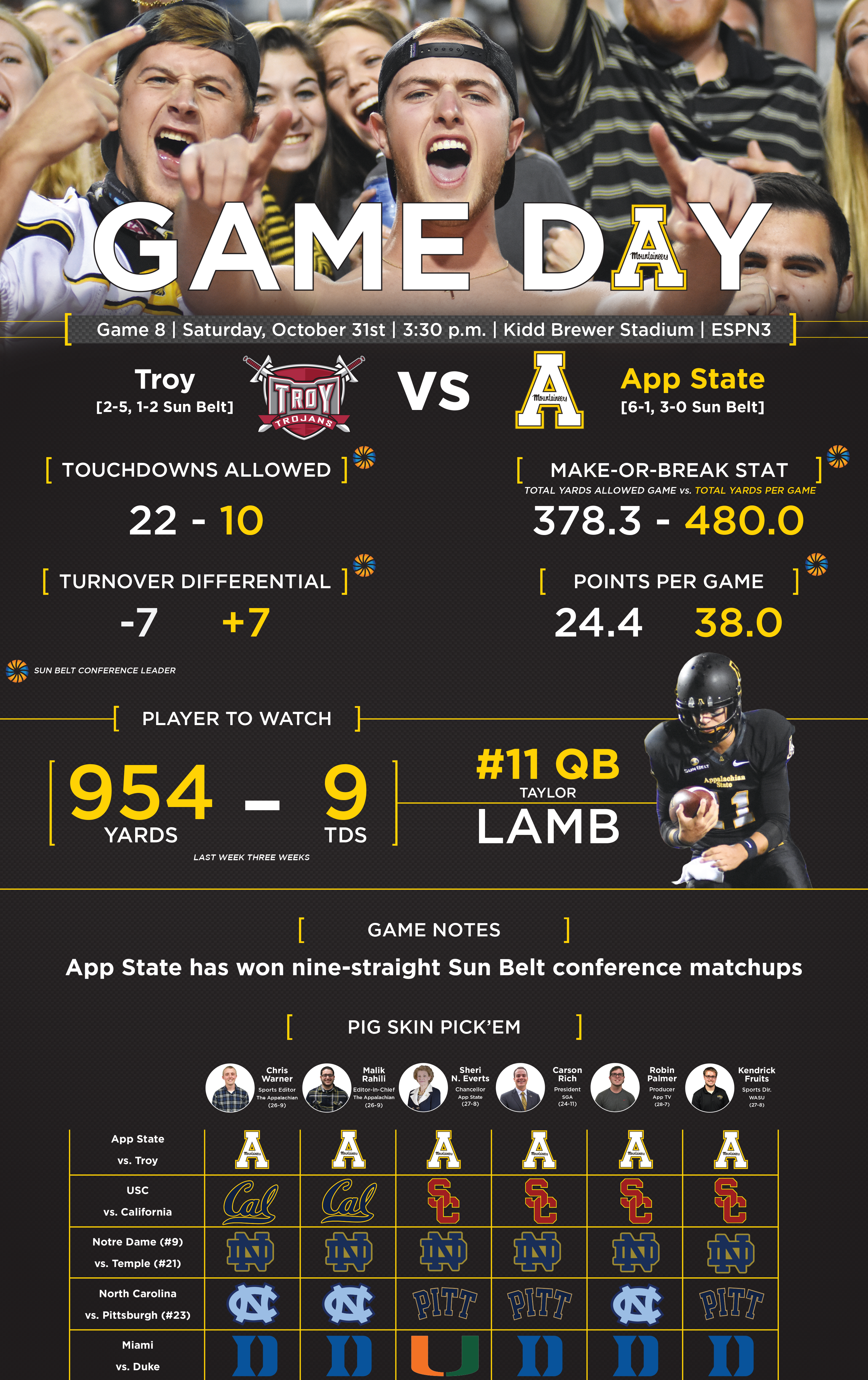 Torment Teddy
While Troy may not be the most prolific scoring team in the Sun Belt conference, averaging a little under 25 points per game, they certainly have a dynamic weapon in senior wide receiver Teddy Ruben, who leads the team in receiving yards, kick return yards and punt return yards, among other categories.
Ruben has already accumulated 468 yards on 33 receptions, five of which were touchdowns. Combine that with his 422 total return yards and a return touchdown, and you can see why he's not someone that App State can allow to fly under the radar.
I expect Ruben will see a heavy dose of cornerback Latrell Gibbs, who, after averaging an interception a game through his first five, hasn't seen many passes come his way lately. If the Mountaineers can neutralize Ruben's big-play ability, Troy's offense has little to fall back on.
IT'S A TRAP
Coming off a week in which App State dominated rival Georgia Southern in a nationally televised game, received six AP Top 25 votes and became bowl-eligible for the first time, the stage has been set for a potential Troy upset.
Add in the fact that the Mountaineers play in another nationally televised game next Thursday against Arkansas State in a conference deciding game and you can see why it would be easy for App State to look ahead. Especially against a struggling 2-5 Trojan team.
But the path to a conference championship is paved one step at a time and a loss to Troy, while it wouldn't completely crush the Mountaineers season, would remove App from the driver's seat in securing a Sun Belt title.
Let Lamb Lead
In case you've missed it, quarterback Taylor Lamb's play, both through the air and on the ground, has been exceptional over the last three weeks.
He's racked up almost 1,000 total yards and nine total touchdowns, while only turning the ball over once during that same span.
Plain and simple: that's winning football. If Lamb continues this hot streak of play, not a single opponent on App State's remaining schedule will top them.
Story by: Chris Warner, Sports Editor