Quidditch has escaped the realm of Harry Potter to become its own recognized sport, with teams from across the nation coming together each year to compete in the U.S. Quidditch Cup.
This year was the ninth edition of the U.S. Quidditch Cup, which saw 60 teams competing in Columbia, South Carolina April 16-17.
Before the weekend began, each of the teams were sorted into pools of five based on rankings from games played this season. The teams in each pool competed against each other with the top three teams advancing to bracket play in day two.
The Appalachian Apparators, Boone's community team, are currently ranked 32nd in the nation and this was their third year qualifying and competing in the U.S. Quidditch Cup. Since forming in 2009, beater and senior captain Gabrielle Allerton said that the Apparators have become much more competitive and went into the weekend ready to showcase their skills.
The Apparators' pool included the Rain City Raptors, Texas Quidditch, Southern Storm and Silicon Valley Vipers with the Apparators ranked third of the five.
Their first game of the day was against the Silicon Valley Vipers, ranked last in their pool. The Apparators had never played against them and hadn't seen any of their game footage. Despite going into the game blind to their playing style, the Apparators quickly gained a lead in points.
Though the Vipers were able to score a few goals, the Apparators kept their lead until chaser Trey Pressley caught the snitch. The snitch, worth 150 points in the Harry Potter series, is worth just 30 points in the game to serve as a realistic advantage. Pressley's catch gave the Apparators the win 120-50.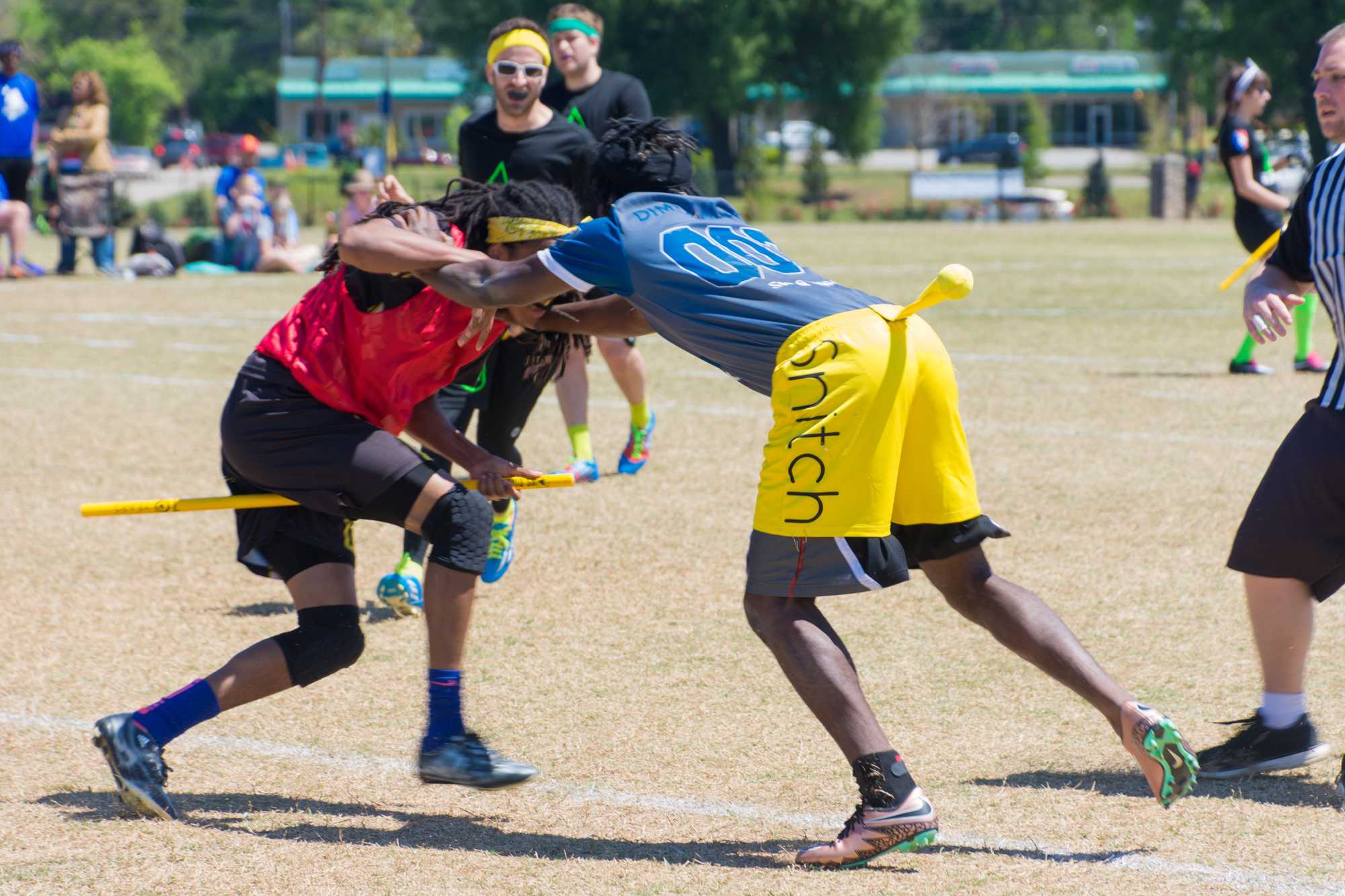 Allerton said that the team normally has a slow start at tournaments, but winning their first game set the bar high for the rest of the day.
"I think if we were to lose that game we would have just not been as excited, so it's really important that we won that game, not just for the bracket play but for our mentality for the rest of the day," Allerton said.
The Apparators' success continued in their second game against the Rain City Raptors. The Raptors, a team from Washington, were ranked first in the pool after losing only one game during their season, but team commissioner Alexandria Gates said that their No. 1 ranking was because the team was from a less competitive region.
"They haven't been playing really highly competitive teams so it's hard to tell their skill level," Gates said. "We don't really know too much about them, but it's predicted to be a close game."
The game was close, but the Apparators secured the win when Pressley caught the snitch for a 150-110 win.
"We went into that [game] thinking we're going to have to play really hard, we're going to have to put in our all, which we do every game, but winning that gave us a lot of confidence going into this next game," junior chaser Bailey Layne said.
They would need that confidence heading into their next game against Southern Storm, where a victory would solidify their spot into Sunday's bracket play.
Southern Storm, headquartered in South Carolina, was ranked fourth in their pool. Unlike the first two teams, the Apparators had played against Southern Storm at a tournament over Easter weekend and defeated them with a significant lead in points.
It was a close game with both teams playing aggressively, but Southern Storm came out with the win after their seeker caught the snitch to end the game, 110-80.
Layne attributed their first loss to a lack of communication among team members.
"We worked really great individually, but as a whole we were all kind of separated," Layne said. "If you can't communicate as a team against a team who is really good, if your teamwork on the field is lacking, you're going to have a harder time playing and that's what happened."
Chaser and captain Benjamin Strauss echoed Layne.
"We missed a lot of passes and our defense, it was there, we just didn't execute very well," Strauss said.
But Strauss didn't let the loss shake his confidence, and said the team was ready to make a statement going into their final game against Texas University, reigning champions of the U.S. Quidditch Cup for the last two years and the International Quidditch Association World Cup winners in 2013.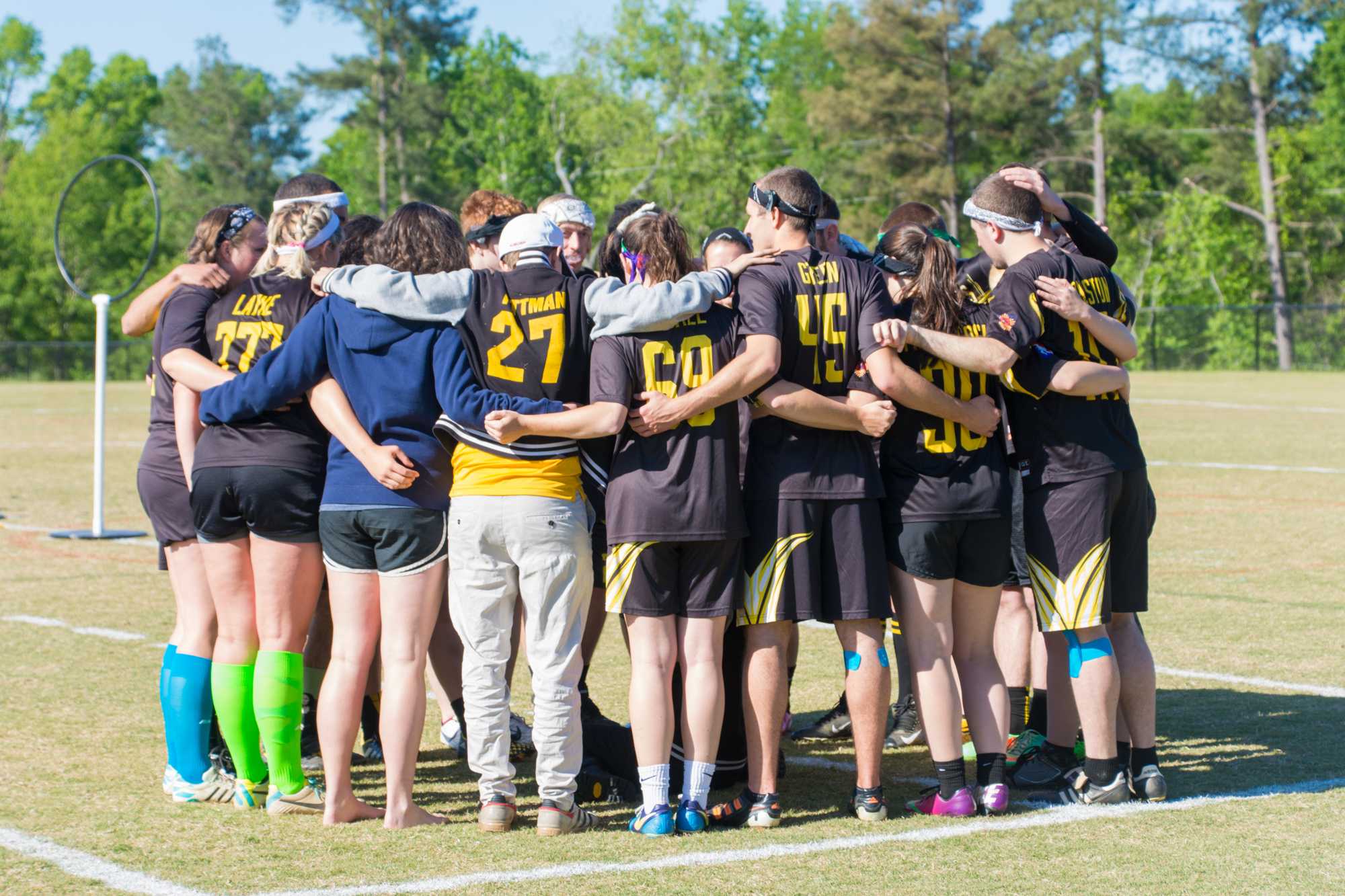 Texas' victories come from being an extremely aggressive team, Layne said.
"They tackle, they're fast, they are where they need to be and if you're in their way, they will tackle you," Layne said. "If you have the ball, they will tackle you, if you're a beater they will take you down."
Texas brought that aggression to their game against the Apparators, gaining a steady lead. The Apparators ultimately lost to Texas 200-40, but scored the most points against Texas than any other opponents in their pool.
Going into day two, the Apparators qualified to play a pre-bracket playoff game on Sunday to against the Fighting Farmers of America, a team from California.
The Farmers led the game early with a 30 point lead. The Apparators were able to score four goals, but the Farmers pulled ahead and won 170-40 after their seeker caught the snitch.
The loss ended the Apparator's competition, but Strauss and Allerton were still impressed with the hard work everyone put forth, especially their freshmen and those who had never competed at the national level before.
"Most of our team, this is their first year," Strauss said. "Two of our three male beaters, this is their first time playing Quidditch so they're very good and they're competing with some of the best beaters on the field, which is impressive."
Allerton said that the Quidditch community is small and still young, and competing in the tournament gave the team the opportunity to learn new playing styles, visit old friends and meet other teams.
"Nationals is different because we're not really in it to win it," Allerton said. "There are a lot of good teams here and we want to go as far as possible, but we come here to play different teams and learn new things, to get better and grow as a team and go as far as we can."
Though the Apparators didn't make it to bracket play, the team looked back on the weekend positively, ready to take what they learned back to their home Quidditch pitch in Boone.
Story by: Aleah Warner, Chief Copy Editor
Photos by: Aleah Warner, Chief Copy Editor