____________________________________________________________________________________________________________________________________________________________________________________________________________________________________________________________________________________________________________________________________________________________________________________________________________________________________________________________________________________________________________________________________________________________________________________________________________________________________________________________________________________________________________________________________________________________________________________________________________________________________________________________________________________________________________________________________________________________________________________________________________________________________________________________________________________________________________________________________________________________________________________________________________________________________________________________________________________________________________________________________________________________________________________________________________________________________________________________________________________________________________________________________________________________________________________________________________________________________________________________________________________________________________________________________________________________________________________________________________________________________________________________________________________________________________________________________________________________________________________________________________________________________________________________________________________________________________________________________________________________________________________________________________________________________________________________________________________________________________________________________________________________________________________________________________________________________________________________________________________________________________________________________________________________________________________________________________________________________________________________________________________________________________________________________________________________________________________________________________________________________________________________________________________________________________________________________________________________________________________________________________________________________________________________________________________________________________________________________________________________________________________________________________________________________________________________________________________________________________________________________________________________________________________________________________________________________________________________________________________________________________________________________________________________________________________________________________________________________________________________________________________________________________________________________________________________________________________________________________________________________________________________________________________________________________________________________________________________________________________________________________________________________________________________________________________________________________________________________________________________________________________________________________________________________________________________________________________________________________________________________________________________________________________________________________________________________________________________________________________________________________________________________________________________________________________________________________________________________________________________________________________________________________________________________________________________________________________________________________________________________________________________________________________________________________________________________________________________________________________________________________________________________________________________________________________________________________________________________________________________________________________________________________________________________________________________________________________________________________________________________________________________________________________________________________________________________________________________________________________________________________________________________________________________________________________________________________________________________________________________________________________________________________________________________________________________________________________________________________________________________________________________________________________________________________________________________________________________________________________________________________________________________________________________________________________________________________________________________________________________________________________________________________________________________________________________________________________________________________________________________________________________________________________________________________________________________________________________________________________________________________________________________________________________________________________________________________________________________________________________________________________________________________________________________________________________________________________________________________________________________________________________________________________________________________________________________________________________________________________________________________________________________________________________________________________________________________________________________________________________________________________________________________________________________________________________________________________________________________________________________________________________________________________________________________________________________________________________________________________________________________________________________________________________________________________________________________________________________________________________________________________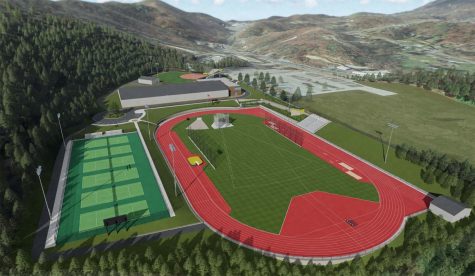 Gianna Holiday, Reporter
November 19, 2019
Plans are in motion to scrap Ike Belk Track in Kidd Brewer Stadium in lieu of App State's purchase of the old Watauga High School lot.  App State acquired the 74-acre property on the site of the...
November 19, 2019
College students have homework to do, meetings to attend and sleep to get. Often, in the midst of these...
November 15, 2019
After three weeks of debate and discussion, the Student Government Association passed its 2019-20 budget...
November 13, 2019
About 30 years ago, then-President George H.W. Bush declared November Native American Heritage Month....
November 10, 2019
The National Science Foundation awarded a visiting assistant biology professor over $600,000 to support...
November 10, 2019
The Student Government Association hosted a town hall meeting Wednesday to give App State students an...
November 9, 2019
Geology scavenger hunts, fossil workshops, rock smashing and career exploration activities are what some...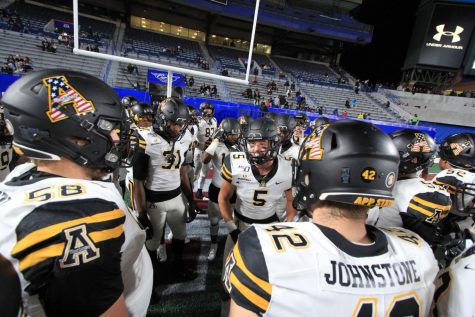 Moss Brennan, Editor in Chief
November 17, 2019
After blowing by Georgia State 56-27 on Saturday night, the Mountaineers are back in the AP Top 25 poll at No. 23. The Mountaineers also moved up two spots to No. 22 in the Amway Coaches Poll. The Mountaineers...
November 17, 2019
After a slow start that saw the Mountaineers down as many as 14 points in the first quarter, junior quarterback Zac Thomas led App State to a 56-27 victory...
November 14, 2019
The App State men's soccer team secured its eleventh win of the season with a 3-0 win over Howard in the first round of the Sun Belt tournament on Wednesday,...
November 14, 2019
After establishing himself as a household name during his first three years in Boone, senior linebacker Jordan Fehr is making his last season his best...
November 12, 2019
The Mountaineers men's basketball team improved to 2-1 on the year with a 68-62 victory over the Pirates of East Carolina on a snowy Tuesday night in...
Marlen Cardenas, Reporter
November 14, 2019
Although art history only has 27 students majors or minors, the art history club is still up and running. "We're kind of a niche over here," said John Stephenson, professor of art history and...
November 13, 2019
His broadcast career took off when he walked into a Georgia radio station as a teenager and was immediately hooked. After four decades of working in the...
November 13, 2019
The pink and teal music note representing the TikTok app is immediately recognizable to some as an app users spend hours scrolling through. Others view...
November 12, 2019
Salty air, stale tobacco and shadowy guilt are portrayed in "The Lighthouse," which premiered Oct. 18. Robert Pattinson and Willem Dafoe play two lighthouse...