Newsletter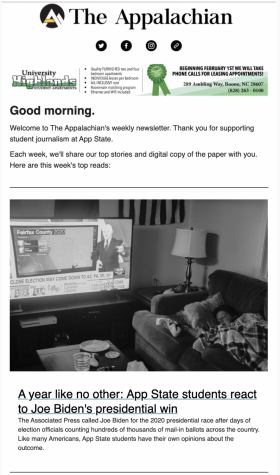 The Appalachian Newsletter was created in the fall of 2020 as a way to continue communicating with readers amid the COVID-19 pandemic.
Every Wednesday morning during the academic year, the newsletter is delivered straight to our subscribers' email inboxes. It features our top stories from the week in News, Arts & Culture, Sports and more. The newsletter also contains a link to the PDF of our monthly print edition.
The newsletter also offers advertising opportunities. Click here for more information about advertising with us.
Enter your email below to sign up for our newsletter.