The musical duo Black Violin played for a sold out show in the Schaefer Center for the Performing Arts Friday night, as part of the APPlause! series, which is dedicated to K-12 education through high-energy experience, according to the Schaefer Center website.
Black Violin featured violinists Wilner Baptiste and Kevin Sylvester, who have known each other since high school. Although they have a classical background, their distinctive style is in the marriage between myriad musical tastes to ultimately strike a balance between classical and hip-hop, according to the program.
Towards the end of Friday night's show, Sylvester made comments directed at the younger audience members.
"For the kids in the audience you probably already play the violin or your parents really want you to play the violin," Sylvester said.
Sylvester listed the opportunities the violin has lent him so far in his life, like a full scholarship to college, a chance to play for the troops in Iraq, as well as playing for President Obama's inauguration.
"Make sure you practice, practice, practice," Sylvester said.
Sylvester said the true point of the show was not just about the violin, it was about thinking outside the box and breaking stereotypes.
"We are not your stereotypical violinists up here, you know, but that is exactly why this works. We take what they think is different and you bring it in, and you make it something that no one would've thought to do," Sylvester said.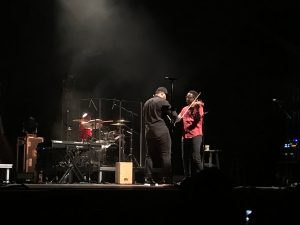 Sylvester said he was asked by others growing up as to why he chose to play the violin because the instrument to them was seen as uncool, and he should play football or basketball instead.
"And we tell them go ahead and you guys play that, watch what we do with this violin," Sylvester told the crowd.
Sylvester said when someone doubts something, "that is more fuel to prove them wrong."
Sylvester explained the purpose behind their recent album "Stereotypes."
"We wanted to make music that could bring people together and was unifying music. From our perspective there is so many different types of people in this audience tonight," Sylvester said.
The crowd was invited to get up and use the inside of Schaefer as a dance floor. The audience danced for a majority of the show; the room filled with fog, colored lights and a symphony of sounds from the stage. The duo was not alone in their entertainment, which was backed by DJ SPS and drummer Nat Stokes. The performers topped off the night playing with a group of orchestra students from Watauga County schools.
Grayson Howell and his wife Miriandra Howell, who live in Virginia, made the trip Friday night out of pure curiosity. They have not been to a concert in a long time and remembered one of their last concerts coming down to Boone to see Bob Dylan.
"I thought it would be a nice surprise. I heard their song 'Stereotypes' and thought it was quite wonderful," Grayson Howell said.
Immediately after the performance closed, Miriandra Howell smiled as she described the night as exhilarating. Her husband, Grayson Howell commented on how lively and inviting the performance was.
If you would like to catch Black Violin's next venue, tickets are available on their website at blackviolin.net, or follow them on their social media.
Story and Photos By: Alexander Hubbell, Intern Reporter
Photo by: Halle Keighton, Photo Editor
Feature Photo Caption: Black Violin is joined by Watauga County schools orchestra students.