While Boone Saloon served up drinks to locals, Democratic Congress delegate Denise. D (DD) Adams explained why she deserves to go to Washington D.C.
Adams' opponent in this election, Virginia Foxx, was invited to the event but did not attend, Andrew Strahan, co-coordinator of the Watauga area for campaign interns, said.
Adams kicked off the night describing her roots. Born and raised in the 5th district, Adams is a Winston-Salem native and a first-generation college graduate. Before going into politics, she operated a filling machine at Schlitz/Stroh Brewery, eventually working her way up to a management position.
Now a three-term council member for the North Ward of Winston-Salem, Adams said she hopes to make big strides for Watauga, the rest of the 5th district and the country. Adams is determined to win, traveling all over the district to reach out to North Carolina's citizens.
"I've been running for almost 22 months for this thing. It's unheard of. I don't think Barack or Hillary or Bernie…none of them ran 22 months y'all," Adams said. "I want you guys to understand that I'm a hard worker."
Education issues, such as teachers' pay, college cost and student loans are areas that need attention in Adams' eyes.
"If we can renegotiate income tax debt, bankruptcy debt, why wouldn't we be able to renegotiate the debt of the future of this country?" Adams said. "You get out of college, you got all these degrees, you're ready to go, but you can't even find a job to pay you enough money to pay your principal interest on your loans."
Adams said colleges and universities should be affordable for everyone.
Along with education, Adams advocated for healthcare and how vital it is for North Carolina and Americans in general.
"I believe that healthcare is the most important thing any of us can have. I believe every American deserves a baseline of healthcare," Adams said. "That's my number one priority when I get to D.C."
Adams is also a proud supporter of small businesses and said they are the ones that run the country, not big corporations.
"They live right here in our communities. They are the ones that give their everything when we want them to give something," Adams said. "I believe in the sustainability of every small business."
At the end of her speech, Adams rounded out why she should go to D.C. and represent the 5th District.
"I think it's time that you have somebody that at least knows what they're doing and how to go get stuff done," Adams said. "And that person is me. It's me."
Questions asked on topics such as immigration and LGBT rights after Adams' agenda speech gave a closer look into other organizations and issues Adams stands for.
Adams said it is '"our time" for women to take on the nation. She also believes DACA members have the right to dream and that families should not be separated in immigration. Adams stated that LGBT members should be treated with the same respect and be given the same insurance opportunities as others. Plus, she is for the decriminalization of marijuana.
"I grew up as a flower child and a hippie. So, I believe we need to decriminalize it,"  Adams said. "I believe that those young people or people that have been incarcerated for the possession of those drugs need to be let go and their records expunged."
Adams closed out the night with a call to action while also reassuring she won't stop her fight until election day.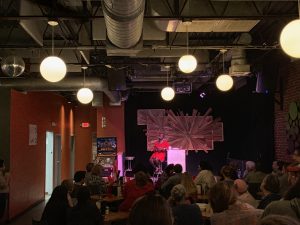 "We don't need to be talking about it, we need to be about it. This is the last push," Adams said. "Let's go win this thing, okay?"
Emily Hogan, freshman political science major and intern for the DD Adams campaign, joined Adams to gather inspiration and female empowerment, along with advocating for better care of the district.
"As a woman, DD Adams really is empowering for me. To be around that kind of energy and that inspiration all the time is something that really motivates me," Hogan said. "When I'm working on a campaign, yes I'm fighting for that candidate, but I'm also fighting for every single person in the district's chance."
Timothy Maddock, archaeology major, didn't know what to expect at the event but came anyway to see Adams, the person they voted for in the primaries. Maddock said they appreciate Adam's values and general platform.
"I generally like her honesty," Maddock said. "We align on a lot of different things, mainly health care, decriminalizing marijuana, LGBTQ rights."
On a mission rallying young voters in the Watauga area to speak their mind, Adams spoke hers one final time and addressed the students of App State.
"This is your world. The world won't change, your life won't get better, quality of life will be something out of your reach for a very long time," Adams said. "App State is pivotal in this election. I love y'all, but I can't fight for you if you're not willing to get up and go vote. Turn out!"
Story by Emily Broyles, News Reporter 
Photos by Emily Broyles and Frank Batts 
Featured photo caption: DD Adams poses with students from App State, some serving as interns for her campaign. Adams has been running for Congress for 22 months.