Freshmen making an early impact for mountaineers
It's not very often that a NCAA soccer team has 14 freshmen on a team. It is even less often that a team with this many freshmen is able to compete at a high level and beat some quality opponents. Even in this case, most of the freshmen probably would not be seeing too much playing time, much less starting, playing impactful minutes and scoring goals.
Apparently, no one told second-year App State head coach Jason O'Keefe about these notions. Or maybe someone did, and he just threw caution to the wind.
Whatever the case may be, this year's young team along with a pair of first-year transfer students brings O'Keefe's first full recruiting class to a total of 16.
"I've been thoroughly impressed. They've come in, been professional, been mature and it's been good," O'Keefe said.
With a total of 16 newcomers to the program, one would expect the Mountaineers to be going through a sort of rebuilding phase with high hopes for the future and not much of a focus on actually winning matches.
O'Keefe clearly is not one who focuses too much on what other people think as he has proven all of these things untrue, or at least in this case. The Mountaineers are currently a respectable  3-4-1 and have been competitive in each match.
"As far as this class goes, we're real excited about what has transpired with them and we're excited about the rest of the season and beyond," O'Keefe said.
Eight of the team's freshmen have started at least one match so far this year and four have found the back of the net, scoring at least once this season.
"Getting them these quality games prior to conference play is massive. We've been in some heavy games with some really good programs but everything is going to be amplified once we start conference play," O'Keefe said.  "We'll hopefully be ready to go after this non-conference schedule and these important minutes and experiences that they've been able to log."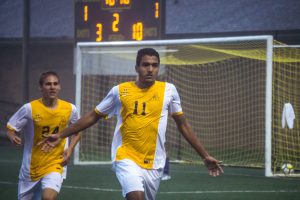 Freshman forward Juan Hernandez leads the team in both goals with two and total points with five. Hernandez was also named Sun Belt offensive player of the week after his standout performance against Central Arkansas in which he scored both goals to lead App State to a 2-1 victory. After coming off the bench in the victory, playing 61 minutes and scoring the decisive goals, the Winter Garden, Florida native earned himself a starting role and has started six of App's eight games.
Another one of the more productive freshmen has been forward Reed Hunnicutt, who is tied for the team lead in assists with two. In addition to his assists, Hunnicutt has scored a goal, giving him four total points on the year, good for second on the team. His goal was the decisive one in App State's shutout 1-0 victory over Longwood.
Despite fitting right in at the collegiate level, Hunnicutt did notice a difference between the styles of play in high school and college.
"It's definitely a lot more competitive," he said. "In high school you have a few good players, but then you come to the collegiate level and there is definitely a lot more talent and skill that you have to adjust to." 
Freshman midfielder Marc Pfrogner has been Appalachian's most efficient attacker, shooting four of his five shots on goal but has been plagued with good goalie defense and hasn't yet chalked up a goal.
A key component of the Mountaineer defense that forced a clean slate is freshman defender Zeiko Harris. Harris has started all eight of Appalachian's matches and aside from being a valuable piece of the back line, Harris also scored a goal that helped App State pick up a big 3-2 win at VCU.
Harris has not been surprised by his early success and said, "I expected for myself to come in and start and make an impact on the team."
Freshman defender Brady Gunter has been another valuable piece of that back line, starting six of eight matches and logging 602 minutes so far. Gunter expected the collegiate game to be more challenging but was confident in the group and and knew they had the right mindset.
"I knew it would be hard work, but I knew we had a good freshman class coming in, probably one of the best we've had in a long time," Gunter said. "We all had different expectations for ourselves, but we did know that we'd get our time to make an impact."
Gunter also credited some of the older guys on the team with helping them get acclimated so quickly.
"They really helped us out a lot," he said. "We have a couple really good leaders on the team that really help us through everything, so were able to adjust really well to it."
O'Keefe likes what he has seen out of his group so far, but knows the season is still young.
"It's a process. It's one we're trying to speed up every day but at the end of the day, it's still a process and you just have to roll with it," O'Keefe said.
With such a strong, young core, the Mountaineers are built for the future. But why wait for the future when you already have the present?
Story By: Silas Albright, Intern Sports Reporter
Photos By: Haley Canal, Intern Staff Photographer