From project to playmaker
Getting on a nickname basis can be a sign of growing closer to another person, especially if that person is your head coach. Freshman forward Isaac Johnson has had nicknames in the past, but none have been so short, yet meant so much to his basketball career.
"Instead of saying Isaac, it's 'Ike' because it makes it quicker," head coach Jim Fox said. "It's a New York thing I guess."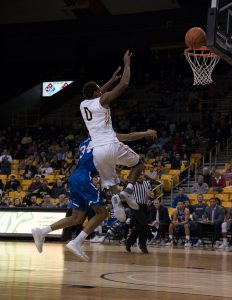 Coming in at 6 foot 9 inches tall and 212 pounds, the freshman has been an athletic force all throughout his life. In middle school, Johnson began attending Providence Day School in Charlotte, which is known for its athletics.
Beginning his high school career, Johnson excelled as a track athlete. Dominating in the 200 meter dash, 110 and 300 meter hurdles and the high jump, he helped lead his team to four straight NCISAA 3A state titles.
During his senior year Johnson individually brought home first place at the state championships in the 110 meter hurdles and high jump. He also finished second in the 300 meter hurdles and sixth in the 200 meters.
Picking up accolades along the way was nothing new for Johnson's immediate family. All had been involved in track and field, and Johnson's mom even coached her son in the high jump.
Johnson's father, Ronnie Johnson, also played football for the Chicago Bears.
Though continuing to impress on the track, Johnson was holding out hope for his true love: basketball. Picking up the game later than most, the athletic forward began making his presence known on the basketball court.
Averaging 11.5 points and 6.3 rebounds his senior year, schools began to court Johnson. It also did not hurt that the Chargers finished 30-3, placing 16th in the nation with a lopsided state championship victory.
From that state championship team, three players, including Johnson, played college basketball this season. While exposure for all three of the basketball stars was high, Johnson's decision was weighing his love for basketball against his sheer talent in track.
"I chose basketball because I began to fall in love with it over the years, and I have been doing track all my life since I was a little boy," Johnson said. "I just wanted to try to get away from track, I wanted to play basketball."
Deciding that basketball was going to be his road to college, Johnson became a target for what player he could become later in his college career. Trying to boost the athleticism in his front court positions, Fox saw a golden opportunity.
From Fox's days at Davidson, the now head coach surprisingly did not recruit much in the Charlotte area. That all changed, however, when Fox stumbled upon Stephen Curry while at Davidson and citing like we all know now that he "turned out to be pretty good."
After hearing about Johnson, Fox decided to return to Charlotte to watch Johnson in person. Johnson did not disappoint, prompting Fox to eventually give Johnson a scholarship offer.
"[With] Providence Day being in Charlotte, I was able to get down there and watch him," Fox said. "The biggest thing is that a guy with potential is based on how hard does he work and how much does he want it, because if you have potential and don't want it, then you're never going to realize it."
With the scholarship offer on the table, Johnson made an official visit within one week of national signing day, ultimately committing to the Mountaineer program before leaving campus.
"I sold him on one, we're going to kick his butt and make him better, and two, we sold him on the fact that we could use his versatility," Fox said. "I just thought Ike was a great all-around athlete who wanted to play basketball and was committed to getting better."
Johnson would also join forward Zach Cottrell, guard Patrick Good and guard Kelvin Robinson to round out the freshmen signed to this past year's recruiting class. Robinson also had offers for another sport, declining a football scholarship from Arkansas to play basketball in Boone.
"I had high expectations for him coming in like I do for every freshman class," junior forward Griffin Kinney said. "This is a system where they can play, and a lot of them knew that from the beginning."
Finishing up high school, Johnson soon began to prepare for the start of his college basketball journey. Traveling with his App State teammates to Europe before the season, Johnson got some exposure to the rough style of basketball unique to college basketball played in the United States.
Kicking off this season, Johnson got to see some familiar faces, both in the crowd and on the court. Following an early season defeat at the hands of Davidson, the Mountaineers traveled to Knoxville to take on the Tennessee Volunteers, where Johnson had one of his former high school teammates waiting for him on the court.
Grant Williams and Josh Howard both were close friends of Johnson's who moved onto the next level. Williams signed with Tennessee and Howard signed with Brown.
"It was fun and weird because I have been playing with him for four years on the same team, and now [I was] playing against him," Johnson said. "To go to his house, and play against Tennessee, was real fun and a great experience too."
After the Tennessee game, the freshman forward still was not seeing much of the court, averaging under 16 minutes per game. Returning to his hometown, he finally saw the breakthrough that he and his coaches were looking for, totaling a then season high of 24 minutes.
Scoring 12 points and bringing down 10 rebounds, Johnson notched the first double-double of career against the 49ers. Though ultimately falling to Charlotte, Johnson showed off not only for his family in the crowd, but also his coaches on the bench.
"It meant a lot to me because that was the beginning of when I knew what I could do for this team and help us succeed this year," Johnson said. "I have to keep that in my mind to show people what I can do and show the coaches that I need to be on the court to help the team."
Since his game against Charlotte, Johnson has seen an increase in minutes, ultimately leading to an uptick in his production. At this point in the season, Johnson leads the team in both rebounds and steals, including nine games where he has led the team in rebounds.
In conference play, Johnson averages over 21 minutes per game. While only playing around a half per game, coaches want Johnson to help his team in another area: leadership.
With the App State roster consisting of only three upperclassmen, coaches have implored younger players to take a more vocal role.
"As a freshman, I have to get out of my comfort zone because [sometimes] I just sit there and say I am going to let my upperclassmen leaders do more of the talking," Johnson said. "As a freshman who plays, I need to show that I can do more than just play."
So far on the season, three App State freshman have played over 20 minutes per game in conference play, including Good and Robinson falling inside the top five in average minutes played per game in Sun Belt play.
Struggling to get a foot in the door, this year's App State team has fallen to 1-9 in conference. Though this year's team has struggled, many of its young players have made their presence known.
For one freshman, playing college basketball was a dream that came true. Getting closer to his teammates and head coach, "Ike" Johnson will continue to develop into the player Fox bet on less than a year ago.
"He will be a force for four years here, and he could end up leaving Appalachian with 1000 career points," Kinney said. "He's going to have to take the reins on the team early once some of these upperclassmen are gone, and it's his team [if] he wants it to be."
Story By: Tyler Hotz, Sports Reporter
Photos By: Halle Keighton, Photo Editor