Game Day Grades: App State vs. New Mexico State
Game: App State (3-2, 2-0 Sun Belt) vs. New Mexico State (2-4, 0-2 Sun Belt)
Final score: App State 45 New Mexico State 31
GRADES:
Quarterback: D
Had it not been for a fourth quarter 38-yard rushing touchdown from senior Taylor Lamb and a 27-yard trick play touchdown thrown by receiver Malik Williams, the quarterback position would arguably get a F here. However, those plays did happen and it helped boost their grade. Lamb entered halftime with only nine passing yards in arguably the worst game of his season so far. In addition to throwing his first two interceptions of the season, Lamb was unable to get any passing offense flowing until the fourth quarter when he connected with senior wide receiver Ike Lewis for a 13-yard gain. On the day, the Mountaineers finished with 75 passing yards and 27 of those came from a wide receiver. It was not a great day for Lamb, and the Mountaineers offense went 2 for 10 on third down conversions.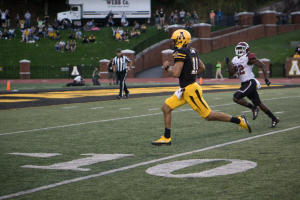 Running Backs: A+
Fans have been waiting for junior running back Jalin Moore's breakout game this season, and he finally had rushing for 243 total yards and two touchdowns. Suffering minor injuries through the team's first four games, Moore had a handful of long runs that began with a 45-yard run in the first quarter. Moore's long of the day was 56 yards as he finished the game with the third most total yards in his career. Senior running back Terrence Upshaw backed up Moore with 39 yards on 11 carries and two touchdowns in the red zone. Upshaw's longest run of the day was 13 yards. With the passing game struggling, Moore and Upshaw provided when needed most and there wasn't much to knock on them. This may be the game that the two needed to get going this season.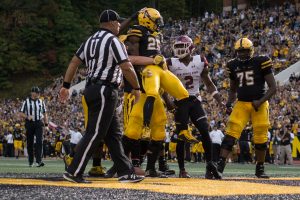 Wide Receivers: B-
The wide receivers started the game struggling when senior receiver Ike Lewis fumbled the ball on the first offensive possession. From there, things did not get much better with Lamb being unable to find any openings. Freshman Thomas Hennigan was the leading receiver with 66 yards on six receptions. The biggest play for the receivers came in the fourth quarter during App's 21 unanswered points session. Lamb completed a pass to Williams and Williams connected with Hennigan for a 27-yard passing touchdown to give App the lead with 5:45 remaining in the game.
Tight Ends: C
Offensively, the tight ends were non-existent on the stat sheet. Senior Bill Cecil had his first career start at tight end, but no tight ends connected with Lamb in the game. However, the tight end group had some strong blocking throughout the game giving them an average grade.
Defensive Line: B-
There were plenty of missed tackles in the game for App State, but the defensive line stayed strong despite starting the game defending in the red zone in two of the first three drives. Senior defensive end Tee Sims led the group with six tackles and a tackle for loss, and the Mountaineers held the Aggies to two field goals with one missed and 5 for 6 in the red zone. In total, the App defense had four sacks, but none by any of the front three.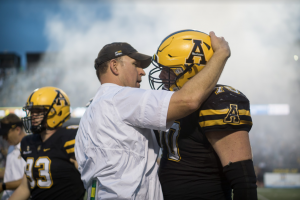 Linebackers: A-
The linebacker corps did what they needed to do. They contributed to holding the Aggies running game to 176 yards and forced two fumbles even though they weren't recovered. Junior inside linebacker Anthony Flory led the group and team with 11 tackles having 10 of them, and senior inside linebacker Eric Boggs was second on the team with nine total and five solo tackles. Flory finished with one tackle for loss and Boggs had 2.5. Senior Rashaad Townes contributed with a solid day of his own with six total tackles, two sacks, a break up and a quarterback hurry.
Secondary: A+
Yes, the secondary gave up 356 yards in the air, but when two cornerbacks combine to break the school interception record, I can't give them any lower than an A+. Sophomore Clifton Duck and junior Tae Hayes each had three interceptions, both tying the school record for interceptions in a game with Mark LeGree (2008 against Wofford) and Larry McKenzie (1971 against Davidson.) Five of the six interceptions led to scoring drives for the Mountaineers and the six interceptions were returned for 112 yards. In addition, sophomore full safety Desmond Franklin contributed with six tackles and two pass breaks up in pivotal red zone drives by the Aggies. Even with senior safety A.J. Howard being ejected in the first quarter for targeting, the secondary stepped up. Duck also had his first career sack.
Offensive Line: B-
The offensive line allowed no sacks, but they didn't do much to help the passing game. However, the offensive line did help the running game pick up 350 total rushing yards. On a bad note, the group didn't help the Mountaineers much on third down conversions, but helped them go 3 for 3 in the red zone.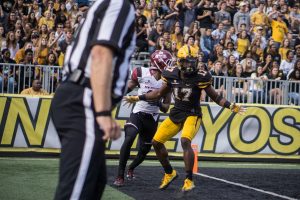 Special Teams: C
Wide receiver had 168 kickoff return yards on five attempts, with a long of 49. Sophomore kicker Michael Rubino once again missed field goal on a 46-yard attempt in the first quarter. He recovered with a 26-yard field goal, but then had an out of bounds kick off right after.  
Player of the Game: Tae Hayes and Clifton Duck
When two cornerbacks tie a school record for interceptions, it's pretty difficult to only choose one as player of the game. Hayes almost broke the record with four, but it was called of leading to Duck's third. Therefore, both of these players deserve huge recognition.
Overall team Grade: B+
There were some sloppy plays, but the team had a great fourth quarter with 21 unanswered points to keep the Mountaineers undefeated in the Sun Belt.
Story By: Jason Huber, Sports Editor
Photos By: Haley Canal, Staff Photographer