Game Day Grades: App State vs. Wake Forest
Game: App State (2-2 overall, 1-0 Sun Belt) vs. Wake Forest (4-0 overall, 1-0 ACC)
Final Score: Wake Forest 20, App State 19
GRADES: 
Quarterback: A-
Senior quarterback Taylor Lamb had another career day against the Demon Deacons. He would notch his career high in pass attempts with 50, throwing 26-50 for 372 yards and two touchdowns. On paper, this performance would look like an A+, but watching the game there were a couple of errors. Lamb threw into coverage, most notably, three times that should have been intercepted by the defensive backs of Wake Forest. In the end he still deserves the A- grade due to his good game management down the stretch and QB vision he showed.
Running Backs: B
A somewhat quiet night from the running back position on Saturday. Senior running back Terrence Upshaw saw the start, due to junior Jalin Moore still banged up, although he would play in Saturday's game. Upshaw would finish as the team's leading rusher posting 88 yards on 15 rushes, good for 5.7 per rush. They were however good in pass protection, helping Lamb keep a clean jersey and end the game being sacked zero times. If the back's want to break into the "A" category, they will have to start producing more than they have been this year.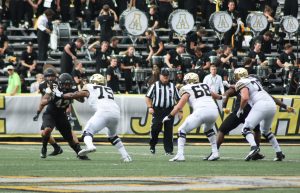 Wide Receivers: A
Earning my highest grade on the team, the receiving corps played almost flawlessly. Led by freshman Thomas Hennigan, who posted five catches for 74 yards, the receivers always managed to find themselves open throughout the course of the game. Junior T.J. Watkins saw some action today after having recovered from an injury, and we got to see what this playmaker could do. He took a one-yard shovel pass from Lamb 84 yards to the house and finished the day with three catches for 102 yards. However, if they could grab one or two more TD passes, that would be the factor that would give them the A+.
Tight Ends: B
Seeing a B for tight ends might be surprising. The only reason I say this is because there was not much action towards them this game. Levi Duffield was the only TE to show up on the stat sheet Saturday, grabbing three passes for 31 yards and a touchdown early in the game. They did do a good job of blocking off the edge and like the running backs, keeping Lamb upright throughout the game. The game against Savannah State they had an A+, so they would need to show amazing production like that again to get a higher grade.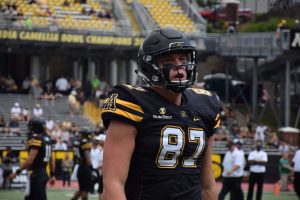 Offensive Line: B
An overall solid game from the O-line, but it could have been better. Key stats were again that Lamb was kept on his feet while in the pocket all day. That does not tell the whole story though. There were a few breakdowns in protection, mostly when trying to run the football. The Deacons broke through and were able to total seven tackles for loss and three quarterback hurries. The grade would be worse but Lamb was still able to work quickly and carve up the Deacon defense for major yardage and Upshaw was able to scamper for 5.7 yards per carry.
Defensive Line: B-
Usually a stout and powerful defensive line, Apps front three were not able to get into the backfield in Saturday's game. Only posting a combined 1.0 sack and 2.0 tackles-for-loss is not exactly a stuffed stat sheet. They were also only able to hurry the QB, John Wolford, two times all game. They did do a good job containing the run to an extent. Allowing no more than 3.8 yards per rush to the Deacon running backs in the game, who rushed for a total of 27 times, not including Wolford who ran 13 times for 77 yards. I need to see more backfield penetration like we're used to seeing to upgrade them anymore.
Linebackers: B+
The linebackers did their jobs for the most part in this game. Wake Forest ran a tough run-pass option for most of the game that is tough to defend. Behind the DL, the inside linebackers were matched up to the running back(s) and the quarterback on these plays and fared well. The only big mistakes that were made was allowing John Wolford to run in space too many times and two or three catches over the middle to the Deacon tight ends, otherwise they would have had an A.
Defensive Backs: A-
You look at the box score and see that there were two passing touchdowns given up and think "how do they get an A-?" Well those scores both came from within the red zone, where the Deacons are a perfect 18/18 on the year, which is hard to stop. But the DB's tallied six pass breakups on the day and held Wolford to only 176 yards passing, which is right as his average on the season. Safeties were also good in run support as I mentioned holding the running backs to less than 3.8 yards per carry.
Special Teams: D
I'll keep this short and sweet. Sophomore kicker Michael Rubino did go two out of four on field goals Saturday, missing one and another one being blocked that cost them the game. That is not including a PAT that was also blocked after the team's first touchdown. A close game like this, the kicker has to make those field goals which is why special teams gets a D.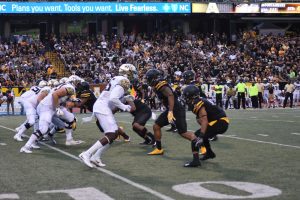 Fans: A
35,162. That was the attendance for today's game which is a new App State record here at The Rock. The energy was high the entire contest, which pumped up the App offense and defense. Energy that more than likely helped App get that final three-and-out on Wake's final drive. Fans were given towels before the game and were standing and waving them all game. The fans would have gotten an A+ but at halftime, in a one-score game mind you, there were some fans leaving the game so I had to downgrade for that.
Coaching: B+
A solid game coached all around from both sides of the ball. The offense was productive on most drives with good play calling. Plays that always seemed to have the receivers open and Upshaw running into open holes for good gains, and rushing the ball downfield and getting the ball to the team's playmakers. Defensively is where the grade took a hit. There were lapses in who had who in the front seven allowing big gains from the quarterback in the run-pass option. Also, not being able to shut down the Deacons' red zone scoring and not creating any turnovers in the game contributed to the lower grade. Late game management was good with play calls and clock management, it just came down to the execution of the players.
Player of the Game:
Taylor Lamb eclipsing 300 pass yards again this season proves why the senior is this teams' leader and is able to keep them in games.
Overall Team Grade: B
It was a good game played by the Mountaineers, but execution in late game and on special teams is what hurt them the most.
Story By: Taylor Story, Sports Reporter
Photos By: Lindsay Vaughn, Senior Staff Photographer