Godwin on his grind
Through the first six games in 2016, junior defensive lineman Okon Godwin had produced five total tackles, three assisted and a half sack. This season, Godwin has recorded 12 tackles with 1.5 tackles for a loss and two quarterback hurries on a dramatic increase in playing time through the same amount of game. Anchoring the defensive end position with seniors Tee Sims and Caleb Fuller, Godwin has been watching and waiting for his moment to shine.
"It is really just working and experience. The experience on the field last year helped me a lot this year," Godwin said. "I wasn't nervous, I felt like I could play fast. I'm not thinking as much as I did last year."
Godwin stood out in App State's first matchup of the year against the Georgia Bulldogs, producing five tackles, including one for a loss. While Godwin appeared in 12 games last season, he made his first starts for the Mountaineers in the 2017 campaign.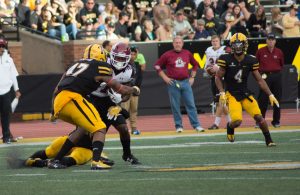 "For two or three years in a row, Okon has come in and had tremendous spring practices. And then one thing or another would happen, he's had some foot injuries, and it just would not translate to fall camp," App State defensive line coach Mark Ivey said. "It's all part of growth, it's all part of maturity and reps. You get those quality reps time after time, eventually it comes together for a guy that has talent."
Godwin came to App State by way of Covington, Georgia, where he played high school ball for the Alcovy Tigers. He was rated a three-star prospect by 247sports.com while recording 80 tackles, six for a loss, and five interceptions with two pick-sixes during his senior year. He was also selected to play in the D.L. Scott Coalition Bowl Senior All-Star Game, held at the Georgia Dome in 2013.
"He's come a long way. He had it last year, but it's showing more this year because he's getting more reps," senior defensive lineman Tee Sims said. "I knew he had it in him, it's just finally showing out for everybody to see."
Sims also grew up in Covington, playing for Alcovy's crosstown rival, the Eastside Eagles. He produced 23 tackles, including a whopping 12 for a loss with three sacks and two forced fumbles during his senior year, despite missing two games due to injury. Unfortunately, that injury prevented Godwin and Sims from lining up against one another during Sims' senior year at Eastside. The Eagles have dominated the rivalry, with Eastside defeating Alcovy for the fourth season in a row earlier this year.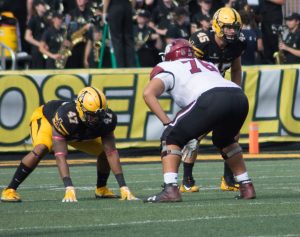 "We knew each other through people, we had a lot of the same friends. Once game time came around the rivalries came out, it was all business, but off the field a lot of the same people knew each other," Sims said. "It was fun though, we'd play against each other in seven-on-sevens. He'd come to my school, I'd go to his. We've been training each other and helping each other get better for years."
Several times this season, Godwin has made the start at defensive end over the more experienced Sims, happening for the first time in App State's home opener against the Savannah State Tigers. Now a leader within the ranks of the defensive line, Godwin has been doing his part to help some of the younger guys get better.
"It's just about pushing them in practice and making sure they're watching film," Godwin said. "Even if they don't travel, if they're just a walk-on, they need to be in the film room with us, paying attention to everything. That way once they do get on the field, they know what they're doing and there is no drop-off."
The Mountaineers' upcoming matchup with the Coastal Carolina Chanticleers could be an interesting one for Godwin. The Chanticleers' offensive line has allowed 13 sacks so far this season and has not faced a defense near as good as App State's.
Coastal also has three injured quarterbacks, including starter Tyler Keane, who injured his shoulder this past week against the Arkansas State Red Wolves and will be questionable for a return against the Mountaineers.
Godwin and company will need to look out for senior running back Osharmar Abercrombie, who is averaging 5.6 yards per carry and has scored four touchdowns so far this season.
"Okon is starting to put the technical part with the effort part, and then he's got the confidence now after three years of being here and working his tail off," Ivey said. "He's got the confidence now to play fast and do it quickly and not think and hesitate."
Story by: Brooks Maynard, Senior Sports Reporter
Photos by: Lindsay Vaughn, Senior Staff Photographer