Embrace the grind and expect the fight. For many Mountaineer wrestlers, this is more than a mere statement, but it is the creed that governs all the countless hours on the wrestling mat.
According to head coach John Mark Bentley, this idea can put his team "a cut above everybody else." While the grind has led his team to a record breaking season so far, there was one App State wrestler who had to fight even harder to push towards his goals.
After four seasons on the Mountaineer wrestling team, redshirt junior Nick Kee has seen many opponents line up against him, but the hardest opponent may have been one he could not have seen coming.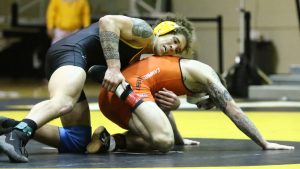 Following the NCAA tournament this past season, Kee realized that he would have to undergo knee surgery, which would end up taking him away from wrestling for a month. Though Kee's knee injury was anticipated, he did not foresee a shoulder surgery that would cost him some valuable time from the mat.
"Right at the end of wrestling camp, the training staff approached me and told me that he would require shoulder surgery," Bentley said. "It was a big blow, and he was a big component of this team."
At the beginning of August, Kee underwent shoulder surgery, and it was questionable as to when the 174 pound weight class standout would return.
Bentley thought that he would have one of his most consistent wrestlers ready to go, but with Kee's injury happening close to start of the season, Bentley had to explore other options. With three Power Five conference teams in their first four matches, Bentley was missing one of his most consistent wrestlers in the lineup.
"If I had known he was going to be out, I'm not sure I would have scheduled the way that I did," Bentley said. "It ended up working out, and we have a really strong team."
With the Mountaineers excelling, Kee kept pushing himself behind the scenes. To speed up his recovery, Kee began physical therapy as quickly as possible, sometimes even having sessions twice a day.
Because the junior could not participate in wrestling activities until getting recovering, Kee stuck to an intense cross-training workout pattern to get in shape. Not only did Kee shave off time from his recovery, but he also shaved off time from his preseason running times, recording the fastest marks in his career.
"There are a couple of times he really has amazed me," senior Denzel Dejournette said. "He didn't miss a beat and this guy is really mentally tough."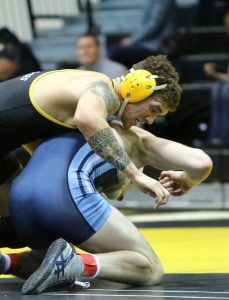 Pushing himself constantly for four months, Kee knew that his time to suit up was on the horizon. Taking precautions, the coaching staff decided to keep him out a few extra weeks to make sure he could go all seven minutes.
Returning on Dec. 3 against Davidson, Kee showed that no amount of setbacks could slow him down, quickly pinning his opponent. Since his return, Kee has continued to dominate, winning eight of nine dual matches.
"My teammates and my coaches were there for me, coming in [and] working out and supporting me," Kee said. "They helped me get stronger in certain situations."
The season is winding down and Kee has placed his thoughts about his injuries on the back burner. Ahead lies a chance at another conference championship, and the opportunity to individually chase success in the NCAA individual tournament.
A year ago, Kee made it the furthest of any of his Mountaineer teammates. Supporting him along the way, many wrestlers have been priming themselves to achieve individual glory.
Even with the setbacks, the goal remains the same for Kee. Embracing the grind of two surgeries, he will only continue to take the fight to every opponent.
"The big thing is having more self-confidence and believing in myself that I can perform at a higher level," Kee said. "I can be a national champion this year. If any year is my year, it's this year."
Story By: Tyler Hotz, Sports Reporter