Mixing and Matching: A look at App's passing offense
Since transitioning to the FBS level in 2014, the Mountaineers football team has faced plenty of inconsistency in their passing offense.
Relying on all-time leading rusher Marcus Cox, who graduated in the spring, and junior running back Jalin Moore to pick up the offense when things in the air weren't going so smoothly the last few seasons, senior quarterback Taylor Lamb may have his deepest group of receivers yet in 2017.
"Trying to get connected with those young wide outs and depth up front with those young guys, I have been feeling pretty good," Lamb said.
Losing four of their top eight receivers from 2016, Lamb is preparing for his final collegiate season with more familiarity about setting up the offense to help the veteran and younger receivers.
"The first two years I played, those receivers on the team were leading me and telling me where to go with the ball," Lamb said. "Now I am kind of telling receivers where I want them to be at what point and what time, which really helps the connection a lot."
Having one star receiver has not been a characteristic of the Mountaineers by any means in their last two seasons that ended with double-digit wins and Camellia Bowl championships.
No receiver has had over 1,000 yards receiving in a season since Shawn Price in 2012, and more than 800 yards since Tony Washington in 2013.
That has not stopped the Mountaineers from winning games. With receivers over the last three years such as Malachi Jones, Simms McElfresh, Deltron Hopkins and tight ends Barrett Burns and Bobo Beathard, App State can surprise teams on a weekly basis with a breakout performance from any wide out.
"I don't mind that we don't know who our go-to guy is right now," wide receiver coach Justin Watts said.
Senior wide receiver Shaedon Meadors led the team in 2016 with a career-high 716 total receiving yards including three consecutive 100-yard games.
"Obviously Shaedon is the guy we are looking at right now as the main guy since he has proven to produce on Saturdays, but we are better when multiple guys are producing on the field," Watts said. "If we have three or four receivers on the field, those are just three more guys who can catch the ball and make a big play."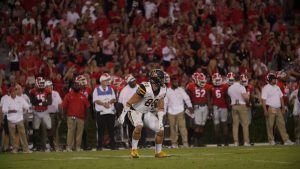 Meadors is one of four senior wide receivers on the roster this season that includes a handful of freshmen and sophomores expecting to play for the first time.
"I'm excited to have a fifth-year senior to improve our passing game," co-offensive coordinator Frank Ponce said. "We have to do a lot of work on offense and hopefully we have as much success as the last few years."
Listed as a late scratch in the Mountaineers' first game of the season against Georgia due to a minor injury, Meadors believes the receiving corps will be underestimated once again.
"Everybody is expecting us to run," Meadors said. "We have two of the best running backs in the Sun Belt and a double-headed monster with Moore and [Terrence] Upshaw, and our receiving core is really underrated. I think this year we can see younger guys break out and some of the older guys lead. Defenders can double team Darrynton [Evans] and I on the inside and Zy [Letman] and Ike [Lewis] on the outside and one of us will find a way."
Known for his 94-yard kickoff return touchdown in the Camellia Bowl last season, sophomore Darrynton Evans moved to wide receiver after playing last season at running back and on special teams.
"He has a natural skill set and is just a great athlete," Watts said. "He has made plays and is one of the smartest guys I have been around. He understands football, understands leverage and how to get open and does what we need him to do and learns a little bit each day."
Evans additionally missed the game against Georgia due to a minor injury, but is expected to be a key part for the Mountaineers passing offense this season when he returns.
"I feel pretty confident we will have a good year," Evans said. "I came in last year as a receiver and I had a little bit of time to work with them before shifting positions, so we have a good brotherhood and [we] stick behind each other and hold each other accountable."
With Evans and Meadors sidelined against Georgia, true freshmen Thomas Hennigan and Malik Williams started at wide receiver, making them the first true freshmen receivers to start since Jaylan Barbour in 2014.
Facing a ranked team in Georgia, the offense struggled, but Hennigan showed flashes after a strong preseason camp pulling in four receptions for 28 yards. Williams caught two passes for 17 yards.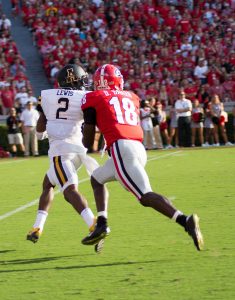 "The freshmen have been good and really fun," Watts said. "I don't want to say they are a surprise but you never know what you are getting until you see them play, and Hennigan and Williams have done a really nice job this fall."
Only managing 148 receiving yards against Georgia, senior receiver Ike Lewis managed to make his way onto ESPN's top plays with a remarkable one-handed pass in the second quarter.
"I am just really excited about the receiver group this year," head coach Scott Satterfield said. "We have redshirt freshman [Jalen] Virgil who will be phenomenal and four newcomers will be really good with tremendous talent and good work ethic. Taylor has really helped out those guys and that group will be pretty good for us. Last year it was one of our weak spots and this year we can do some really good things at that position."
Not having a No. 1 tight end on the roster, the Mountaineers will be doing plenty of mixing and matching with the passing offense. In total, 10 players had one or more receptions against Georgia.
"We have speed at wide receiver and we can get behind secondary guys and knock some heads off," Satterfield said. "Shaedon and Virgil and Lewis can do that. There are some fast guys we will utilize underneath throws to control the game through offense and passing and running the football. We think we will have some guys who can do that. We will utilize them one way or another and we certainly have weapons."
Recognizable names stand out at the receiver position, but for teams to keep up with the Mountaineers this season, they will have to watch plenty of films to keep up with all the threats App State has to offer in the passing game this season.
"They work hard, buy in offensively to do what we want and we have guys who are real playmakers," Watts said.
Story By: Jason Huber, Sports Editor
Photos By: Lindsay Vaughn, Senior Staff Photographer