Pop Up Boone, an artisan market, made its third appearance at 3rd Place this weekend.
Twenty-five artists participated in the event, which took place Friday from 4-10 p.m. and Saturday noon-10 p.m. The pieces on sale at the show included prints, jewelry, home decor, ceramics and more, event planner and creator of Pop Up Boone Megan Kelley said.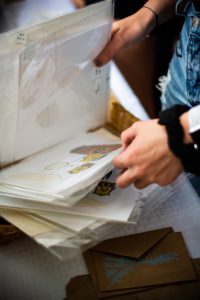 Kelley said she planned for Pop Up Boone to be a one-time event, but the interest customers showed after the first pop-up motivated her to make the event a monthly ordeal.
"They didn't even say 'Is there gonna be another one?' They would say, 'When is the next one?'" Kelley said.
Kelley said she was motivated to create Pop Up Boone because she wanted to create a place for artists to sell their work in Boone. Most shops and markets are highly competitive and often difficult for local artists to get into, Kelley said.
"There was just a demand for another space where people can sell their work," Kelley said. "And the demand for people to buy that work I think is ever present."
Unlike traditional art sales, all of the products at the pop-up are grouped together in an aesthetically cohesive manner rather than segmenting the work by artist. This is to relieve the buyer of pressure they might feel when shopping around the event, Kelley said. It can be intimidating for both the customer and vendor when "there are eyes behind the pieces being sold."  
The idea for this setup stemmed from an Asheville art show called "Show and Tell Pop Up" that Kelley attended.
"You could go around and take time looking at each person's stuff, like having your own experience with it without the pressure of the artist being behind it," Kelley said.
Each artist drops their work off at the event and event workers then arrange the products in a "mini market" type layout, said participating artist and senior English education major Rachel Sanders.
"We just kind of make everything flow together," Sanders said.
Sanders has participated in all three pop-ups so far by selling embroidery pieces. Her specialty is floral pieces, usually accompanied by witty sayings.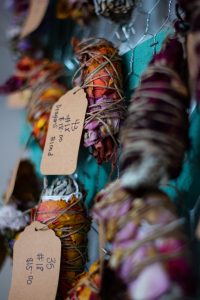 Sanders said she got her start December 2017, when she picked up the skill over winter break to do something productive with her free time. She gave away many of her pieces as gifts for the holiday.
Pop Up Boone gave her the opportunity to gain exposure for her pieces and motivated her to create more, Sanders said.
Sanders said the event is an excellent way for vendors and the general public to meet others interested in the art field, both through the pop-up and workshops that they offer.
Mackenzie Palladino, another participating artist in the upcoming event, said that Pop Up Boone shifted her focus from selling art as a way to gain money, to selling art as a way to spread her work.
"Doing the whole pop-up thing has made me realize it's not about the money," Palladino said. "It's about getting your stuff out there for people to have and enjoy."
Palladino has been a metalsmith since 2013, when her professor recommended she begin taking classes in the program at East Carolina State University.
She crafts jewelry mostly, her specialties being Grateful Dead themed and western style-based pieces. Palladino's work is inspired by old school country music and the nature around her.
"I really like to create simple, natural looking pieces," Palladino said. "Just things that could kind of be a texture in nature."
Palladino said Pop Up Boone pushed her to create significantly more pieces and empowered her as an artist by feeding the drive for what she does.
"Every time I'm like, 'OK what can I do this time that I didn't do last time?'" Palladino said.
Kelley said most artists involved in Pop Up Boone attend college, have a job and create art for the event, which exemplifies that they already have the motivation and drive to run their own businesses.
"A lot of people really doubt the fact that you can figure out how to make a living or how to make an income for yourself on your own projects, that would still benefit other people," Kelley said.
Kelley said she considers herself a "creative opportunist" and is passionate about entrepreneurship and consulting individuals on how to start their own businesses.
The buyer crowd for the last two events has been an even mixture of App State students and Boone locals, Kelley said, but because this is the first pop-up happening during the school year, the turnout might be different.
Kelley said Boone is ideal for this event, not just because of the town's love for the arts, but because of its love for supporting local.
"People love the arts here but I think it also has a lot to do with people have more of an understanding of sustainability and the support-local movement," Kelley said.
Since the event is not school affiliated, participating artists do not have to be students or art majors to be involved.
Kelley said she encourages any interested artists to visit http://www.popupboone.com to find the October application. Pop Up Boone also has an Instagram page, @popupboone. Any questions concerning an upcoming event should be directed to popupboone@gmail.com.
Story by: Laura Boaggio
Photo by: Mickey Hutchings
Featured photo caption: A sign for Pop Up Boone displayed outside of Third Place.