Protesters march to Wells Fargo against Dakota Access pipeline
Over 70 protesters gathered on Sanford last Tuesday before marching down 321 to Wells Fargo, demanding the bank disinvest from the controversial Dakota Access pipeline.
Ricki Draper, an organizer with Boone Stands With Standing Rock, said the protest was part of the national day of action on behalf of the Standing Rock Sioux Tribe currently protesting the construction of the leg of the pipeline at Lake Oahe.
"Specifically folks are going to army CORP of engineers, going to banks that are funding the pipeline, are standing up in the ways that they can in their community to show solidarity with the water protectors in Standing Rock," Draper said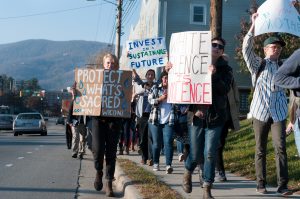 Organizers delivered a letter demanding the bank stop financing the Dakota Access pipeline and encouraged participants to close their accounts with Wells Fargo, citing the pipeline as the reason why.
Last monday the Army corp of engineers issued a statement saying that more analysis and discussion with the Standing Rock Sioux are needed before it moves ahead with the project.
"While these discussions are ongoing, construction on or under Corps land bordering Lake Oahe cannot occur because the Army has not made a final decision on whether to grant an easement," the statement said. "The Army will work with the Tribe on a timeline that allows for robust discussion and analysis to be completed expeditiously."
This was the first formal protest for Boone Stands with Standing Rock and was the product of many planning sessions. Draper said this was only the beginning for the group.
The group is also focusing its efforts on the Atlantic Coast pipeline, which will run through eight counties in North Carolina.
Cullen Beasley, a sophomore sustainable development major, said he doesn't feel the issue gets enough mainstream coverage and is concerned about the environmental impact of the pipeline.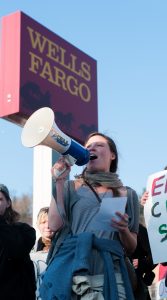 "These pipelines that are being built they say are safe but within the past two weeks there have been three major bursts and so why put more money into things that can cause damage to the environment when you can put money into renewable energies?" Beasley said.
Elizabeth Henry, a freshman psychology major, said she was on her way to class when she saw the protest starting up on Sanford Mall and decided to join. After learning Wells Fargo was financing the pipeline she said she decided to close her account and plans to switch over to a credit union.
Draper said she is concerned about the future under a Trump administration but that regardless she will keep on fighting.
"I think it's real scary for sure but I think what we need to be doing is building power in our community to stand up, because it seems if the federal government is not moveable," Draper said. "If they're not going to listen to what people want then we're going to have to stop them in other ways."
Story by: Sammy Hanf, News Editor