Rapid Reaction: App State vs. Coastal Carolina
After defeating Idaho last weekend, the Appalachian State Mountaineers (5-2, 4-0) took on Coastal Carolina (1-6, 0-4) at The Rock on family weekend with a sold-out crowd. App State faced a mirror of themselves from a few years ago in Coastal Carolina, as they just moved from the FCS level to the FBS level looking for a big statement win in their first season.
App State scored quickly on their first two drives including a big 83-yard touchdown by freshman wide receiver Jalen Virgil and a 9-yard punch in by junior running back Jalin Moore, who would later leave the game with an injury. Coastal responded in the second quarter, putting up four straight scores against the App defense, including a 73-yard touchdown by sophomore wide receiver Ky'Jon Tyler.
The Mountaineers took control in the second half, putting things away with a couple of touchdown runs from freshman running back Marcus Williams Jr. to seal the victory.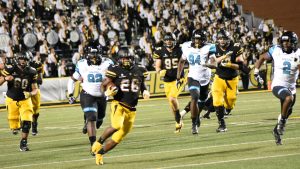 The Good:
App State started off strong with a big first drive. After a missed shot to senior tight end Levi Duffield, senior quarterback Taylor Lamb responded with a 39-yarder to Virgil. Three first downs later, App found themselves at the 9 yard line of Coastal. Moore then put the weight on his shoulders and took an outside handoff to the house.
After a three-and-out, Lamb dialed up an absolute bomb to Virgil for an 83-yard score down the sideline to put App up by two touchdowns.
With Coastal Carolina driving, the defense held strong in the red zone, putting up good stops on second and third down. Coastal then converted on a short field goal, nonetheless a win for the Mountaineer defense.
The next drive, the Chanticleers botched an option play which resulted in a fumble, only to be negated by an offsides. A few plays later the defense was able to rebound with another fumble courtesy of junior cornerback Tae Hayes and recovered by sophomore defensive lineman Caleb Spurlin.
In addition, Taylor Lamb possibly had his best game as a Mountaineer. The passing game was in full-out attack mode against a struggling Coastal secondary. Lamb threw for a career high 427 yards, falling just short of the App State all-time high of 433 yards from Armanti Edwards against South Carolina State in 2008.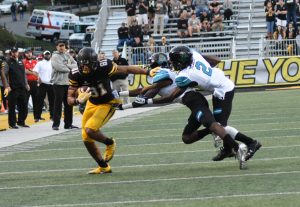 Yet, it is pretty hard for a quarterback to have a big day passing without his receivers having a big day too. Virgil had a career high 186 receiving yards on only five catches. Senior wide receiver Ike Lewis had a big day himself with 106 yards receiving, making it the first game this season for two Mountaineers to go over 100 yards receiving each.
The defense played well throughout the game, coming up big in their own territory and forcing Coastal to a few field goals rather than touchdowns. They also recovered a pair of fumbles as well.
The Bad:
After a strong start in the first quarter, the second quarter left a bad taste in the mouth of the team heading into halftime. The defense allowed four straight scores, two field goals and two touchdowns.
It was a tough day for sophomore kicker Michael Rubino as well, missing a total of three field goals in the game and two in a rough second quarter. The boos got a bit louder for him as the game went on which is not what a player wants to hear in a close game at the time.
The passing game for Coastal was equally as impressive against the secondary for the Mountaineers. The Chanticleers threw for 337 yards and a pair of touchdowns. A couple of blown coverages in the back end and some holes in zone coverage lead to some big plays, especially in the first half.
The running game did not impress anyone tonight either. The offensive line, while great in pass protection, could not generate enough push to create holes for the backs on the night. One hundred twenty-two yards is not awful, yet a big run at the end of the game was the reason App topped over 100 yards on the day.
Three Points:
This was a dream day for both signal callers. Both Lamb and senior Chanticleer quarterback Tyler Keane topped 300 yards on the day with Lamb throwing for 427. Virgil had a breakout game with 186 yards and a pair of scores. There were open receivers all night for the offense and when there was not, Lamb was able to make some great throws paired with great decisions, not throwing any picks on the night.

The running game will have to get back on track in the near future. Moore left the game early and Marcus Williams Jr. took over as the feature back. We'll see if Moore can return and if not, Williams will have to be the bell cow back for the meantime. The running game can't

Defensive backs Clifton Duck and Shemar Jean-Charles on defense against Coastal Carolina.

prosper unless two things happen: the running backs step up and the line opens up some more holes.

The Mountaineers were able to continue their trend in forcing turnovers. Two recovered fumbles on the night set the offense up and stopped any momentum Coastal had at the time. No picks on the night for the secondary, but the defense was able to create a couple of extra possessions for the offense.
What's Next?
Appalachian State moves to 5-2 on the year and 4-0 in conference play. They will take on UMass next week in Massachusetts against a UMass team that just got a confidence booster in their first win of the year, a 55-20 blowout over the Georgia Southern Eagles.
Story By: Aman Hyrams, Intern Sports Reporter
Photos By: Lindsay Vaughn, Senior Staff Photographer