Rapid Reaction: App State vs. Texas State
App State (7-2, 5-0 Sun Belt) extended their winning streak to six straight games with another strong defensive performance defeating the Texas State Bobcats (2-6, 0-4 Sun Belt) 35-10 in the teams first meeting since 2004. The Mountaineers racked up career days for multiple players and now move to 5-0 in the Sun Belt conference. The 25-point win is the largest win of the season for the Mountaineers.
The Good:
App State moves to 18-1 in their last 19 Sun Belt games and 24-4 in their last 28 games.
The Mountaineers have only allowed two offensive touchdowns against Sun Belt opponents this season.
App State finished with 439 offensive yards and held Texas State to 197.
After allowing a field goal from Texas State on their first drive, App's defense forced the Bobcats to three straight three-and-outs and an interception.
Running back Marcus Cox put App on the board with a 37-yard rushing touchdown for his fifth TD of the season.
Defensive-end Dezmin Reed had a big sack for a loss of 10-yards leading the Bobcats to a fourth down.
Linebacker Kennan Gilchrist finished the game with two sacks and eight tackles.
Gilchrist and linebacker John Law led the team with eight tackles.
App State now ranks first in the Sun Belt in sacks with 24 on the season.
Wide-receiver TJ Watkins had a first down reception for 12-yards.
Wide-receiver Jaylan Barbour caught his seventh career reception and his first touchdown of his career on an eight-yard pass in the second quarter.
Quarterback Taylor Lamb completed passes to a combined 15 players on offense.
Punter Bentlee Critcher had a tackle and 291 yards of punting including a 56 and 52-yarder.
Linebacker Eric Boggs caught his third interception of the season.
The interception gave App State 16 on the season for first in the nation.
Wide receiver Jaquil Capel caught a 31-yard touchdown for his first career TD.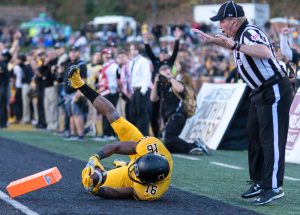 Defensive lineman Myquon Stout was credited for half a sack making it his first sack of his career.
Running back Jalin Moore rushed for a career long 61-yards breaking his previous long of 55-yards.
Moore finished with 130 rushing-yards having over 100-yards for the sixth straight week.
His 130-yards put him over 1,000 rushing yards for the season.
It was also the second straight week that Cox and Moore both had 100-yard rushing games. Cox finished 118-yards.
Wide receiver Mock Adams caught a six-yard touchdown for his first career TD.
The touchdown was Lamb's 59th passing touchdown of his career tying him second all time in App history with former QB Richie Williams. Lamb only trails Armanti Edwards who had 74 career passing touchdowns.
Wide receiver Shaedon Meadors had a long reception for 21-yards.
Tight end Barrett Burns caught his second touchdown of the season.
App prevented the Bobcats twice from converting on fourth down.
The Bad:
Texas State racked up a 13-yard drive on their drive of the game leading to a 25-yard field goal.
Texas State quarterback Tyler Jones started the game passing 5/5 with 45-yards.
The Mountaineers finished with nine penalties for a loss of 79-yards in the game.
App was forced to six three-and-outs on their drives.
Punter Bentlee Critcher's punt was blocked putting Texas State on App's three-yard line. It was the first blocked punt on the Mountaineers since their 2014 game against Michigan.
The punt led to the Mountaineers giving up their first offensive touchdown of the season to a Sun Belt opponent.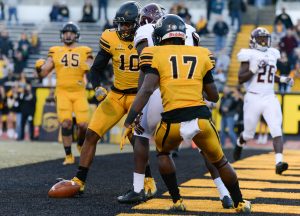 Wide receiver Shaedon Meador's three straight 100-yard receiving streak came to an end.
Quick three-and-outs
Punting and three-and-outs was the narrative for a majority of the game for both teams.
Despite starting off the game with a 13-yard field goal drive, the Bobcats were forced to three straight three-and-outs only racking up 11-yards.
With an interception in between, the Bobcats punted six straight times. They punted eight times throughout the game.
The Mountaineers began the game with a three-and-out and finished the game with their own six three-and-outs.
App punted for a total of seven times on the day.
Career Days
The headline of the day was the amount of career days that were had throughout the game.
Wide-receivers Mock Adams, Jaquil Capel and Jaylan Barbour all had their first career touchdown reception in the game.
Defensive lineman Myquon Stout finished with half a sack giving him his first sack of his career.
Quarterback Taylor Lamb is now tied for second all-time in passing touchdowns in App State history.
Running back Jalin Moore rushed for a career long 61-yards.
Receiving Day
Lamb is finally clicking with all of his receivers.
Lamb threw to 15 different receivers for a total of 120-yards and backup quarterback J.P Caruso threw to three different receivers for 16-yards.
What's Next?
App State will travel to face Troy in a game that will likely determine the Sun Belt conference champion. Troy is 7-1 and 4-0 in the Sun Belt making the game a matchup of undefeated Sun Belt conference teams.
Story By: Jason Huber, Sports Editor 
Photos By: Dallas Linger, Photo Editor