Ravaging the Red Wolves
Trench warfare
It's no secret that both of these Sun Belt powerhouses are at their best when running the ball.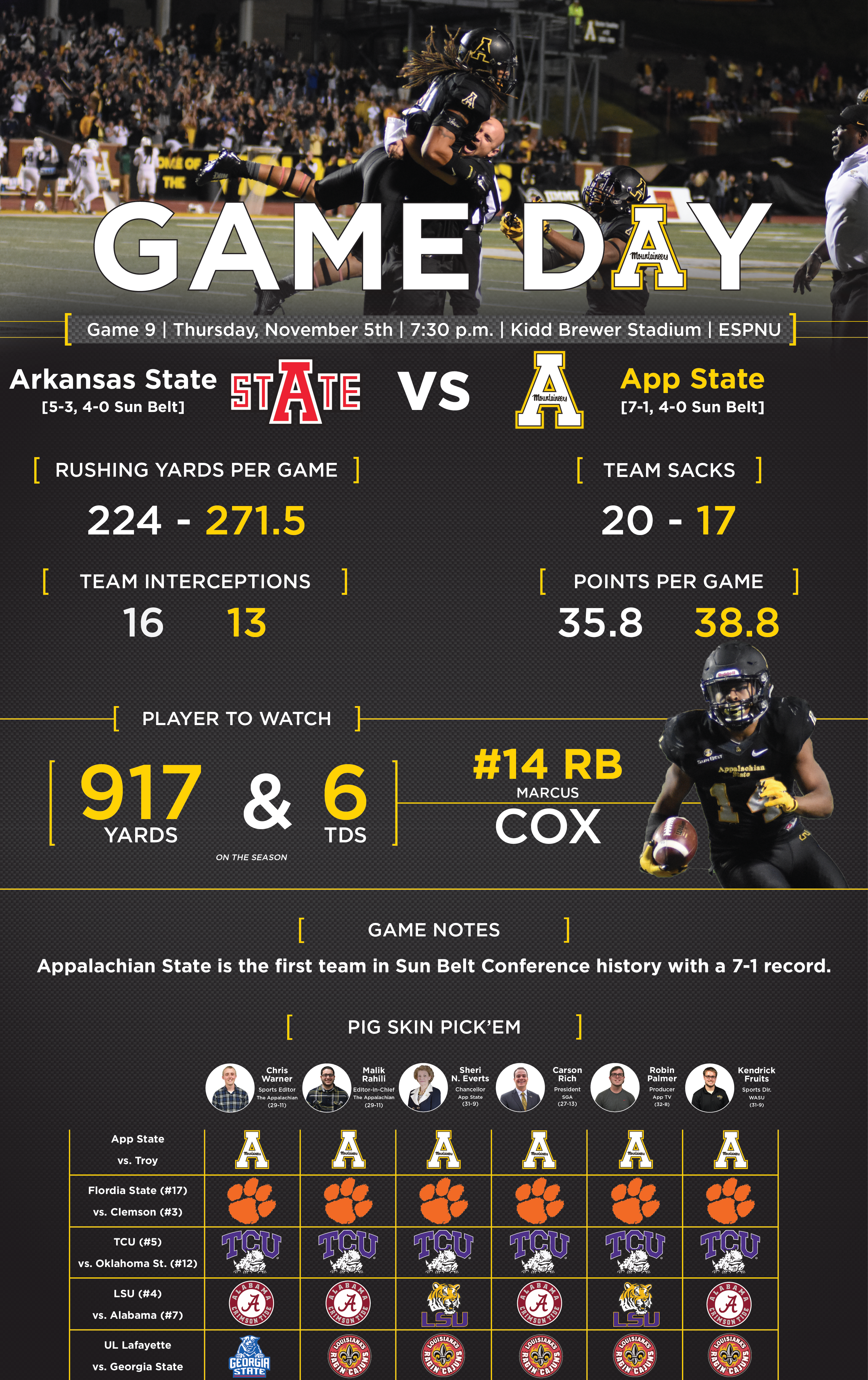 Both teams enter Thursday's contest tops in the Sun Belt in rushing behind Georgia Southern, each averaging over 200 yards per game.
Both also enter the game ranked as two of the top three rushing defenses in the conference, with App State allowing only 122.8 yards per game on the ground, best in the Sun Belt, and Arkansas State allowing 151.4 rush yards per game, good for third.
Whichever team is able to control the trenches will likely win the game, just as it was the last time App State played on Thursday night only two weeks ago.

Slay the Hydra
Typically a team has one or two members of the backfield that App State has to key on. This is not the case for the Red Wolves who, including their quarterback Fredi Knighten, feature essentially a four-headed monster in their rushing attack that's been able to score 21 touchdowns in eight games.
Running back Michael Gordon leads the way, having rushed for 638 yards, while backs Warren Wand and Johnston White have garnered 515 and 356 yards, respectively. Knighten trails White by only 16 yards, with 340 total rushing yards on the season.
While I've already said App State's defense has to control the trenches to win, part of that will be knowing the strengths of each runner in this versatile backfield and neutralizing it, something that must start and end with Sun Belt Defensive Student-Athlete of the Week Ronald Blair and his fellow linemen.
Do your job
It would be really easy to let the magnitude of this nationally televised game affect the way App State plays.
With a win, App State enters the fast lane, likely cruising towards a Sun Belt title. But with a loss, the team will take a backseat to Arkansas State and spend the rest of their short season hoping the Red Wolves drop a few games so they can re-enter the conversation.
Last week's performance against Troy, while the team will never say so, was likely a result of looking ahead towards this game, and it almost cost App their season.
If the Mountaineers are to top the Red Wolves, who have won the Sun Belt three out of the last four seasons, they've got to treat this game like any other. They can't worry about the implications, they must only worry about the outcome.
Story by: Chris Warner, Sports Editor