A whole new look was expected for the App State women's basketball team entering the 2016-17 season as they were just a year removed from bringing on four transfers to the team.
Three of the transfers were prepping to play in their first eligible season for the Mountaineers. Head coach Angel Elderkin set up two home exhibition games to build game time chemistry for the new additions before the regular season began.
The only problem was that one of the players was unable to play. Redshirt sophomore guard Q Murray fell ill and decided it was best not to dress for the first exhibition game after a redshirt year and a whole summer to prepare playing with the team.
"After the summer she kind of emerged," Elderkin said. "When she was sick for the exhibition I was kind of like 'dang' because I knew I had a lot of bodies who hadn't played and when we lost that opportunity to see her play I felt bad."
Murray returned for the team's second exhibition game against Lenoir Rhyne and struggled to get anything going, scoring only three points on one-for-six shooting from the field.
Since then, Murray hasn't had anything hold her back averaging 9.6 points per game, ranking third on the team and leading the Mountaineers four times in scoring this season.
Standing out on the court is nothing new for Murray. Basketball has been a love for Murray since she was six years old and shooting hoops in a little plastic goal. Murray's mother, Cescili Hopkins, was also a basketball player for UNC Greensboro, where Murray was born.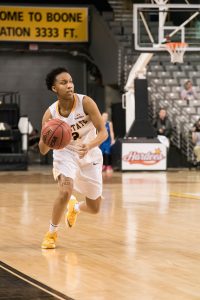 "I played lacrosse and soccer some, but being on the court was just my natural habitat," Murray recalled. "I liked it the best."
Moving to Maryland at the age of 8, Murray attended Milford Mill Academy and shined, averaging 19 points a game and leading the team to a state championship.
Spending her first collegiate season in 2014 at George Mason University, Murray made the move to Boone with fellow guard Cydni Cole after the two felt GMU was not the best fit.
The two guards met in the sixth grade and played against each other in high school while playing as teammates for AAU.
Murray played in 29 games for the Patriots, averaged 4.9 points per game, was second on the team in assists and tied for second in steals.
In Boone, Elderkin was in her first season as the new App State head coach and continued to take notice of Murray and Cole. Elderkin had recruited both of the players just two years prior during her stint as an assistant coach for St. John's.
"I always loved the way Q competed on the court," Elderkin said. "You can see it now with the energy and intensity she brings and the level of toughness. We really liked her at the guard position and after the first year we heard they were players wanting to transfer, I recruited and brought her over here."
Elderkin said she remained interested in both Murray and Cole. When she found out they both wanted to continue playing with each other and she could sign both of them, it was a done deal.
"At the time we weren't certain if they wanted to come together and I was one of the coaches who wanted to bring them together," Elderkin said. "They are quiet kids and you really have to get to know them to earn their trust so it was interesting."
North Carolina was not a foreign territory for Murray since it was where she was born when her mom played basketball at UNC Greensboro. She also grew up a UNC Chapel Hill fan.
"I always looked up to [Tar Heel] Tyler Hansbrough," Murray admitted. "He always worked hard and was relentless on the court."
Now Murray is a basketball player in North Carolina herself at Appalachian State.
Due to NCAA transfer rules, Murray had to sit out as a redshirt in 2015 giving her an opportunity to be a spectator of the game.
"It is always different when you are watching rather than being on the court," Murray said. "I learned about how my teammates played and how they react to things. I could learn the system and how my coaches coached and envision where I fit in."
Redshirting gave Murray a chance to sit back and observe after going through the immediate transition of high school basketball to college. Murray had to learn on and off the court in very little time.
"It was different," Murray recalled. "It is more intense with waking up early, having class and then practice and weights and so on. [In] high school it was class and practice but it was a lot different."
One thing that did remain the same was class.
"Class is class," Murray said with a laugh. "The only thing different is finding my classes. There wasn't anything drastic."
Murray began to find chemistry with her new teammates during her redshirt year and she also took advantage of the time with spending hours in the gym. A lot of the time was spent shooting with former Mountaineer and current professional basketball player Frank Eaves.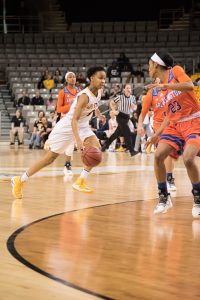 "When she came here she didn't shoot lights out at George Mason, so we worked on 3-point shooting," Elderkin said. "What a lot of people didn't know is that her and Frank Eaves used to shoot in the gym a ton last year."
A junior at the time when Murray arrived, senior guard Joi Jones took notice almost immediately of the hard work ethic Murray brought to the gym.
"I just saw she was a competitor," Jones said. "She is a really good scorer but she knows how to facilitate and looks for her open teammates before she scores and makes sure they have a better shot first. She is a very unselfish player and that is good from a guard's perspective."
The injury bug hit the Mountaineer guards early in the season with sophomore Kaila Craven tearing her ACL and Cole, who was playing backup point guard, missing an extended period of time led to Murray being forced to take on a bigger role.
"She is forced to play some point but there are still some growing pains," Elderkin said. "We have some players coming back but now she has experience with the play against the Sun Belt."
Murray scored in the double digits her first three games of the season and scored a career high 22-points against UNC Asheville in December. Over the last seven games, Murray has scored 10 or more points in five games.
"When I am out there, granted I always get nervous. That's my love for the game, but when I get going it just comes naturally," Murray said. "I don't think too much and just do what I have been doing since I was 6 and have fun and make an impact."
The impact has already been made for Murray but one of the down sides of transferring is not having her family in the stands every game as they were at George Mason.
"My mom and grandma come to one Saturday game every month," Murray said. "But with a lot of our games being on ESPN3 they can watch a lot and if they can't they will listen. It's different with all the traveling now."
Still somebody who is very quiet and may not be the first person to greet you at the door, Murray has become someone the whole team enjoys being around.
"She is still very quiet, but with the team she is not," Elderkin said. "She is a really good communicator and when she does say things like speeches, she is very powerful."
With the opportunity to fill in as the lead point guard next season with Jones graduating this year, her teammates already have confidence in her.
"Being a point guard is hard. You get a lot more reps and have to dial in more mentally to start the offense and keep the tempo of the game," Jones said "She is the perfect person to do it. I have complete confidence in her and I know the team does too and she is only a sophomore so the sky's the limit for her."
From Elderkin's standpoint, Murray can be one of the best point guards in the league.
"She is a sophomore eligibility wise and a freshman in our system," Elderkin said. "Her three ball and her mid-range shot have gotten so much better and you can't say enough about her defense. We just have to continue developing her."
Murray has finally found her home in Boone. Once somebody who was quiet and only familiar with Cole on the team, Murray has opened up and found her niche.
"I would tell [those thinking of transferring] to go to all your visits and talk to the players and not only the coaches to get a feel of your teammates because coaches will get on your nerves sometimes," Murray said. "And make sure if you didn't want to play basketball anymore, would you still want to be here. Be sure that is where you want to go. Be sure you get to know everyone."
Story By: Jason Huber, Sports Editor
Photos By: Halle Keighton, Photo Editor