The top of Roess Dining Hall hosts a beehive which holds a colony of 30,000 to 40,000 bees in front of the entrance located near the Varsity Gym. This beehive was donated to the school by the Board of Trustees as a farewell gift to Alice Roess, the namesake of the dining hall.
Roess is a lover of flowers, according to Troy Tuttle, the creative director in university communications. According to Bees A Honey of an Idea, a website that provides many facts about the significance of bees, bees play a very important role in pollination, which is needed to help with the reproduction of flowers. For this reason, the beehive was donated to the school under her name when her time of being president of the Board of Trustees came to an end.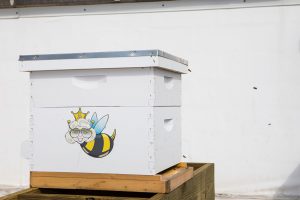 Besides Roess Dining Hall's connection with Roess, the dining hall is at the center of the campus, which gives the bees the ability to help pollinate the crops and flowers in the Appalachian Roots Garden and the garden located near the Living Learning Center.
This year, the beehive is being taken care of by James Wilkes, professor of computer science, is the CEO of Hive Tracks, a company that makes software for beekeepers. He also owns and operators Faith Mountain Farm in Ashe County with his family. In a year, the beehive will be taken over by the beekeeping club.
Hallie Graves, a senior sustainable development major, is co-president and co-founder of the beekeeping club.
"In one way we are supporting the bees by having them," Graves said. "It is also a learning experience for students because they see the school hosting bees and start to learn that bees are not harmful."
Due to the beehive being on top of Roess Dining Hall, they are a safe distance. Graves explained that bees do not want to sting people but sometimes do by accident, like when they are startled.
Besides the beehive over the dining hall, there were six beehives on campus. The beekeeping club is making plans to replace them in order to continue to teach students about the significance of bees.
Story by Anna Dollar, News Reporter
Photos by: Marie Freeman
Featured Photo Caption: James Wilkes attending to the beehive located on top of Roess Dining Hall.