The local fare
At 8 a.m. every Saturday, Boone locals and farmers alike gather at Horn in the West for the Watauga County Farmer's Market. Vendors sell the freshest vegetables, flowers, handmade jewelry and artwork.
"It's a great way to start your Saturday, with the great atmosphere, the flowers, food and everyone with their art," Ashley Perry, a junior English major, said. "It's just a great way to wake up and start your day."
The market usually begins to see a little more traffic around 9 a.m., and after that, there is a steady crowd of people looking for fresh organic produce and handmade arts and crafts.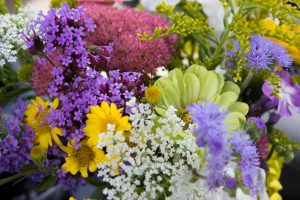 Many bring their families. Children run and play while their parents or grandparents browse the rows of vendors, stand in line at booths like Hatchet Coffee or grab a snack from the food carts and fresh bread vendors.
Kerstin Groover, a sophomore child life major at Caldwell Community College, said that one of her favorite part of the market was "the bread guy."
The "bread guy" she referred to is Bruce Ezzell of Owl Creek Breadworks, who runs his business alongside his daughter Madison, son Jacob and wife Brandy. Ezzell said that the seven-year-old family owned micro bakery provides freshly baked goods to not only the Farmer's Market, but also to local restaurants and food stores such as Be Natural. In addition, he said that they process direct orders on a weekly basis.
"Probably our best sellers would be the variety of croissants which we have," Ezzell said.
People stop by Owl Creek's kiosk before beginning their hunt for produce so that they can enjoy their breakfast in the meantime. A good portion of the venders who sell baked goods also provide gluten-free options, granola and whole loaves of bread for people to take home with them.
"[The Watauga County Farmer's Market] connects you with the community," Ezzell said. "You get to know people who are outside your normal sphere of work and friendship.".
Farmers like Kathleen Petermann of Waxwing Farm receive a lot of interest in the summer, namely July and August, regarding crops like melons and basil.
"People are looking for staples, and then they also enjoy the specialty stuff like heirloom tomatoes," Petermann said.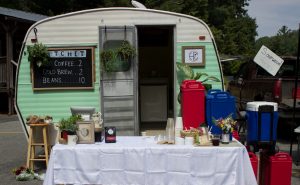 Jason Roehrig and Trey Heath of Tumbling Shoals Farm have been selling their wide selection of produce, including ginger, butternut winter squash, hot peppers and tomatoes, since 2007.
Roehrig said his favorite thing about being a part of the farmer's market was interacting with people who come.
"I get to see people because I'm on a farm all the time, so it's kind of my social time of the week," Lee Carlton, another vender at the market who sells cut flowers and other herbs and vegetables, said.
Nia Dickens sells herbal concoctions that promise to be natural and therapeutic at her stand, Vital Being Alchemy.
"I have been studying herbal alchemy for 22 years, so it's a path and a passion," Dickens said. "That's something I wanted to bring to the market."
Dickens has been selling at the market for three years now.
"I would have to say the pain relief formulas and the spiritual formulas, like the chakras and the planetary forces, are really big sellers," Dickens said.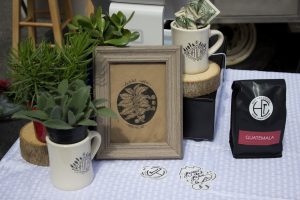 The market has even created a system to allow customers to use their credit and debit cards to make purchases.
"At the farmer's market you can't get cash out, but you can swipe your card and get these little wooden tokens. They're a dollar to five dollars," Katelyn Shumate, a sophomore fashion design and merchandising major, said.
These tokens, better known as Carrot Credit, allow those who don't have cash on them to participate in the market. These tokens can be redeemed with credit or debit cards, and they even take food stamps.
Vendors and attendees alike said that the market is an incredible way to begin the weekend.
"I think, as students, we get wrapped up in our little campus bubble, so it's nice to see people outside of campus," Hendry said, adding that she also enjoys the reasonably priced produce.
Kinney agreed with Hendry.
"It's really fun. It helps you get to know our town better," she said. "You're not a student living here for a minute, you're a permanent resident."
Alistair Burke runs the kiosk King Fisher Crafts alongside his wife, which features jewelry and farm-focused photographs that come in frames made of old barn panels. He said that he believes the market to be a great resource for locals and an incredible place of rejuvenation for anyone who comes.
"The atmosphere and the beauty of both the produce and the crafts, the whole experience of coming here—Saturday mornings, you get a nice cup of coffee in your hands, a little pastry—there's something really healing and restorative and just great in connecting with all the local farmers, knowing where your food comes from," Burke said. "There is something about that connection that is lost in our hyper-digital world."
The Watauga County Farmer's Market is held at Horn in the West on Saturdays from 8 a.m. to noon.
Story by: Claire Brown, A&E Reporter
Photos by: Dallas Linger, Photo Editor