Whether it is an interactive tent filled with psychedelic lights or a powerful portrait of a man marked by the injustice of his country, the artwork at the Turchin Center for the Visual Arts currently speaks of social issues around the world, including in our own community.
The Turchin Center for the Visual Arts held its sixth international art series Nov. 16 highlighting works from Australia and New Zealand. The artwork revolved around indigenous people of the land and social issues within the countries. Past exhibitions have included work from Mexico, Poland, Brazil, South Africa and China, according to the Turchin Center.
App State is an education campus, therefore the art displayed in the center is meant to invoke different emotions and feelings from the viewer, while also being visually pleasing, Lynn Rees-Jones, director of marketing at the Turchin Center, said.
"A lot of times the subject will be very challenging in terms of social justice," Ree-Jones said.
Michael Cook was one artist who tackled this theme. Cook is a fine artist who specializes in photography to talk about global social issues, Mary Anne Redding, assistant director and curator, said.
Cook is aboriginal, and he noticed the irony of him having the same last name as the colonizer of Australia. His pieces are filled with themes of racism and colonialism, such as his piece entitled, "Majority Rule (Senate)," according to one of Turchin's gallery plaques.
Australia is 95 percent European descent, so Cook flipped the situation in his piece and created a photograph of a Senate floor full of aboriginal people in power, Redding said.
His pieces have us "thinking about what colonialism means, not in an aggressive, controversial way," but in a way that opens the subject up for discussion, Redding said.
Fiona Foley is an artist who tackled the issue of racism in a different way. Foley was going to a museum in Harlem when she started researching racism and white supremacy in America. Her piece, "HHH- Hedonistic Honky Haters," depicts people of color cloaked in black costumes that resemble the Ku Klux Klan's ensemble. The artist handmade the pieces and sourced all fabric from African import stores, Redding said.
This piece worked to subvert the power of the KKK and give control on the topic of racism back to people of color.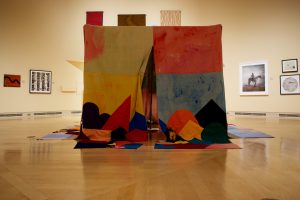 Redding said these topics of racism and colonialism are relevant to Boone because it is in the South and the KKK is unfortunately still alive.
Redding said the themes in this exhibition are applicable to our area and worth discussing because "App is a safe space to talk about these issues."
"We can't just put our heads in the sand and forget this is happening here," Redding said.
Another Australian artist, Tony Albert, also portrayed the theme of racism in his piece, "Moving Targets," which displayed a young aboriginal man with a target on his chest. Redding explained this was to show how he felt targeted by a surrounding community.
The man depicted in this piece is young, attractive and powerful, Redding said, which showed that the man was fed up with discrimination and wanted to "own, as everyone does, how I walk through the world."
Redding said the Turchin Center has almost equal representation of Australia and New Zealand in the collection, despite having more time and better school connections in Australia.
Aboriginal art used to be sacred and ceremonial before modern tourism started, Redding said. Influences of early indigenous art can be seen in the pattern and design of some of the modern pieces lining the Turchin Center's quiet halls.
When seeking out artwork for the international series, Turchin Center faculty go abroad and make contacts with artists who want to display their art in the gallery, Rees-Jones said. When selecting the countries to feature, Turchin works closely with the Office of International Education and Development. They usually look for artists by meeting with App State's international sister organizations, although many artists seek out the Turchin Center wishing to apply.
The center's curator and director traveled to Australia and New Zealand, and they visited five universities total, Ree-Jones said. Two artists who are featured in this exhibit traveled from La Trobe University in Melbourne, Australia, to install their works in Turchin's gallery. Both pieces were three-dimensional, which gave the artists a chance to set it up how they wanted. During their stay here, the artists spent time working with App State students and faculty in classrooms as well.
"We do everything that we can to integrate what we're doing here back into other university departments and classes," Ree-Jones said.
Story by Laura Boaggio, A&E Reporter
Photos by Nate Fordyce, Staff Photographer
Featured photo caption: The introductory panel to the Art From Down Under: Australia to New Zealand in the Turchin Center for Visual Arts.