At the 12th annual Homecoming Blood Drive, donors gave 1120 units of whole blood, with the goal of the drive being 1250 whole blood units.
The Cirque du Appalachian: Dare to Give Blood Drive attracted 1222 registered donors, Maya Franklin, Red Cross communications manager for the North Carolina and South Carolina region, said.
"The Homecoming Blood Drive has a huge impact on this community in North Carolina and beyond," Franklin said. "It has set a record as the largest single-day blood drive for the Red Cross across the country, collecting more than 1300 units of whole blood."
Hurricane Florence, which hit the Carolinas earlier this month, canceled more than 120 blood drives in the Southeast United States, resulting in 3800 units of blood and platelets going uncollected, according to the American Red Cross.
All eligible blood donors are encouraged to donate, as there is a critical need for type O blood, as well as platelets, Franklin said.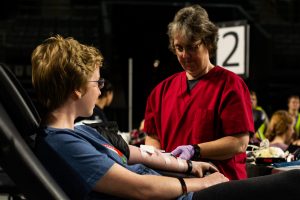 "Donated blood is used to serve hospital patients. We want to make sure that we are working with our hospital partners to collect enough blood to maintain a sufficient supply," Franklin said.
Currently, donors cannot give platelets at the blood drive, but those interested can go to a platelet donation center. The closest center to Boone is in Asheville.
"Platelets have a shelf life of seven days, so we encourage everyone, as soon as they are able to give, to try that procedure," Franklin said.
Those who couldn't donate blood donated their time. Sarah Jordan, senior exercise science major, worked as a "super volunteer."
"It is a leadership role, and we monitor the people coming in to donate blood," Jordan said. "We make sure that no one is getting sick or passing out, and we assure they are getting the correct nutrients after donation."
Emery Turner, freshman global studies major and volunteer, said they believed the best way to help was to volunteer.
"I'm terrified of giving blood, and when I saw the opportunity to volunteer, I took it," Turner said. "Donating my time allows me to help with the process and the flow of everything going on in the blood drive."
App State's homecoming blood drive has a history of donating large amounts of whole blood, with the first drive in 2007 donating 663 pints, according to a display at the blood drive.
"One blood donation can help save up to three lives or six babies," Franklin said. "If we collect 1100 units of blood, that has a reach far beyond just one patient. Three-thousand and three hundred patients could be impacted."
Story by Anna Muckenfuss, News Reporter
Photos by Brendan Hoekstra 
Featured photo caption: Volunteers, nurses, and donors packed the Holmes Convocation Center on Tuesday for the Annual Homecoming Blood Drive. Mountaineers have been donating blood to support the American Red Cross for the last eight years.