Playing to win: The Appalachian State Gaming Club
From humble beginnings in 2005, the Appalachian State Gaming Club has grown to 400 members strong today. The club facilitates this through online gaming sessions, where members can play together from their own homes and through weekend events in the Grandfather Ballroom in the Plemmons Student Union, where competitive and casual players alike can have fun through gaming.
"We have a bunch of different games played there, there's something for everyone," ASU Gaming Club vice president Alex Holler said. "We have teams of competitive players but the majority of our members are there for fun."
There are numerous tournaments throughout the United States and Canada for competitive video gamers. With the rise of online play and faster internet speeds, this type of gaming is finally possible, where 15 years ago it was simply a dream.
The ASU Gaming Club has recently won regional attention. The club sent three teams to compete in a gaming tournament called Clash of the Carolinas on Jan. 16-17 at North Carolina State in Raleigh. The tournament achieved attention from over 1,000 people from dozens of North and South Carolina colleges, according to WNCN News.
"We placed first, second and sixth in our three games out of 13 total teams," Holler said. "It was pretty cool for our first time there."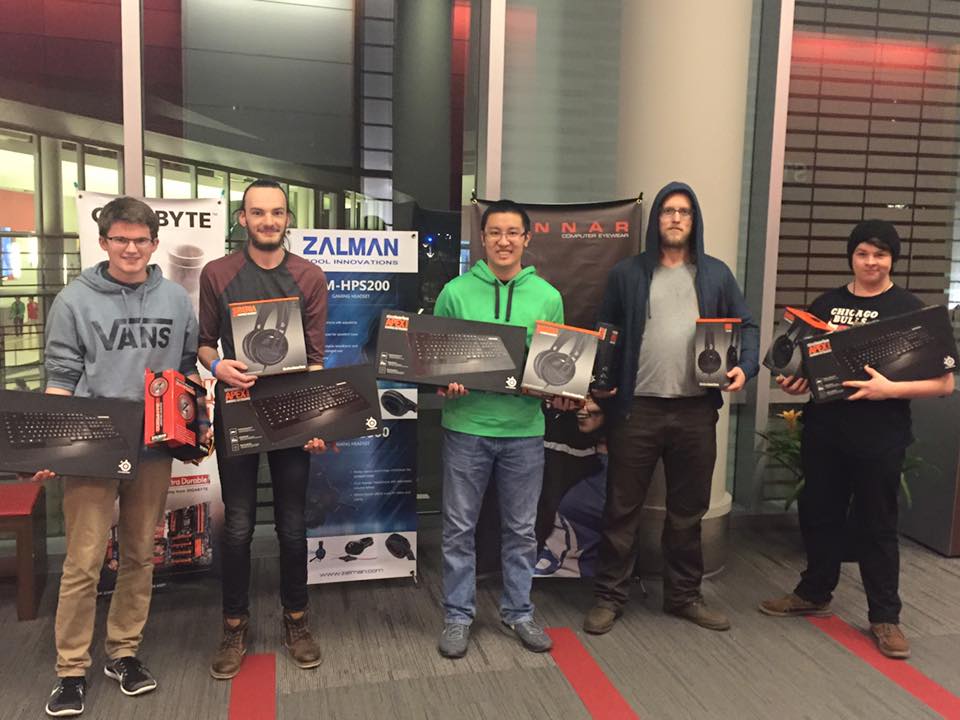 The competition is not just for fun, there are also cash and material prizes that professional gamers can win. The ASU team won first prize and $650 worth of headsets and keyboards. There are more events scheduled for the future and with the rising public opinion of games, the prize pools are only getting larger.
Tanner Veltem is the captain of the Gaming Club's Counter Strike: Global Offensive team, a military shooter and strategy game. Clash of the Carolinas was his first competition with his team.
"I only started playing last summer, but now we have a team of six that can compete in competitions," Veltem said.
Veltem was proud of his team's accomplishments. He said he is excited about the opportunity this offers them and what that means for their future.
A popular company that helps facilitate these competitions is called the eSports Association, also known as TeSPA. TeSPA provides college students access to other colleges, competitions, big name video game developers and scholarships for playing games.
TeSPA began as a student organization at the University of Texas at Austin but exploded onto the scene in 2012 when they hosted a "StarCraft II" invitational that attracted professional players of the game. In 2013 the organization went national, and now they host events with thousands of participants and spectators. This nationalization has attracted companies like Blizzard and Riot Games to help promote the growing eSports community.
"TeSPA is our connection to the community," Holler said. "We love them and the support we get."
With the help of organizations like TeSPA, the gaming club at ASU can reach a much broader set of collegiate teams and thus compete on a national scale.
"They split you based on region, then place you based on your skill," Veltem said. "We're in a league of about 60 colleges."
Holler said his vision and mission for the ASU Gaming Club is to be a safe place that fosters social interaction and enjoyment of play with its members.
"To me, this gaming club has become more than just a fun space. It has morphed into a way to have a positive impact on my community for a group that is ignored by most other organizations," Holler said. "In a time of growing interest in games and video gaming, catering to a group that is unrepresented and less involved is the greatest purpose of the club."
The Gaming Club wants to capture this global phenomenon of community and fun through games for students at ASU. Holler and Veltam both agree these sessions do more than bring people together, they create lasting friendships.
The next group play session will be at Grandfather Ballroom in the PSU on Feb. 27.
By: Michael Hebert A&E Reporter
Correction: The article originally listed the next group play session to be on Jan. 27. This has been corrected to Feb. 27.