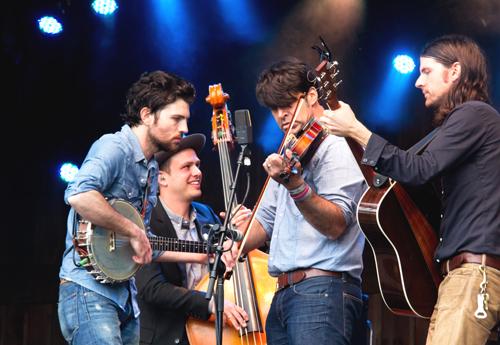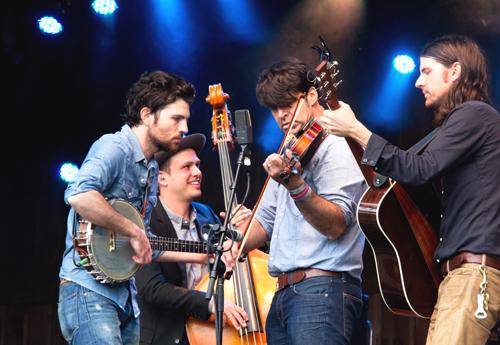 Music lovers traveled to the Wilkes Community College campus for the 26th annual MerleFest last weekend.
The festival, which features a variety of genres with a focus on traditional folk music and a family-friendly atmosphere, had shows on 13 different stages.
"The great thing about MerleFest is that it's never been about one style of music," said mandolin player Sam Bush, who performed at the festival.
This year's lineup also included the Avett Brothers, The Nitty Gritty Dirt Band, the Kruger Brothers, The Preservation Hall Jazz Band, Donna the Buffalo and Leon Russell.
Named in honor of late guitarist Merle Watson, this year's festival is the first since the death of Merle's father and bluegrass legend Doc Watson.
Doc Watson's life was celebrated throughout the weekend through cover songs, printed memorials in the festival's information booklets and an official tribute concert on Saturday night, which featured a number of musicians who played with Doc every year at the festival.
"Doc was a constant presence in my life since I was 15," said the Kruger Brothers' guitarist Uwe Kruger.
Jens Kruger, who plays banjo for the Kruger Brothers, said that Doc Watson was an ambassador to the American idea.
"It's people like Doc Watson who gave America a face and a voice. He is the guy who makes people want to come here and make it better."
The festival also included open mics and songwriting competitions. Amateur musicians could jam on instruments like fiddles to mandolins; guitars to hammered dulcimers.
MerleFest also offers a wide selection of local merchandise, ranging from clothing to furniture to handmade instruments.
The communal atmosphere is central to MerleFest's mission.
"Virtuosity is more of an option, it's not a necessity," Jens said. "Folk music is about having something to say. This is what we learned from Doc. Take any song. and if you're humble about it, then it's good."
MerleFest serves as a fundraiser for Wilkes Community College and has generated more than $10 million for the school. Festival attendees come from all 50 states and 15 foreign countries.
"This is the best place to be," Uwe Kruger said. "People here don't really get it, and I think that's great."
Heavy rain on Saturday and Sunday didn't stop festivalgoers, who braved the weather with ponchos, umbrellas and tents.
"For all you people filing out because of the rain, we understand, but to all you folks out there in ponchos, we like you better," James Nash of The Waybacks said.
The Avett Brothers wrapped up the festival on Sunday, which marked their third appearance at MerleFest.
Story: COLIN MOORE, A&E Reporter
Photo: PAUL HECKERT, Photo Editor