When attending an Appalachian State women's field hockey game, fans will notice a familiar face in senior midfielder Taylor Cimbalist.
Cimbalist is making the most of her senior year, already setting her high in goals this season and she attributes it to a her being more aggressive on the field.
"This year when I see a play happening that I can take advantage of and try and get a shot off, I am going to take it," Cimbalist said. "I have to give a lot of credit to the other midfielders, they give me good passes where I can get my shot off easier."
With the young core group at the midfielder position, the Mountaineers have welcomed a more aggressive Cimbalist.
"She is definitely way more goal hungry. Being a senior, it has hit her that this will be her last year so she knows she has to take advantage of it," assistant coach Kerry Kiddo said. "Sometimes there can be a lot of pressure on a midfielder to consistently score but Cimbalist has used that pressure as motivation."
With this being her last year, Cimbalist knows she only has a couple of games left and it is going to get emotional for her.
"I was making my calendar and I saw my last game on there and it was a little nerve racking," Cimbalist said. "I go out on the field and play as hard as I can and try to tune out the fact that this is my last season."
Cimbalist has not only improved on the field, but she has improved as a team leader as well.
"I am definitely a yeller," Cimbalist said. "Not only do I have high expectations for myself but also my teammates, because if they succeed individually then we will succeed as a team."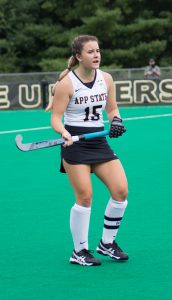 Coaches have been impressed of how vocal Cimbalist has been, and she is doing whatever it takes to bring the Mountaineers a win.
"I think all three captains we have bring an unique flavor to our team, but Cimbalist brings a bubbly energetic passion to this team," head coach Meghan Dawson said. "She loves field hockey so much and she wants to be the best she can be and she also wants her teammates to be the best they can be."
Going through some struggles last year, Cimbalist credits the team's intense workouts and practices she had over the offseason.
"I have been doing better passing the ball to my teammates," Cimbalist said. "The reason why this was something big for me to work on is because the freshmen have come in and have been able to adjust easier with my passes."
Every statistical category has been an improvement for Cimbalist and for the Mountaineer coaches, but they knew Cimbalist had this type of talent.
"Cimbalist's confidence is what is propelling her to have this type of season," Kiddo said. "She plays with a lot of speed and I think that is her biggest strength she puts her head down and will not be denied on what she wants to do."
The breakthrough Cimbalist needed was just confidence in her game and from there, the stats have all gone up.
"She trusts herself and she believes in herself," Dawson said. "Her self confidence with the ball is something that you can tell has improved from last year; she has that confidence to dribble between defenders and out will her opponents and the whole team has benefitted from it." 
With her confidence growing, Cimbalist has her mind on individual awards.
"I want to have as many shots on goals and I also want to have a goal every game," Cimbalist said. "The award I really want is the All-MAC team; I was close to this award last year and that is something that is driving me."
The Mountaineers want Cimbalist to get this award and they believe her play is showing how much she deserves it.
"I believe she can make an All-MAC team; she has the stats to back it up," Kiddo said. "She was so close last year and I think it gave her that extra motivation to come back better than ever."
With individual goals in mind, all Cimbalist wants to do is make a run in the MAC tournament with her team aside her.
"I want to make it to the MAC tournament," Cimbalist said. "I believe people will be shocked on how good we are, we are definitely talented enough to make a run."
Story by: Michael Pigg, Sports Reporter
Photos By: Lindsay Vaughn, Senior Staff Photographer