The Schaefer Center was completely filled on Saturday as eight a cappella groups competed head-to-head to win the opportunity to open for Us the Duo next Friday.
Acappellageddon, the fall a cappella competition, celebrated its 10th year of existence this year by adding the extra requirement that each team must perform a hit from 2007.
The hosts of the show, Alan Mueller and Joe Beard, are both alumni of Appalachian State University.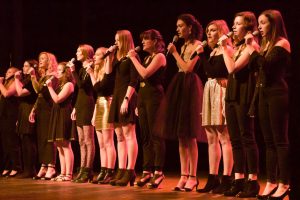 Mueller, who was a faculty member at Appalachian State in 2007, explained that Acappellageddon was originally held in the theater of I.G. Greer, but quickly grew and was moved to the Schaefer Center.
Mueller also said that the name "Acappellageddon" came from an individual who was explaining to Mueller the  backstage chaos of the first show in 2007.
Each of Appalachian State's eight a cappella groups on campus performed: Ear Candy, Enharmonix, VoiceMale, Strong Ties, The Mountain Ayres, Higher Ground, Treble Attraction and One Acchord.
The competition was broken up into four categories to win: Best Co-ed Performance, Best All-Female Performance, Best All-Male Performance and Best Overall Performance.
The winner of Best Co-ed Performance, One Acchord, celebrated their first Best Co-ed Performance victory in the history of the group.
"I would say this is the closest our group has ever been" Cayla Edwards, junior public relations major and president of One Acchord, said.
The group performed the songs "Rehab" by Amy Winehouse, "Halo" by Beyonce and "Masterpiece" by Jessie J and had several soloists, a full chorus, choreography and beatboxing by Edwards.
One Acchord also celebrated additional victories, with Edwards winning the award for Best Co-ed Beatboxer and junior biology major Rachal Arokiasamy tying for Best Co-ed Soloist with Alana Hughes of Enharmonix.
The group has put in a lot of work toward Acappellageddon, even though they do other performances throughout the semester as well.
"I would say about 50 percent of our time over the course of the semester is spent on Acappellageddon," Edwards said.
One Acchord is not the only group that spends a lot of time preparing for Acappellageddon.
"Acapellageddon starts months in advance," junior exercise science major and president of Treble Attraction, Lindsey Zipperer said. "Over the summer, our fantastic music director Chelsea Douglas arranged all our songs and then we start learning our very first rehearsal."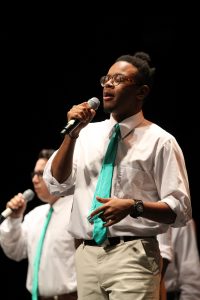 Treble Attraction, the first all-female group on campus, was able to celebrate as Tori Young won the award for Best All-Female Beat-Boxer.
The group performed the songs "Say My Name" by Tove Styrke, "Intro" by Ariana Grande, "What Now" by Rihanna and "Upgrade U" by Beyoncé.
"Our girls do a lot of work outside so we don't have to spend as much time teaching individual parts and we can come and put everything together," Zipperer said.
Best Overall Performance winners Enharmonix performed "The Valley" by Betty Who, "Location" by Khalid, "Apologize" by One Republic and "Freedom" by Allen Stone.
The group had less time than others to get ready for the competition, however.
"We actually had two weddings we had to sing for so we didn't start Acappellageddon stuff until about a month ago as opposed to some of the other groups that started when school started," junior public relations major and president of Enharmonix Lauren Small said.
Coming off of last year's visit to the International Championship of Collegiate A Cappella, Enharmonix has gone through a few changes this year.
"Last year our group had 21 people and we're down to 15, because we believed that if we downsized, everyone would pick up the slack so that everyone doesn't rely on other people in the group for certain parts," Small said.
Enharmonix not only celebrated their Best Overall Performance win, but also junior music education major Alana Hughes tying for the award for Best Co-Ed Soloist with Arokiasamy.
The winners of Best All-Male and Best All-Female groups were Higher Ground and Ear Candy respectively.
Higher Ground members were also given other awards. Junior industrial design major Kevon Bannerman and senior risk management and insurance major Tad Fulbright tied for Best All-Male Soloist and sophomore risk management and insurance major Christian Mauney won the award for Best All-Male Beatboxer.
Ear Candy also had an individual win an award, with sophomore music therapy major Emily Cheek winning Best All-Female Soloist with her solo in "Too Good at Goodbyes" by Sam Smith.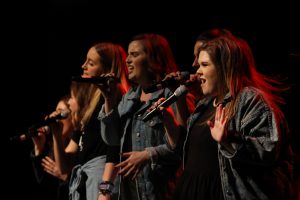 Acappellageddon has a series of rules that each group must follow about the songs they perform and when they perform them.
"For Acappellageddon, we're actually not allowed to perform those songs before 'geddon and nobody's actually allowed to perform the whole week before 'geddon so that it builds anticipation," Zipperer said.
However, if there was anything to take note of during the night, it was the camaraderie shown in the a cappella community at App State.
"One of the things I love about the a cappella community at App is that even though fall semester is a competition semester, it doesn't really feel like a competition because all of the groups are so friendly and supportive of each other," Edwards said.
In fact, many of the groups help each other out.
"When Chelsea [Douglas] was arranging these pieces, she had people from Enharmonix and Higher Ground and they all arranged together," Zipperer said.
In the end, the night was a success with a sold-out crowd and lots of music.
"It's a lot of pressure because in rehearsals because we're all business, but in the end we have to be like, 'Guys we're just here to have fun,'" Zipperer said.
Story By: Mariah Reneau, A&E Reporter
Photos By: Christian Bocchino and Sarah Billings, Intern Photographers
Featured Image: Singer of Enharmonix Alana Hughes performing a solo on the Schaefer Center stage for Acappellageddon. Hughes tied for best co-ed soloist of the night and Enharmonix won overall best permormance, which means they get to open for Us The Duo on Friday night.