Appalachian's men's soccer team is in unchartered territory this year, losing four of their top scorers. This is giving players on the team a chance to step up and prove themselves, and junior midfielder Daniel Avila is not going to miss the opportunity.
Avila was the fifth leading scorer last year for the Mountaineers, but his improvements over the offseason have already earned him a Sun Belt Co-Offensive Athlete of the Week award.
"I tried to improve on everything overall," Avila said. "I focused defensively, that was one of my biggest weaknesses. There is always going to be something to improve on."
Avila was able to capitalize on a unique opportunity playing for the soccer Premier Development League by matching up with some of the best players in the world.
"It was definitely a different environment," Avila said. "It was just different coaches, different styles and me bringing those skill sets over here, I will see improvements."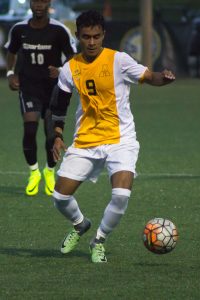 Second year head coach Jason O'Keefe has noticed the change in Avila's play from his involvement in the Premier League.
"I believe he led the team in assist and in goals which is tremendous," O'Keefe said. "It shows that he has the ability to put his skills together and have a breakout year."
Early in the season, Avila's teammates are already seeing a difference in his play, mainly with his new level of confidence.
"Daniel, he always seems to be in the right spots and he is already capitalizing on his shots," junior defense Felix Kollmannthaler said. "Not only is he looking to score he is also looking for the open player, he already has two assists in the first two games."
The Mountaineers are facing a big turnaround with 12 incoming freshmen, so they are looking to Avila to lead the team.
"I look to him as a leader through actions," senior defenseman John Walrath said. "He has been there to give people rides to practice, and when he brings a certain intensity to practice you can see everyone's pace pick up."
Kollmannthaler believes Avila is going to be someone that the younger guys look up to.
"He is one of the guys that has been here the longest," Kollmannthaler said. "We have a lot of new guys this year, so it is good to have a person like Daniel who has been here and knows the ropes and can set an example for the freshmen."
While Avila has room to improve, O'Keefe is excited to see when Avila's game becomes complete since he is only a junior.
"I have been impressed with Danny when I first got here," O'Keefe said. "I think he is still scratching the surface of his potential which is the most exciting, and as he continues to mature as a person and as a player you will see more of what you saw last weekend."
Avila is ready to see what this team can accomplish, and said he thinks that this year's team is more well rounded than last year's.
"We might have lost a lot of the scoring from last year but as a complete team we are better," Avila said. "We are going to find ways to score, and we have a lot of people you can come off the bench to contribute. It is going to be my job to help them see things on the field that will make them more successful." 
Avila is tied on the team for assists with two this season and he is backing up his word that even though they lost most of their scoring from last season, there will not be a drop off.
Avila knows that the Mountaineers' future is bright, but he is focused on this year and believes that they can do something special.
"I want to win," Avila said. "I am willing to do whatever it takes and I know my teammates have my back so I'm just look forward to see what this team accomplishes."
Story By: Michael Pigg, Sports Reporter
Photos By: Halle Keighton, Photo Editor