Junior men's tennis player and Australian native Scott Webster found a new home at Appalachian State, and it has been beneficial for both Webster and the university.
Webster has excelled thus far in the U.S. and is on his way to putting Appalachian State tennis on the map.
Holding a career 31-8 record as a Mountaineer, Webster has made it to the division one regional championship and earned the honors of second all-Sun Belt team last year. But Webster is now ready to improve his game even more to take it to the next level.
"Over the offseason I went home back to Australia and that is where I do a lot of intense training," Webster said. "I wanted to keep my rhythm and fortunately for me, I had the opportunity to hit with some of the top 25 guys in the world."
In Australia, tennis is not a high school sport, and it is not the most popular sport. Webster was able to get recognition from the U.S. through club tennis and went undefeated during his time in Australia which caused him to stand out to U.S. coaches.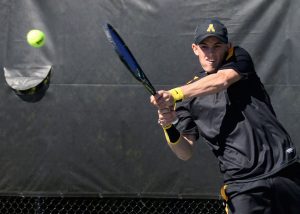 This quickly caught the eye of Appalachian State's head coach Bob Lake who had connections to Australian players.
"I have had five Australians on my teams," Lake said. "I have a guy that played for me, who was one of my first Australian players, who was an all-conference player and is a member of the Australian tennis association. So when I am recruiting a guy from Australia, I make a few calls."
Moving to college can be different, and in Webster's case, he was coming from a different country to Boone, where he wouldn't have the opportunity to go back to Australia as much.
"I came to Appalachian in January 2015 and before then I had never been to the U.S. before," Webster said. "The transition to here was really tough. It was the first time I was by myself and to make things worse, not a lot of people could understand me. After my first semester, I was able to settle in and it became normal."
When Webster arrived at App State, senior Jack Maddocks, a fellow Australian, was ready to give him advice and show him around campus. But what Maddocks did not know was how much Webster's presence would also help himself out.
"I think it was easier for me when he came in, and I instantly connected with him," Maddocks said. "I was a year older, so I knew what he was going through, so I tried to make sure that he was settled in and everyone got to know him."
During his freshman year, Webster and Maddocks were named to all-Sun Belt second team as a doubles pair, and Webster was named Sun Belt freshman of the year with an 18-4 singles record.
Webster finished his sophomore season with a 13-4 singles record, and an 11-3 record at the number one spot. Only suffering one defeat last fall season at the hands of a Clemson player at the UTSA Division One Carolina Regional Championship, Webster said it was a different level of competition.
"Playing a guy from Clemson can be a bit daunting at first," he said. "At the end of the day, you realize they are just hitting a green fuzzy ball like you."
The stellar year that Webster had landed him on the second team all-Sun Belt selection, but his goal is to make first team all-Sun Belt.
"I definitely want first team," Webster said. "Last year it was easier because we were winning more as a team. I am just trying to do my job, and the accomplishments will come if I focus on the team."
Lake gave Webster high praise and said he takes the place as leader on the team.
"Scott has been the franchise player for us. His sophomore year he became the number two player for us," Lake said. "He has been the senior leader for us since he has been here, and he takes over and makes sure his teammates are doing the right thing."
A guy like Webster also helps other members on the team improve.
"Scott really doesn't miss a lot of balls, and he hits a lot of good balls, so he is good to practice against," Maddocks said. "He is good for perspective because if you beat him, you feel like you are playing well. Scott helps you become more consistent."
Playing at the number one spot all season, Webster currently holds an 11-3 singles record and looks continue his goal to first team all-Sun Belt when the Mountaineers take on UNC Greensboro on March 31.
Story By: Michael Pigg, Sports Reporter 
Photos: Courtesy of Mike Slade