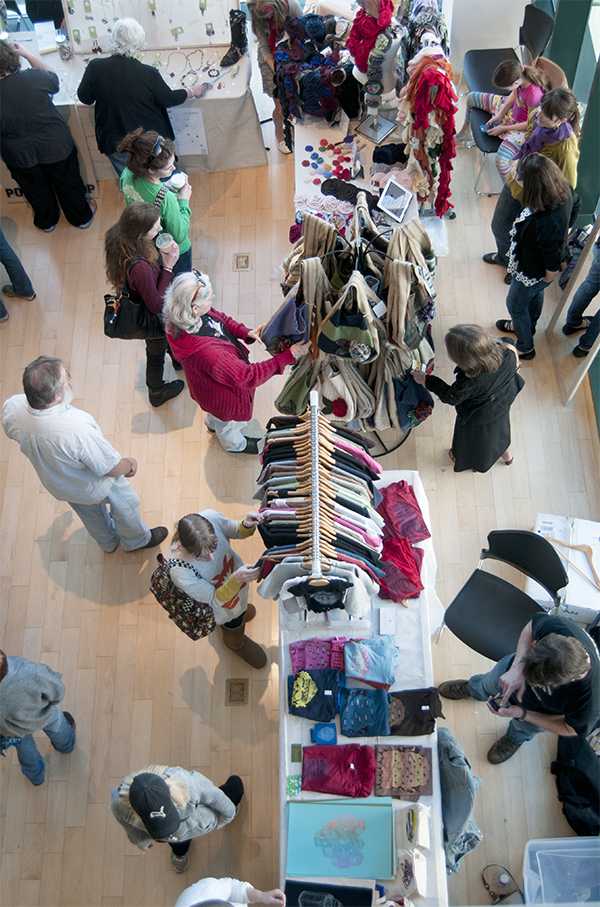 The Arts Management Organization hosted a Fall Boone Handmade Market, featuring handmade goods and crafts made by student, faculty and community artists from around the High Country Sunday in the Turchin Center for the Visual Arts.
The Arts Management Organization is a student-run organization that focuses on promoting arts in the community and across campus. The market is held every year as a fundraiser for the club.
"This market in particular is smaller than previous years, as we only have 36 vendors, as opposed to in the past when we've had 50 and closer to 90, but we still have a wide variety," said Lauren Jordan, president of the Arts Management Organization.
Honey, candles, scarves, instruments and jewelry have been popular with crowds in past years, Jordan said.
Senior studio art major Adam Mackay exhibited utilitarian pottery, including cups, bowls and vases for the first time after attending the event for the past two years.
"I know from previous years that there is a high volume of traffic," Mackay said. "I'm really interested in the idea of my pots being invited into the intimate space of people's homes."
Freshman apparel design and merchandising major Savannah Davis owns a personal business of handmade bowties through an online store and participated in this year's market.
"Moving to Boone, I was so thrilled with the emphasis of local, handmade products," Davis said. "It is so refreshing to live in a community so rich in culture."
The Arts Management Organization offers a student discount to encourage participation on the part of art students developing their craft.
"As a craftsperson, it is important to begin getting your name and work out into the public sphere in order to build a reputation and a customer base," Mackay said. "The end goal with this is being able to sustain your lifestyle by selling your work."
The Arts Management Organization has meetings every other Thursday of the month in room 204 of Wey Hall from 7 to 8 p.m.
Story: LOVEY COOPER, A&E Reporter
Photo: OLIVIA WILKES, Senior Photographer