App professors' research shows business majors tend to be more narcissistic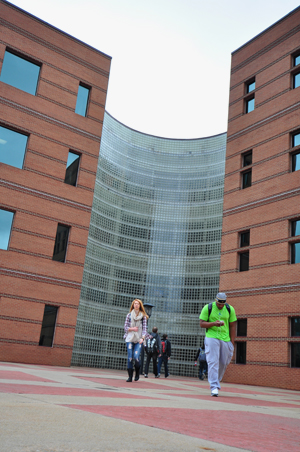 A team of researchers at Appalachian State University compiled findings that suggests business majors are more narcissistic than those in other academic fields, including psychology.
Jim Westerman, Joe Daly, Shawn Bergman and Jacqui Bergman are all co-authors of the research.
Jacqui Bergman, an associate professor in the Department of Management, said people tend to be drawn to majors that fit their personalities and values.
Shawn Bergman, an assistant professor in the Department of Psychology, said the researchers used the Narcissistic Personality Inventory as a measure of narcissism.
"It is 40 dichotomously scored items, so you get two statements and you say, 'Pick the statement that most closely describes who you are,' and when it is all said and done, there are narcissistic responses and there are non-narcissistic responses," Shawn said.
Males generally have higher levels of narcissism than women, Shawn said.
However, the study conducted by the researchers using Appalachian students as their sample revealed that the narcissism level average in female business majors surpassed the level of male psychology students.
"That was kind of surprising to us," Shawn said.
Shawn said the reason highly narcissistic people can be bad in a business setting is that they have difficulty accepting failure as their own responsibility.
"They start throwing everybody else under the bus to explain why the performance was bad," Shawn said. "You don't want those people out there in business because they potentially cost businesses money."
The Walker College of Business is doing a lot to dampen narcissistic tendencies, said Westerman, a professor in the Department of Management.
Westerman said the business school uses a lot of case method instruction, which helps to "bring people out of their first-person view."
Walker College also has opportunities for students to travel to other countries, offers internships and work experiences.
"All of these things can take you out of a self-involved, potentially materialistic shell and begin to help you step into the shoes of others," Westerman said. "The emphasis on ethics in the Walker College of business I think is a good thing."
Westerman said that if there is a message from the research, it is to step into other people's shoes and see the world from their view.
Story: JOSHUA FARMER, News Editor
Photo: JOEY JOHNSON, Staff Photographer