App State basketball splits doubleheader with Georgia Southern
Women's basketball cruises over Eagles, 66-39
Stay in the top 8.
That's all that is on the Mountaineers' (12-14, 7-10 Sun Belt) minds these days when it comes to Sun Belt play. The top 8 teams in the conference are eligible to play in the post-season conference tournament, and an easy 66-39 win over Georgia Southern (4-22, 1-16 Sun Belt) Thursday night in Boone helped them feel a little safer with their spot in the standings.
The Mountaineers started slow, falling behind by one early before closing the first half on a 23-7 run to lead by 15 at the break. The run was fueled by nine turnovers while App State held the Eagles to 0-12 from beyond the arc.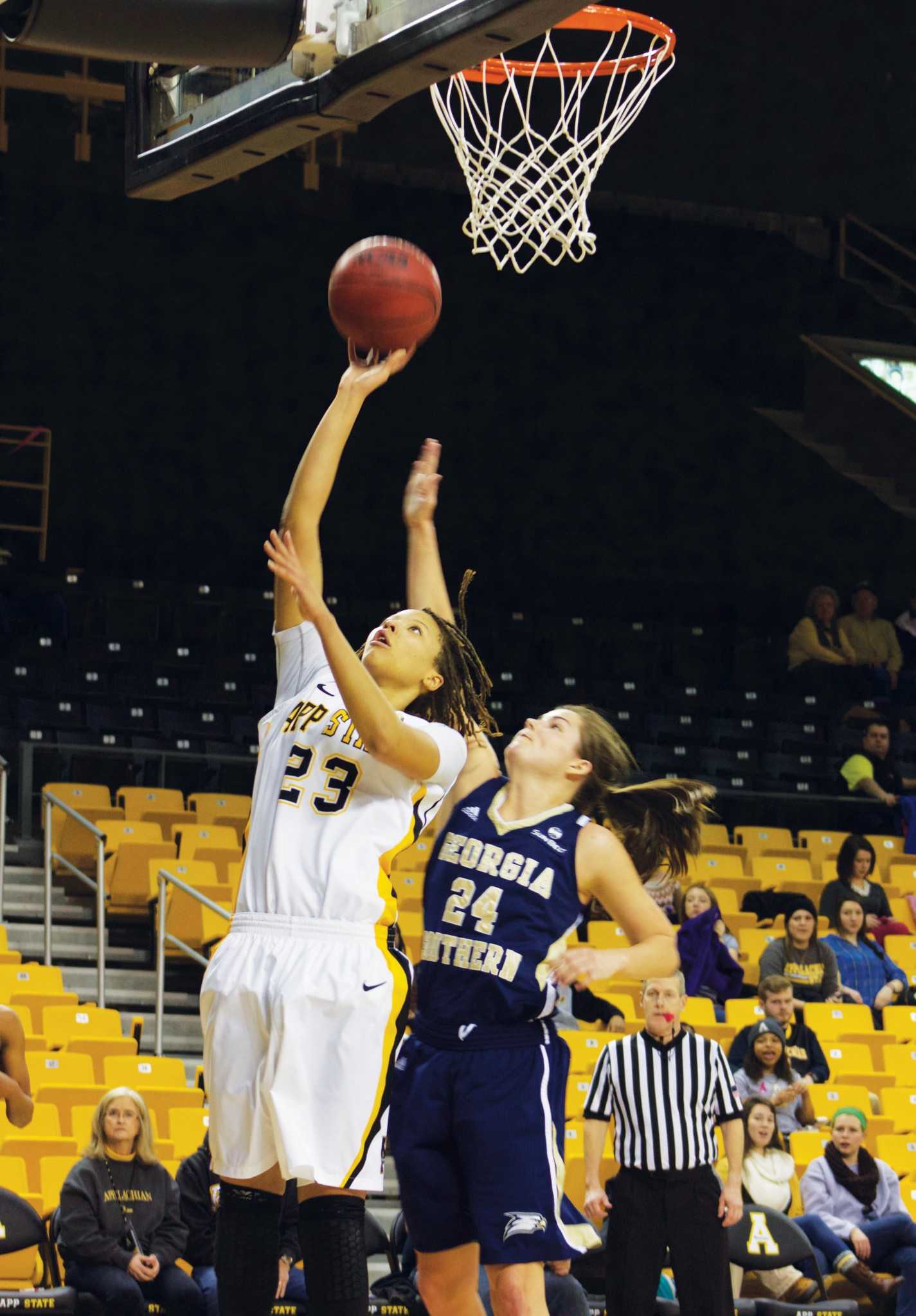 Head coach Angel Elderkin said the luxury of being at home, the ability to rest and the team's consistent practice schedule of late caused the difference in the teams play compared to their last few games on the road.
The practice certainly showed throughout as the Mountaineers put on a clinical display of team basketball, assisting on 18 of their 28 field goals and holding Southern to just 27.6 percent shooting.
Senior forward Maryah Sydnor had game highs in points, rebounds and assists with 14, 13 and five, respectively.
Elderkin said Sydnor was a key catalyst in the big first half surge.
"Her confidence and her ability to score makes everyone around her better," Elderkin said. "That was the Maryah Sydnor we haven't had in a while."
Bria Carter had a strong showing as well, shooting 6-10 from the field to score 13 points to go along with two blocks and two steals.
Carter said the team has developed a sense of urgency as the regular season winds down.
"We knew we had to come out strong and really keep our foot on the pedal," Carter said.
App State currently sits on the bubble in the eighth seed, ahead of ULM by virtue of a tie breaker.
The Mountaineers return to action Saturday at 1 p.m. against ULM.
––––––––––
Men's basketball falls to Eagles

App State (9-17, 6-11 Sun Belt) could not overcome an early 20-2 deficit and suffered from poor shooting and even worse defense in a 77-58 loss in Boone Thursday.
"We didn't start well," head coach Jim Fox said. "Because of that, we were very stagnant and we turned the ball over a lot. We couldn't get anything going offensively or defensively."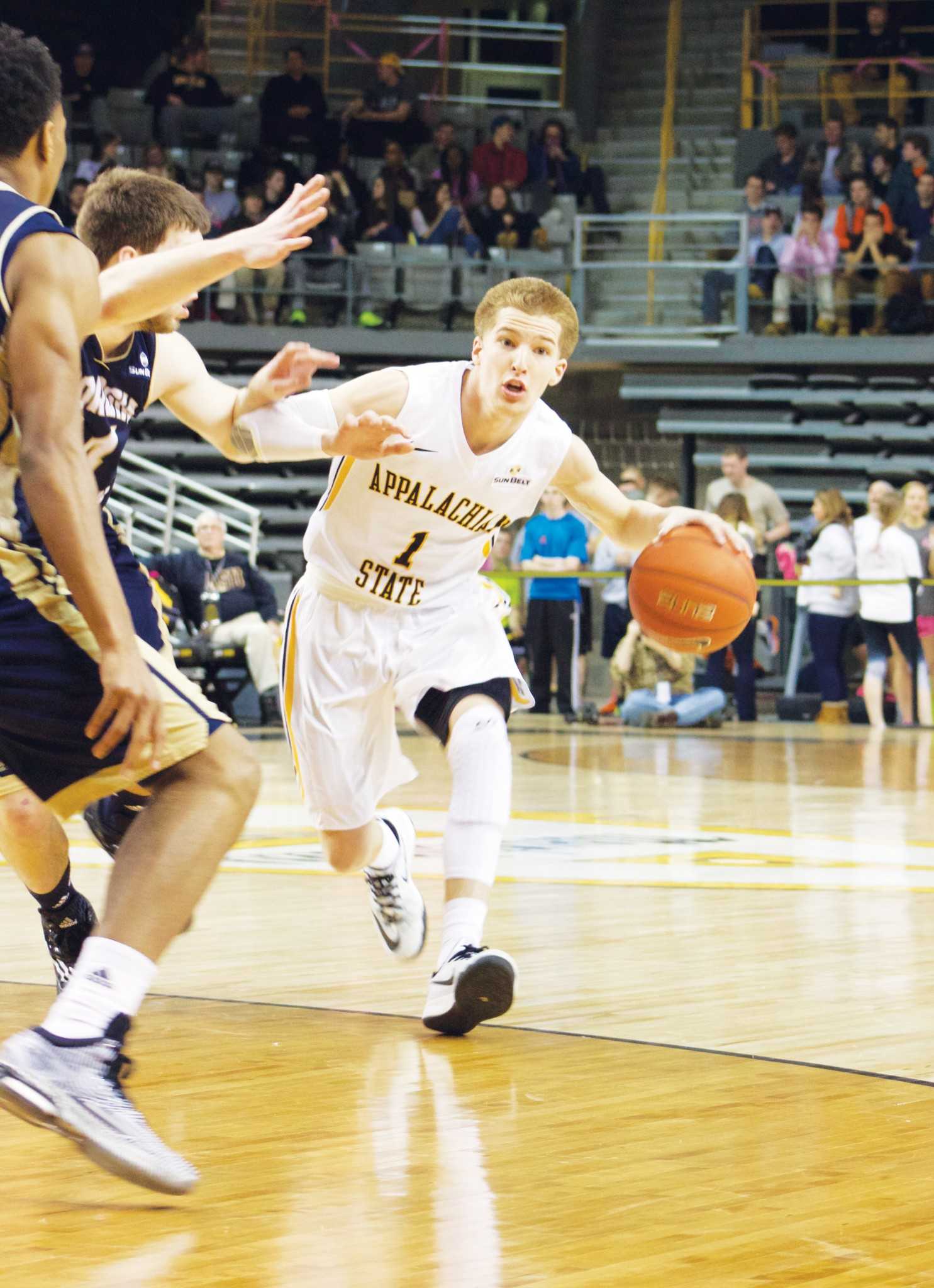 The statistics reflect Fox's words, as the Mountaineers were outworked on the glass, pulling down 26 rebounds compared to Georgia Southern's 38.
App State also allowed Georgia Southern to shoot 48.3 percent from the field compared to their 40 percent.
Junior guard Frank Eaves led the team in scoring with 15 points as well as minutes played with 34.
Playing that many minutes a game can lead to fatigue, but Eaves said that he wasn't tired, even though the regular season is coming to an end.
"I feel fine," Eaves said. "I'm coming ready for every game. I can't speak for other players, but its not like the coaches are killing us in practice."
Jacob Lawson and fellow big man Michael Obacha were two bright spots for the team as far as effort and defense are concerned.
Despite playing just 13 minutes, Lawson's presence was felt on the boards and in the paint as he ripped down four boards, scored seven points and recorded a block.
"For me, it's a big part of being on the tape as a big man," Lawson said. "Every time I come out, I think about protecting the rim."
Fox praised Obacha for his effort and hustle and said that he brought energy from the beginning despite the rest of the team's sluggish start.
The Mountaineers look to get back into the win column when they face ULM Saturday at 3:30 p.m. at Holmes Convocation Center.
Story: Lee Sanderlin, Intern Sports Reporter 
Photo: