App State football media day brings excitement for the new season
With another summer gone by, a new season of football has begun. Appalachian State football held their annual Media Day on August 5 as they prepare for their fourth season in the Sun Belt conference and first season as reigning Sun Belt champion.
"We are just very excited to get started and it feels like football comes around faster and faster every year," head coach Scott Satterfield said. "Maybe it's just because I am getting older and have been here for a while."
Coming off of back-to-back Camellia Bowl wins and double-digit win seasons, the Mountaineers enter the 2017 season with six returning starters on offense, seven on defense and four on special teams.
The Mountaineers are looking to replace key guys in all three units with the losses of linebackers John Law and Kennan Gilchrist, corner back Mondo Williams, safety Alex Gray, punter Bentlee Critcher, tight end Barrett Burns, offensive lineman Parker Collins and Jamie Collmar and all-time Mountaineer leading rusher Marcus Cox who all graduated in the off season.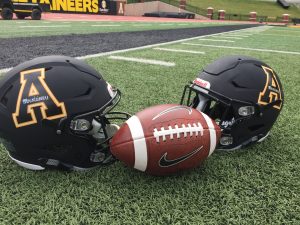 "Our guys had a great summer workout and off season with a lot of anticipation after the good season in 2016," Satterfield said. "It doesn't matter what we have done in the past because this is a different team with new leaders and incoming freshmen. Chemistry will always be different no matter who you have."
One of the solidified positions that the Mountaineers can rely on is fifth-year senior quarterback Taylor Lamb who arrived to media with a mustache and beard beginning to grow in.
"Quarterbacks like to do a camp stache-friendly competition and we will grow it until the season begins," Lamb said with a laugh. "Tanner Wilson is probably the early favorite right now."
Now having five years of experience at App State and four as the Mountaineers' starting quarterback, Lamb believes this could be an undefeated season for the Apps.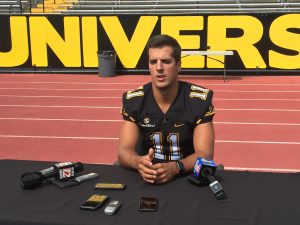 "I feel good and at this point in time, you feel good with 12-13 games ahead of you," Lamb said. "Our goal is to go 12-0 and win a bowl game to be 13-0. We want to win every football game. All 105 of us believe we can win every game and we are taking it one day at a time."
Lamb will have senior wide receiver Shaedon Meadors and Zy Letman returning, redshirt freshman Jalen Virgil who has opened eyes during fall camp and sophomore Darrynton Evans transitioning to wide receiver as offensive threats.
"We are excited to have a fifth-year senior at quarterback to improve our passing game in addition to having one of the best running games in the country," offensive coordinator Frank Ponce said. "We have to do a lot of work on offense still and hopefully we have as much success as the last few years."
A key question mark for Mountaineer fans is how the offensive line will fare with the loss of Parker Collins, who is now playing center for the Los Angeles Rams, and left guard Jamie Collmar. Despite the loss of a big vocal leader like Collins, co-offensive coordinator Shawn Clark believes the offensive line has more depth than the last few years.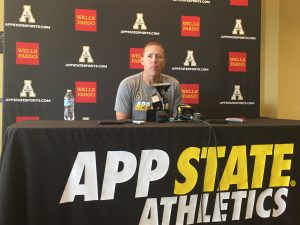 "Last year we could probably go five or six guys deep," Clark said. "Now we have probably eight guys that can all make the same impact and I am excited to see how the rest of camp plays out."
The Mountaineers expect seniors Colby Gossett and Beau Nunn to start at right guard and right tackle, respectively and have center depth with redshirt freshman Ryan Neuzil, senior Tobias Edge-Campbell and true freshman Noah Hannon.
On the defensive side of the ball, there a lot of young new faces, but also experienced seniors in linebackers Eric Boggs and Devan Stringer and defensive back A.J. Howard
"With losing some great ball players each year I have been here and [we have] wondered how do we replace those guys from a productive and leadership standpoint?" defensive coordinator Nate Woody said. "We are still trying to see who replaces Law or Gilchrist or Gray from a leadership standpoint and I can't tell you how happy and pleased I have been with leadership qualities from not just one player but all the guys. We can be here all day if I started naming them off."
Junior nose tackle Myquon Stout has made it no problem bonding with the guys on the defensive line as a group name that began last year has grown into something that they are hoping becomes more of a household title this year to join the likes of FTC (For the Cash) and LOB (Legion of Boone.)
"The defensive line, we call ourselves 'The Junkyard'," Stout said. "We have already made T-Shirts. It'll become a big deal."
One of the points that the coaches made is that while there are a flurry of leaders on the App defense, not all of them are as vocal compared to years past and are still looking for their roles being so early on in the process.
"They are fun to be around and we have a bunch of good guys despite it being so early," Satterfield said. "The young guys are still figuring things out, but the older guys have led in a great way and right now camp is about defining your role. Defining roles right now is the biggest thing we have to do."
With 18 seniors on the roster and 12 slated to be starters, the Mountaineers expect to be ready to go on September 2 when they travel to Athens to take on the Georgia Bull Dogs.
"I tell them that if we can be competitive, it gives us a chance to win," Satterfield said. "This team is good enough to compete for a conference championship. There is a lot of time between now and the end of the season, but we have a lot of good ingredients and we can be competitive."
Story and photos by: Jason Huber, Sports Editor