A Selkie is a half-human, half-seal mythical creature born out of the folklore of northern Scotland. Selkies have a special pelt that allows them to change from human to seal. On the shores of Orkney Isle, "between the land and sea" is where this story takes place.
"Selkie: Between Land and Sea" is a coming of age story about a 16-year-old girl named Elin Jean who "struggles to find a sense of belonging and identity as the secrets of her family are revealed," according to the press release written by Keith Martin, distinguished professor of theater.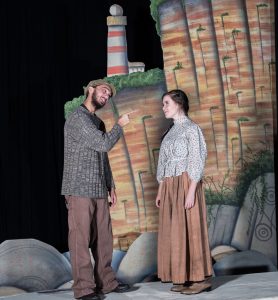 Appalachian State's Department of Theatre and Dance will present this award-winning drama for young adults written by Laurie Brooks on Sept. 28 to Oct. 2 in the Valborg Theatre. The show is directed by theater professor Teresa Lee, who according to the press release "continues the department's tradition of offering young adult plays in alternating years." To follow suit, the play consists of only seven characters, three of which are freshmen at App State.
Lee said the casting process for main stage productions is challenging because there are so many students who come out to audition.
"Although it is a bit unusual for three out of seven cast members to be freshmen, it was a matter of casting the best actors for the roles regardless of their year in school," Lee said. "So far, I'm very impressed with our incoming class of freshmen overall."
Martin said that this is the largest incoming class in department history, with 65 freshmen and transfer students, bringing the total number of students in the Department of Theatre and Dance to 235.
"This marks the fourth year in a row that this record has been broken, with an overall growth rate of one-third just in the last two years," Martin said. "This speaks volumes to the quality of the program, the excellence of our faculty and staff and the growing reputation of our department across the state and region."
Sophie Weiner, a freshman theatre arts major, scored the lead role as Elin Jean in "Selkie." This is Weiner's first lead role and her first play at App State.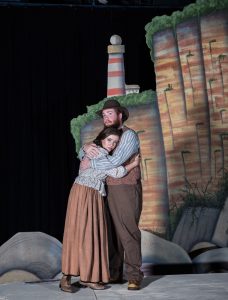 Weiner said she initially went to auditions to support her roommate and was not planning on getting a part. She received a call back and the next thing she knew, she was among the top three with her roommate. Weiner said that her roommate is very supportive that she got the role and they are supportive of each other.
Weiner said that this is her breakout role, but hopefully not her peak. She has mostly done musicals where she was cast as part of the ensemble or "just in the background with only one or two lines," Weiner said.
"This is my first lead I have ever gotten, because I wasn't necessarily the favorite in high school so I never got any lead roles," Weiner said. "But this is definitely the most interesting character from anything I have really done."
Weiner describes Elin Jean as strong with a fire inside, yet she is vulnerable within the setting, and said her character longs for people to like and understand her.
Playing Elin Jean's love interest Tam McCodrun is freshman performance theatre major Devon Bucey.
"He is the lover boy of Elin Jean pretty much," Bucey said. "He starts out making fun of her because she is different, but they end up falling for each other in the end."
This is also Bucey's first college role. He said that it is not really a lead role like Elin Jean. But, he is happy with his role and his favorite part of his role is learning the Scottish dialect and language.
"Learning Scottish was definitely a challenge that has proven difficult," Bucey said.
Madeline Ferguson, freshman theatre arts major, plays Selkie Black, Elin Jean's aunt. Ferguson said that throughout the play Selkie Black tries to help her sister Margaret rejoin them in the sea by getting her pelt back from Elin Jean's father, who forced her to live on land for many years.
Even though this is Ferguson's first college play, she has been in five plays total. In her last years of high school, she played Mary Poppins and Wednesday Addams.
"This one actually may be harder than Mary Poppins, because you have to have different movements in the water and you have to make seal noises," Ferguson said with a giggle. "You also have to deal with the selkie pelt and take on two different characters."
Ferguson said that she was very excited to be cast in the show after feeling intimidated coming into auditions because she did not know anyone.
"I am just so excited to be apart of it and everything," Ferguson said. "All these people are awesome and it was a lot of fun to work with T. Lee, the director."
Dylan Brown, senior theatre arts major, plays the grandfather of Elin Jean who also serves as the story's narrator. Brown describes Grandpa as the audience's connection to the world, and said Grandpa is the oldest character that Brown has has ever played. Brown has been in nine plays, one for each semester he has been at App, and said this one will hopefully not be the last.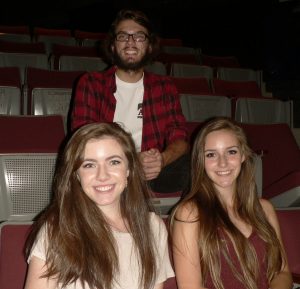 "It is the most challenging play I have ever had to do in terms of dialect, which has added a new layer of challenges that we all had to learn as a cast together," Brown said. "It has been a really fun learning process for all of us, getting to play around with the accent so that we don't all sound like Shrek."
Brooks describes the play as "dusted with mysticism," because it combines folklore with traditional storytelling.
People who come out for "Selkie: Between Land and Sea" should come prepared to be "transported out of Boone and be taken away from this day and age," Brown said.
"Selkie: Between Land and Sea" opens at 7 p.m. and 2 p.m. on Oct. 2. Tickets are $10 for App State students and $17 for adults.