The differences between a club sport and a varsity sport are issues like the sticky subject of Title IX that nobody wants to talk about, and something around tens of thousands of dollars in funding.
Other than that, there isn't much difference between the two. They both have coaches, players, practices and their school name and colors to wear at games.
The Appalachian State men's lacrosse team is a club sport in Boone. The first ever lacrosse team at App State was established in 1973 by a group of students with the desire to play and the patience to start up the program.
Angelo Acitelli has been head coach for the club over the last four years and is no stranger to the game. After playing for both his high school and one of North Carolina's best high school level travel lacrosse teams, Team Carolina Elite, Acitelli went on to play Division I lacrosse for Bellarmine University in Kentucky as a defender.
When it comes to club lacrosse for Appalachian State, Acitelli focuses on success rather than the technicality of the name.
"Last year was kind of the first time we've tasted success in a long time for the program," Acitelli said. "We had a lot of key players step up that weren't on the team two years ago."
In 2015, App State lacrosse finished the season 1-6 in the South Eastern Lacrosse Conference (SELC). Last year, with the help of those key players, Acitelli brought the team to a 7-3 overall record reaching the semi-finals of the SELC Division II Championships for the first time. The black and gold would fall to Kennesaw State but not before managing to redefine App State lacrosse and set a new standard for seasons to come.
This year, that redefined team is looking to raise the bar higher despite a few bumps in the road.
One of those setbacks that could always be a hindrance to the team is the lack of funding they receive. For example, Louisiana-Lafayette's club lacrosse team has a budget given by the school of $60,000 whereas the Mountaineers are only backed by roughly $1,500. This means that the team isn't supplied with the best goals, balls or equipment that would ultimately be beneficial for the program.
"Part of being a sport is having to face adversity in whatever way it comes at you," sophomore midfielder Jack Rich said. "We're not complaining about it, we make it work and do what we have to do."
Another setback for the Mountaineers are the players that either graduated or are no longer with the program.
"A lot of players that we did have that were critical to our success left," Acitelli said. "It's a process of filling in those new guys and finding new freshman and getting guys from the school to come out and play."
Rich is certainly one of those guys to step up this year. Only four games into the season, Rich already has 14 goals, six assists and 13 ground balls which puts him at second on the team in all three categories behind senior midfielders Kevin Norman, first in points, George Revercomb, first in assists and Matt Frizzle, first in ground balls.
"I think last year set the precedent for what I want to do with this team and what I want to do with the four years I'll be here," Rich said.
Rich also averages 3.500 goals per game and is a valuable offensive threat for the Mountaineers. Right behind Rich is another Mountaineer and scoring machine who had a taste of last year's success.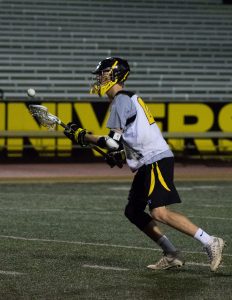 Junior attackman David Hayes is no stranger to the net either. Third on the team in both goals at 6 and goals per game at 1.5, Hayes, in their season opener against the Citadel, contributed to the 15-6 win with a 3-goal hat trick of his own.
The Mountaineers are currently undefeated at 4-0 after defeating long time division rival Wake Forest 13-11 in Decan country over the weekend.
"We've got heart out here and that's going to carry us," Hayes said.
Hayes continued to harp on the family aspect of the team this year and contributed it to their success thus far.
"After a win you're kind of basking in it with your brothers and having fun with each other," Hayes said. "It makes it fun and makes you want to go out there and just get more wins."
Both Acitelli and Rich echoed the idea of family.
Speaking on the setbacks to the team, Acitelli said that the "family atmosphere" is the "positive to those negatives."
All of the positives, from the team as a whole, are what these Mountaineers hope to fuel them even farther in the SELC.
The Mountaineers face off next against East Carolina and Coastal Carolina March 25-26 in Conway, South Carolina.
Story By: Noah Gerringer, Sports Reporter
Photos by: Lindsay Vaughn, Staff Photographer