App State-Michigan 10 years relived
There was nothing to lose, and nothing to gain for the Appalachian State Mountaineer football team on Sept. 1, 2007. Nobody anticipated a small, relatively unknown school in the mountains coming off of two straight Division I FCS national championships to enter "The Big House" and knock off a No. 5 ranked FBS "power five" team with championship expectations.
Nevertheless, a game projected to be a lopsided victory for the ranked Michigan Wolverines football team turned into the biggest and most memorable college football upset in history.
On that day, App State, a small college located in Boone, North Carolina that had been known for their football team in the college football subdivision, became a nationally-known university with a 34-32 "upset in 'The Big House'" in Ann Arbor, Michigan during the first week of the college football season.
Ten years later, the impact of that game is still felt by Michigan fans, App State fans and sport fans around the world.
Led by head coach Jerry Moore, the Mountaineers entered the 2007-2008 season hoping for a third straight FCS national championship with key players: senior running back Kevin Richardson, receivers Dexter Jackson and Hans Batichon, linebacker Pierre Banks, defensive back Corey Lynch, kicker Julian Rauch and sophomore quarterback Armanti Edwards.
Just a few months prior, the Mountaineers were still searching for two more non-conference opponents to play in the 2007 season, including the opening game. Associate athletic director Jay Sutton and football sports information director Mike Flynn were struggling because it seemed nobody wanted to play App State.
"[Jay] Sutton, who did scheduling at the time, called everybody in America," Flynn said. "We went into February or March of that year and we were still two games short of a full schedule."
That is when Flynn saw a news story that Michigan and Vanderbilt had dropped their season-opening game. Sutton reached out to Michigan's athletics director, and conversations took place over the next two weeks.
"I remember going down the hall to give coach Moore updates on the schedule, and when I shared with him that I had some dialogue with Michigan, he stopped what he was doing and looked at me eye-to-eye and said 'You make them tell you no,'" Sutton said. "It was basically, you figure out anything you can do to schedule this game. I took that mantra back with me and I stayed on it."
App State and Michigan was scheduled. When an FCS team plays an FBS team, they are often referred to as money games. The FBS team picks up an easy win and the small school walks away with money. For that game, Appalachian State would receive $400,000 to play Michigan in "The Big House."
Winning two straight FCS championships, the game had a little more excitement built around it because of the intriguing story line.
"There was a ton of hype coming off of two national championships, opening with a game like Michigan," Flynn recalled. "Going into that season, probably besides maybe some of the really good Marshall teams, I would say it was one of the most nationally recognized, FCS/I-AA programs that there ever was."
At that point, nobody had expected the Mountaineers to even stand a chance against Michigan, who arguably had their best team ever with future No. 1 NFL draft pick, offensive lineman Jake Long, future Super Bowl champion receiver Mario Manningham and Heisman Trophy candidates in quarterback Chad Henne and running back Mike Hart.
"It was going to be kind of cute," Flynn said. "A David versus Goliath type story; Goliath wins."
This Mountaineer team had played big "power five" teams before. The year prior, the 14-1 Mountaineers lost to a three-win N.C. State University team. In 2005, the first national championship season, the Mountaineers played tough against No. 6 ranked LSU, but lost 24-0.
"In my opinion, I thought in 2006, that was our best team," Banks, who now works at Appalachian State as the Director of Student-Athlete Development and broadcaster, said. "I didn't think a team that was our best who lost to a three-win N.C. State team would go to Michigan and knock those boys off. I just didn't see it happening."
In the words of Moore, it was an opportunity game. If the Mountaineers won, which was highly unlikely, they would complete arguably the biggest upset ever. If the Mountaineers lost, they would continue on in the season with any confidence they gained against Michigan as they pursued another championship.
Arriving to Michigan Stadium the day prior, Moore told the team to look up in the stands, take it all in, imagine all the 110,000 fans that would occupy the stadium on Saturday and then not to look back up until the game is over.
Being a "power five" team, it was no secret that the Wolverines would be much bigger than the Mountaineers. But the Mountaineers had speed, something that Michigan did not have.
"We knew if we could spread them out and utilize our speed and make plays, who knows what could happen," Jackson, who played in the NFL and National Arena league after college, said.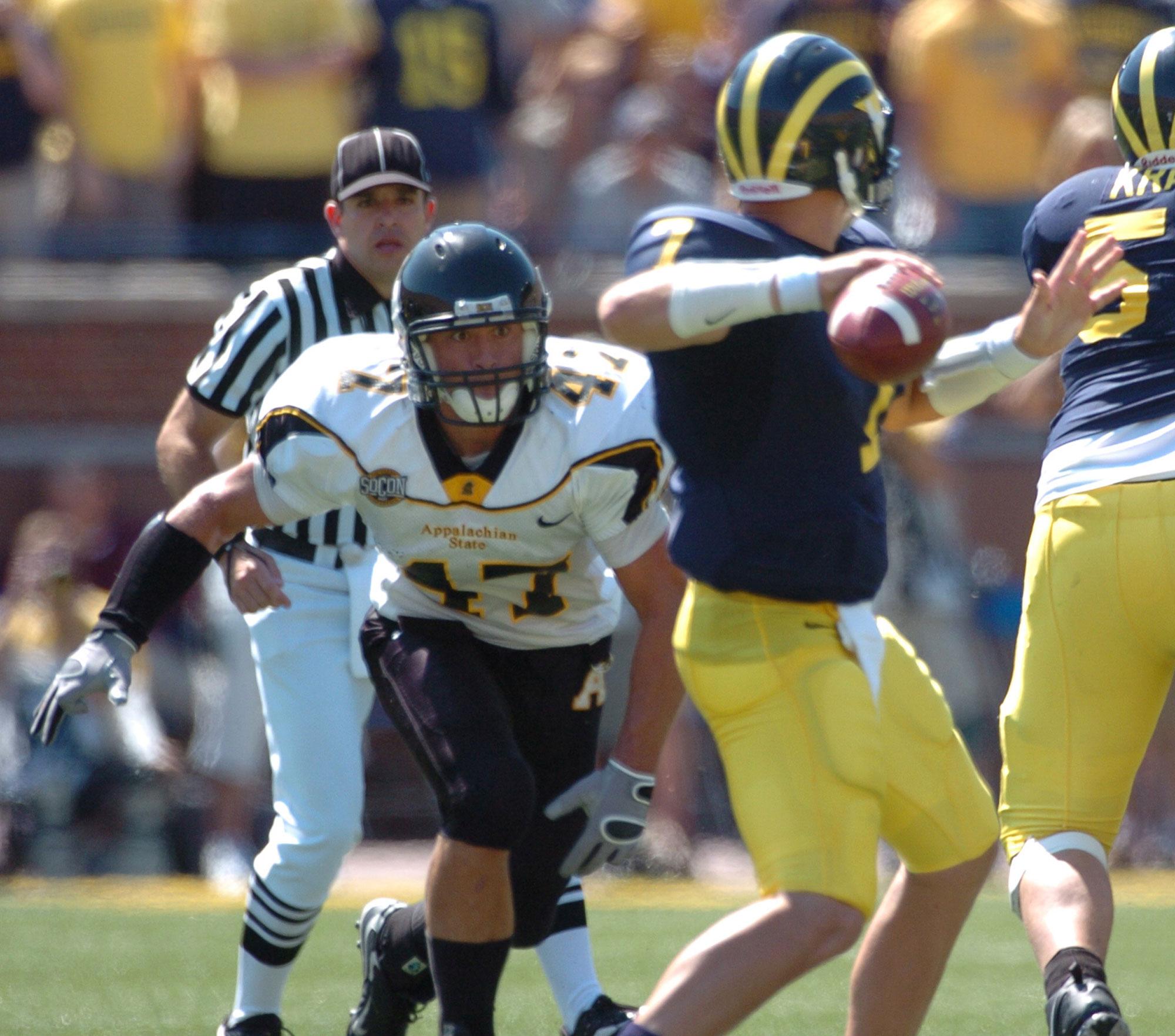 An official attendance of 109,218 packed the stadium for the noon game. Michigan began the game on offense and Hart scored on their first drive to give the Wolverines an early 7-0 lead.
"We went to a five-receiver set. Our spread base was called empty. The whole week we worked on rough routes and pick routes," Jackson said. "We noticed Michigan didn't switch guys who were covering me and our receivers and only stuck with man defense."
Knowing they wouldn't be able to beat Michigan by running the ball, App took advantage of their speed. Three plays in on their first drive, Edwards completed a short pass to Jackson and evolved into a 68-yard touchdown to tie the game up 7-7.
"I knew this was a big game not only for my team and teammates, but also for me to play after my collegiate career," Jackson said. "I saw the slant open up and caught it. I saw their safety Jamar Adams come down and over pursue and I cut and tried to utilize my speed and not get caught from behind. I ran track my junior year and remembered when you get tired, you pick your knees up so I picked my knees up. If I didn't do that I would have been caught by Adams."
If Jackson's touchdown didn't strike any fear into Michigan, the next Wolverine drive ended with Banks getting a sack on Henne that momentarily silenced "The Big House."
"Henne comes to the line and every time he would look around and call the play at the line. We knew that and he made the proper adjustments. I knew if I just stayed still and disguised my blitz they wouldn't know I was coming," Banks recollected. "I timed it up perfect. Luckily for me I came off his blind side. But that was a huge dude."
Appalachian was in "The Big House" to stay.
Down 14-7, the Mountaineers once again scored to tie it up at 14-14 with a receiving touchdown from Batichon and forced Michigan to a three-and-out to start the second quarter.
"We made them go three-and-out and anytime you can do that as a defense, you get a lot of confidence and it lets you understand that you can play with these guys," Banks said.
Continuing to utilize their speed, Edwards connected with Jackson for another touchdown to bring the score to 21-14. Forcing Michigan to a turnover on downs, Edwards ran it into the endzone himself to give the Mountaineers a 28-14 lead.
Just two minutes remaining before halftime, the Mountaineer defense forced the Wolverines to only a field goal in the second quarter for a 28-17 halftime lead.
"Right then and there, I knew we were better than them," Banks said.
"At halftime, coach Moore told us 'I know we are up, but let's go out there with a thinking mentality that it's 0-0. We are going to get the best you have ever seen from a Big 10 opponent in Michigan with 30 minutes left,'" Jackson said. "We knew it wasn't over."
Appalachian expected a comeback from the Wolverines. As one of the top teams in the country, they were not going to go down without a fight. Even with Hart going down with an injury and missing almost the whole second quarter and half of the third quarter, the Wolverines had plenty of depth.
Edwards, who had been playing the game with a hurt shoulder, threw an interception to start the second half and Michigan got the ball back. Not putting their heads down, the Mountaineer defense forced the Wolverines to a field goal.
Getting the ball back, the App's Rauch hit a 31-yard field goal to extend the lead 31-20.
"I don't think Michigan realized or gave us credit for the speed that we put together," Rauch said. "We spread it out and put the ball in speedsters' hands and let them know what they're able to do. You play football and take advantage of opportunities. It doesn't matter who you are playing against."
Rauch missed a 46-yard field goal on the next drive, but despite not scoring, the Mountaineer defense continued to stop the Michigan offense.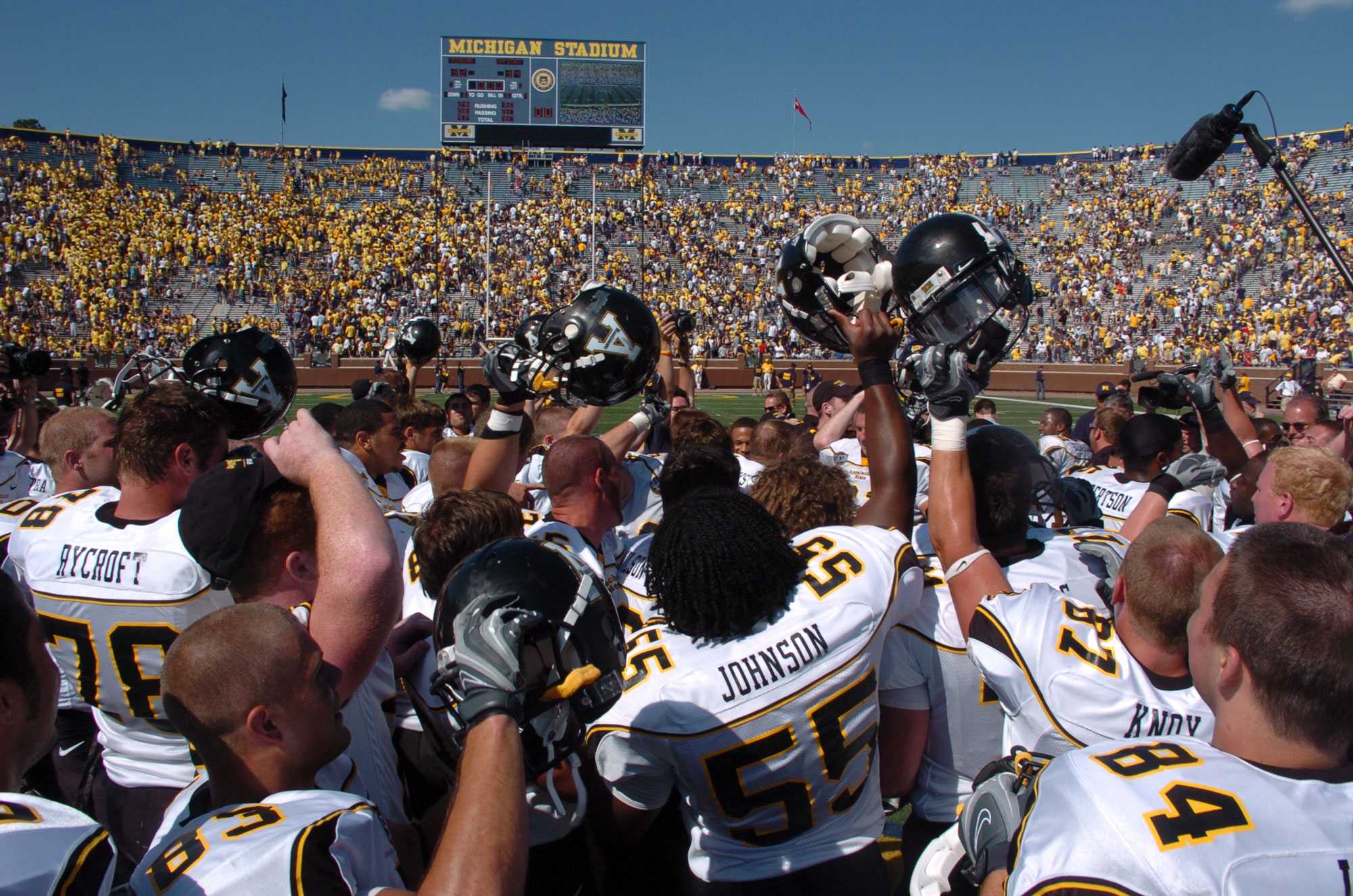 "I remember the lineman coming off with confidence saying these guys are not that great and we can push them around," Rauch said. "When guys come off the field with confidence despite not doing anything, it makes you think that you can do the same at your position and we just had to roll round and get confidence. We knew our talent, we just had to do it here."
Michigan inched their way back and recaptured the lead 32-31 in the fourth quarter creating an all-too-familiar story end.
"I still didn't think we would win," Banks said. "We play these teams like this and I have seen enough games to know the home team, the FBS team will play and come back to win."
Interceptions and missed field goals brought the clock down to 26 seconds remaining in the game. The Mountaineers were in field goal range and Rauch was up to attempt a 26-yarder.
"After missing the 46-yarder in the third quarter, it was almost a blessing because I just wanted to redeem myself," Rauch said.
Pressure was there for Rauch, but he blocked it out because there simply was no time for any nerves to soak in.
Kicked through the uprights, the field goal was good, giving the Mountaineers a two-point lead with 26 seconds remaining on the clock.
Rauch stayed calm and collected. There was no celebration for him.
"There are some guys who heckled me because I didn't have a big celebration," Rauch said. "Part of it was because I have to go out there and do my job but the other was because there was still time left. You don't know until it's over."
The Mountaineers had already played an amazing game. They made many mistakes, but covered up for them. With 26 seconds remaining, if they lost, they could head back to Boone knowing they pushed a top five-ranked team to the edge.
"There were doubts in our mind, but I was saying we can't put the game in a kicker's hands since we played so well," Jackson said.
Fifteen seconds remained after an incomplete Michigan pass and then Henne unleashed a deep pass down the right sideline that was caught by Manningham on the Mountaineers 20-yard line.
Michigan fans went crazy. The Wolverines, despite allowing the Mountaineers to play them tough, we're going to win the game on a field goal with six seconds remaining to play.
"When Manningham caught that ball we were thinking, 'Oh well, we played a good game,'" Jackson said.
"I just trotted down the field," Banks recalled. "I knew it was too good to be true."
At that moment, one of the biggest plays in college football would happen. The day prior during a special teams meeting for the Mountaineers, defensive coordinator John Wiley pointed out to the team that when Michigan lined up for a field goal, their inside wing would go directly to the outside man and direct the pass towards the ball.
"I looked at coach Wiley and said 'we can get that'," Banks said.
Before the game, Lynch told Banks they should switch places during field goal protection. Lynch was known for blocking kicks and had more speed to stretch out, get up and block the kick attempt.
Wolverine kicker Jason Gingell kicked the 37-yard attempt and Lynch blocked the kick.
Lynch picked it up and ran with it. Although he did not score, the Mountaineers did it. Appalachian State became the first FCS team ever to defeat a ranked FBS team by a score of 34-32.
A crowd of almost 110,000 fans shifted noise levels to the a little over 10,000 App State fans that had made the trip to Ann Arbor.
"When we ran off the field it was packed with the 100,000 that was there and when we left into the locker room it was so quiet, we could hear just our teammates talking," Jackson said. "I had over 30 voicemails and texts saying Boone is on fire. We knew the town was going crazy and for us as players, it didn't hit us until we got back to Boone, saw ESPN and saw highlights of the game and people talking about how it might be the best upset in college history."
Check out our second story on the impact the App-Michigan game made by Tyler Hotz: https://theappalachianonline.com/2017/08/30/unthinkable-upset-yields-unthinkable-impact-10-years-after-app-michigan
Story By: Jason Huber, Sports Editor
Photos courtesy of App State Athletics