App State Politics Club hosts debate for NC House candidates
The Appalachian State Politics Club hosted a debate for the candidates of the 93rd district of the North Carolina House of Representatives Tuesday.
Incumbent Jonathan Jordan (R) faced Ray Russell (D) of raysweather.com in "a very competitive election with two quality candidates," William Hicks, assistant professor of political science and moderator of the debate, said.
Hicks asked questions about education, healthcare, election laws and reforms, taxes, and HB2.
Hicks asked the candidates about North Carolina's struggles with classroom resources and teacher pay, and how to keep students in public schools safe, specifically from gun violence.
On the topic of resources, Jordan cited his experience in the House increasing teacher pay and education funds.
In addition, Jordan said he believes (the government) need to look at our curriculums and how the education children get in North Carolina compares to the education in other states.
Ray Russell said, when adjusted for inflation, per-student spending and teacher pay have both decreased.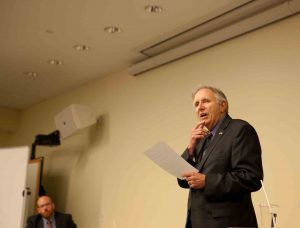 "North Carolina is now 39th in the country for per-student spending," Russell said. "That is behind Tennessee, Georgia, Virginia, South Carolina. Yes, South Carolina spends more on education than North Carolina does."
Russell and Jordan agreed that school resource officers are necessary for keeping children safe from gun violence.
Russell said he believes that safety could be improved by enlisting more psychologists and nurses in schools, as well as updating school buildings.
Jordan said that many school buildings in Watauga County are outdated and would be safer with features like two sets of doors to enter the building.
Hicks asked the candidates about Medicaid expansion and the opioid epidemic in the district. Russell supported Medicaid expansion, Jordan did not.
Jordan argued that years ago, the House had to vote to add money to the Medicaid program three times, and that adding 500,000 people would reverse those votes.
Jordan also said North Carolina's "vulnerable population," like the elderly and disabled, are covered under the current system.
Russell said he has visited several hospitals and community clinics in the district and claims that they all want Medicaid expansion.
"These are working families who are not able to have medical care and it is hurting our entire system," Russell said.
Both Russell and Jordan agreed on the significance of the opioid epidemic in our area and had similar approaches on preventing and treating it.
Russell and Jordan both said aiding mental health in the 93rd district and reducing the accessibility of opioids would make a difference.
Jordan said he "absolutely" favors requiring photo identification before voting, claiming the 2013 voter ID law, which was struck down by the federal courts as unconstitutional, was crafted in accordance with all U.S Supreme Court voting rights cases.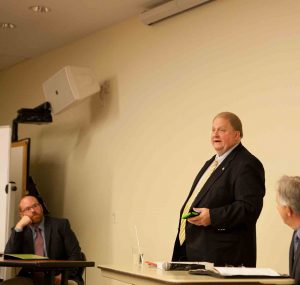 "Photo ID is vital for election laws," Jordan said. "[Citizens] need to know that their vote is not being stolen."
Russell countered by citing a 2016 audit by the North Carolina Board of Elections in which one vote out of 4.8 million was fraudulent.
"It is a solution without a problem," Russell said. "Republicans have a turnout problem… there are too many people turning out against them."
Russell said he opposed gerrymandering. He also said Democrats have participated in the past, but argued that Republicans have repeatedly drawn unconstitutional districts.
Jordan blamed "activist courts" for becoming too involved in North Carolina politics, while also calling for the Supreme Court to rule if legislatures can use partisanship to draw districts.
"[The 4th Circuit Court] has been actively fighting every plan that comes up there, no matter what it is," Jordan said.
Russell and Jordan were split on lowering the income tax cap rate from 10 percent to 7 percent. Jordan supported the amendment, but said he would like North Carolina to have no income tax.
"The answer is not to have a progressive system where you pay a higher percentage," Jordan said.
Russell said he opposes the amendment and that it was deceptively written.
"I would tend to favor income tax over sales taxes. Sales taxes are regressive." Russell said.
The final question was about HB2, in which Jordan said he would vote for again if given the chance. Russell disagreed.
"The debate went really well. We had a fairly large turnout," Kara Holyfield, sophomore political science major and president of the Appalachian State Politics Club, said. "We would like to thank both candidates for a respectful debate and thank Dr. Hicks for moderating."
Story by Jackie Park and Tommy Mozier 
Photos by Mickey Hutchings 
Featured photo caption: Audience members attentively listen to candidates Ray Russell and Jonathan Jordan debate over decisive policy issues.