App State undergrads develop "edible" laser
Lauren Woods, a lecturer in the Appalachian State chemistry department, is working with two App State seniors to develop an "edible" laser.
Woods has spent the last year working on the project, enlisting help from co-adviser and assistant professor Brooke Hester and senior physics students Jack Griffin and Jose Salazar.
Woods said she first discussed the idea of an edible laser with a friend at a party while completing post-doctorate work at the University of Wisconsin. They worked on the project together, and when Woods came to App State in 2016, she brought some of the laser's components with her to develop the project further.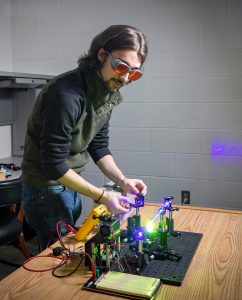 The project features an open-concept laser built for demonstrations, with each part visible to define the process as a whole easier to watch and comprehend. Her undergraduate team hopes the project will help students better understand the science behind lasers.
""When I talk about lasers, the idea seems very abstract and kind of out there," Salazar said. "But with the demonstration, it makes it more tangible. It makes it easier to see everything that's happening, especially with the setup we have going on. It's very open so you can see it, and we can point out every component and everything that's happening."
Lasers are created when the electrons in the atoms of a medium are pumped with energy, in this case by another laser. The atoms' electrons become excited and move to a higher energy orbit around the atoms' nuclei, and when the electrons relax and move back to a lower energy orbit, they emit a tight beam of photons, particles of light, that form the colorful beam of light we associate with lasers.
But what makes this laser "edible"?
The team has experimented with a number of edible mediums, assessing wavelength ranges and quantum yields to see which mediums would fluoresce, or emit light. The team tested a number of mediums, including vitamin B, beet juice, turmeric and tonic water.
Woods said that while using edible components is mostly just for fun, the novelty of the experiment encourages people to be curious and ask questions.
"It really gets people's attention," Woods said. "Building a laser sounds exciting anyway, but if you add something a little more catching, like making an edible laser. I think for people who aren't familiar with lasers, it brings a little bit of confusion. They are more likely to ask questions, like are you eating the laser, are you not eating the laser? No, you're not eating the laser, it's just that the component is made out of edible material. It drives people's curiosity."
Griffin and Salazar are both officers of App State's Physics and Astronomy Club; Griffin is the club's president and Salazar is the secretary.
"Dr. Woods brought it to Dr. Hester, who thought it would be a great opportunity for the club to maybe find somebody who might work on it," Griffin said. "We had a meeting of officers, and me and Jose were the ones that decided that we wanted to test it out and see if we liked it."
Griffin said the project not only helps to educate people watching the laser work but also Griffin and Salazar, who are receiving a truly hands-on education.
"They are helping us learn by giving us parts and letting us test and see how they work," Griffin said. "I'm actually shocked they're letting us do all this. It's great though, they trust us. It's like a mutual understanding that we're all working toward the same goal. It's really nice."
The team hopes to have the laser working by the end of spring or summer 2018 and ready for public demonstration by spring 2019.
Story by: Ashley Goodman, A&E Editor
Photos courtesy of Marie Freeman
Featured Photo Caption: The prototype for the edible laser project, developed by App State professor Lauren Woods and undergraduate physics students Jack Griffin and Jose Salazar.